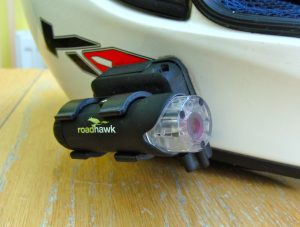 It seems every biker wants to be a video blogger these days, strapping a camera to their helmet/bike and recording their rides for all and sundry to watch on YouTube. And why not, decent HD camera are now very affordable and the evidence they gather can be invaluable if some idiot pulls out on you. Which, as we all know, happens far too often these days.
So back last autumn, I spotted this Roadhawk Ride
camera on special offer in Halfords and decided to join the vblogging band wagon. With the insurance claim from my incident in September turning sour as the third party falsified a witness, I only wish I had purchased a camera sooner. You will probably have seen some of the footage from this camera on my YouTube channel already, but after a few months of use, here is my proper write up. The Roadhawk RIDE is a dinky little cylindrical camera, just 80mm long and 25mm in diameter, that comes with a plethora of brackets for mounting it pretty much anywhere you like. The rear of the camera unscrews to reveal the memory card and USB socket.