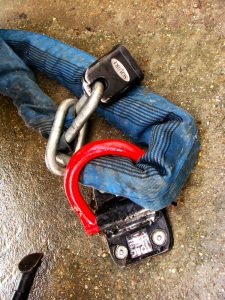 Bike security is essential in London. It's a sad state of affairs, but bike crime is rife and only a fool would skimp on security. A good solid chain is one of the best measures you can take, but it is only as good as what you chain the bike to.
→ Check out our full Motorcycle Security Guide
Your chain should have at least 16mm thick links, anything less is a waste of time. As many would be thieves favour 42″ bolt cutters, which generally have a mouth that can only accommodate ~14mm chains. Even better, opt for a 19mm chain. The best brands out there are Almax and Pragmasis. Price wise there is little difference, however I opted with Pragmasis as their ground anchor appeared to have the edge slightly. The downside of these big chains is weight. Since I would be carrying the chain to work everyday, I opted for the 16mm chain, which at 2m and with lock, weighs in at about 15Kg!

Don't wear the chain around you body whilst riding. It'll do serious injury, if you fall off!
As I already have a concrete drive way, I have opted for a bolt in ground anchor. Others favour anchors that are embedded with concrete poured around them, which are great, but I didn't fancy cutting a hole in the existing concrete. Even so, I had to borrow my neighbours SDS drill to make the holes, my small Makita and the supplied drill bit got no where. The Pragmasis Torc ground anchor came with long bolts and special resin to bond them to the existing concrete. However my concrete drive wasn't quite deep enough and these capsule just pushed through to the softer layer beneath leaving the bolts loose. 🙁  On contacting Pragmasis, they were very helpful and sent me their alternative expanding rawl bolt fitting kit, which did the trick perfectly, holding the anchor rigid to the floor. Small ball bearings are supplied to hammer into the heads of the bolts to prevent them being unscrewed. The installation was fairly straight forward, with everything except drill supplied. However the supplied drill bit wasn't SDS, so couldn't be used.
A Squire lock is supplied with is the defacto standard (and also supplied with Almax chains too). However I found the keys aren't the strongest and worryingly have slightly bent one already.
Overall, I can whole heartedly recommend the Pragmasis security kit. It's not cheap, coming in at just over £200, but it's definitely peace of mind.
Rating 4.5/5