Here is a quick run down through the popular biker haunts and meet up spots. So if you're new in town (or just new on a motorcycle), pop along for a cuppa, a chin wag and a gander at everyone else's bike.
Ace Cafe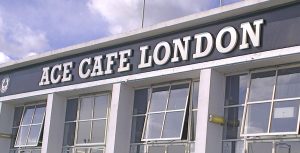 The famous cafe everyone has heard of, located on the North Circular near Stonebridge, a haunt for bikers from the '30s-'60s, now open again and buzzing. Always running different events and themed nights, but Friday's a traditionally biker nights. Check their website to see what's on.
Find the Ace Cafe on Google Maps.
High Beach, Epping Forest
Surprisingly, after just a short ride from the city centre you can find yourself deep in the Epping forest. This little tea hut is the meeting ground many an East London or Essex biker, a hot sunny Sunday will see this place teaming with bikers rendezvousing for a ride out.
Find High Beach on Google Maps (On corner of Cross Roads and Fairmead Road).
Blackheath Tea Hut
Located on top of Shooters Hill in Greenwich park, this little tea hut is a great place to catch up with lots of other bikers and enjoy the surrounding beautiful green park land.
Find Blackheath Tea hut on Google Maps.
Borough Market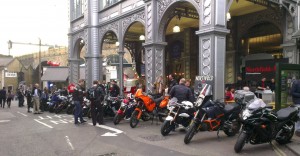 On Wednesday evenings the London Bikers forum have their regular meet up in Borough Market (opposite Monmouth Coffee shop, along Stoney Street). Often a good turn out, rain or shine.
Find Borough Market on Google Maps.
Ryka's, Box Hill
Out to the South West of London on Box Hill near Dorking, Ryka's has been a favoured motorcycle haunt since the 1920's. Still extremely popular today, you'll often find hundreds of bikers on a sunny weekend. Serving great food and coffee, you'll be guaranteed to ride away satisfied.
Find Rykas on Google Maps.
Bike Shed 
A newish (Autumn 2015) Shoreditch cafe in the East End with a hipster slant for custom cafe racers, scramblers and bobbers. However, don't be put off, this trendy bar still welcomes all bikers alike, you don't have to be a hipster to enjoy a cosy leather chair and decent coffee! Bike Shed Cafe is open daily 8am – 11pm.
Find Bike Shed on Google Maps.
If you know of other good biker cafes and meeting places, do let me know.