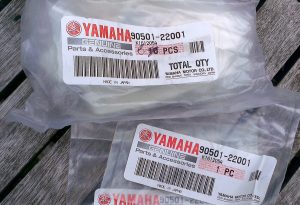 There's nothing worse than trying to find parts for a bike and discovering genuine new parts have astronomical prices. Whether you had a little mishap or something has just failed, the last thing you want is a huge parts bills. You assume there must be some used second hand parts about, but a quick look on eBay turns up nothing, so what now? Well, check out these tips on finding parts and you'll have a better chance of finding that elusive part without needing to max out the credit card.
You say potato, I say potato – Search for all part names
Search for every name for an item; that expensive plastic body work you need could be listed as fairing, cowling, panel, bodywork, nose, etc. Searching for one name alone could miss items.
Numbers don't lie – Find the part numbers
Look up the part numbers for the items you need (for example on Fowler's website with their parts diagrams), then search for parts by this number. This can highlight other models and years that share the same part. For example the Yamaha FZS600 2002-03 shares headlight cluster and mirrors with the FZS1000. And conversely, confirm if some part is definitely different and not compatible.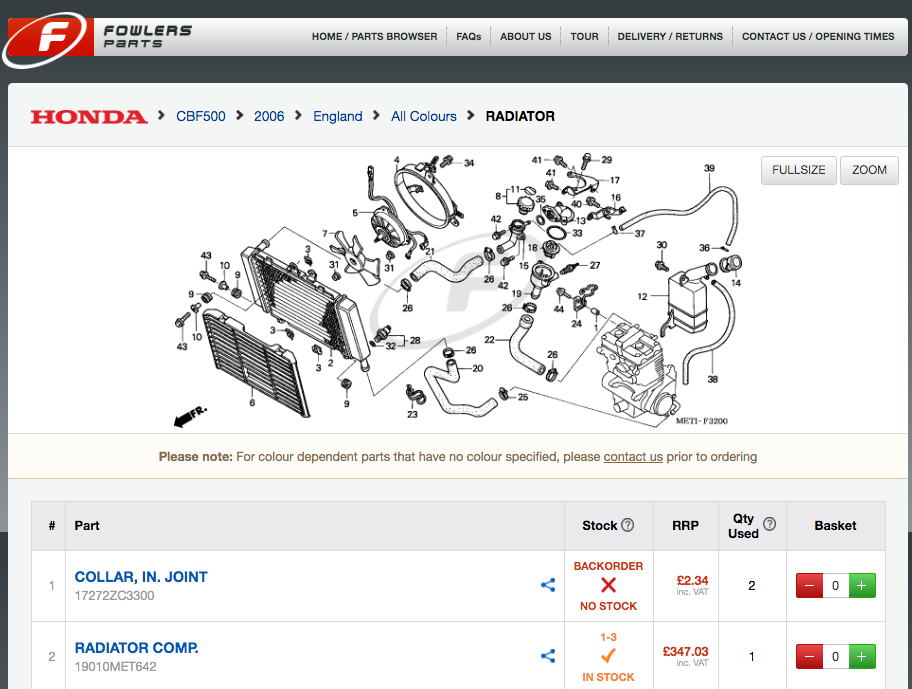 Parts diagrams are also good to find official names for parts that are less obvious (e.g. Honda list indicators as winkers!) and you may find some generic parts like bolts, o-rings and such like, are shared with non-motorcycle kit, e.g. Yamaha jet-skies or Honda generators.
Get clever, learn advanced eBay searching
You can use braces and commas to search for this or that, and prefix words with a minus to exclude crap: (this, that) -crap.
This save's you searching separately for each different name for stuff and removes other parts from your searches you're not interested. For example if you're after downpipes, but only finding results for new gasket sets, try the search: (downpipes, headers, exhausts) -gasket
Bonjour, Ciao, Hallo, Hola
Search abroad on ebay.de, ebay.fr, ebay.it, ebay.nl, ebay.com, etc. There's often items on these sites which are not listed for postage worldwide, so do not should up in a worldwide search on ebay.co.uk. Simply get in touch with the seller to negotiate postage to the UK.  Items in EU won't be hit for customs, vat etc (for time being), however items outside the EU valued greater than £18 may get you stung for VAT and duty, but could still be worthwhile for those rarer parts.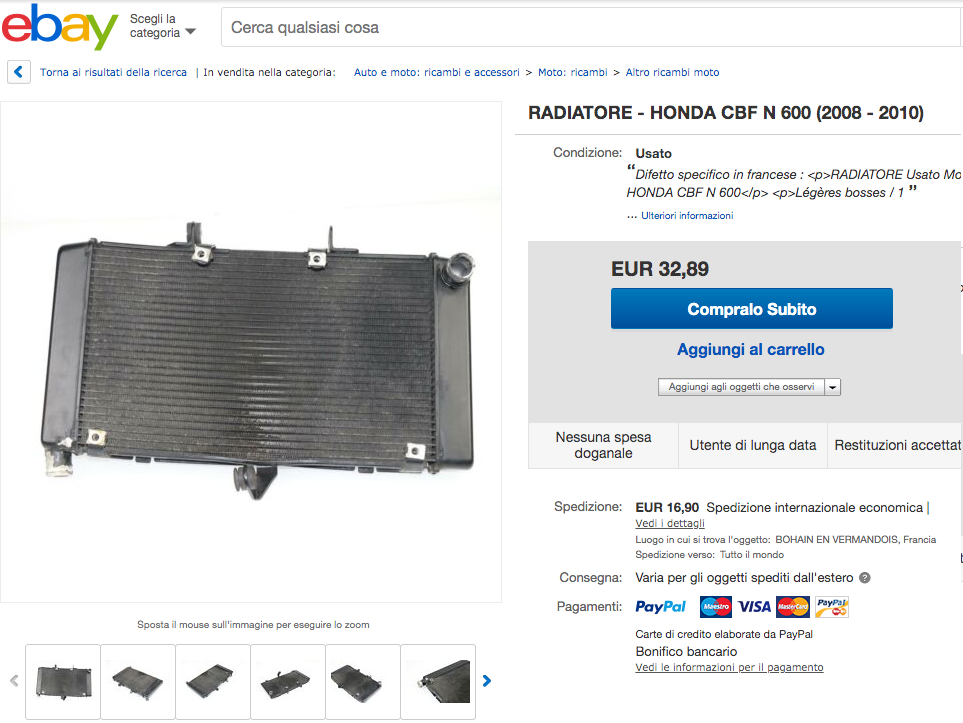 Use Google translate to find names for items in foreign languages (or search foreign part supplies by product code). For example, a radiator is kühler in German, radiateur in French and radiatore in Italian.
Once you've added items to your watch list, they'll be easily accessible from your account on ebay.co.uk, to simplify messaging sellers and completing the purchase using the English ebay interface.
Breaker, breaker
Looks for sellers on eBay breaking a bike, with many parts from the bike you have and contact them for the parts you need. Many breakers only list a handful of items, so get in touch and see if they have what you need. You might be able to blag do a deal on multiple parts you need too.
Keep an eye out
For those hard to find parts, set up a saved search on eBay (covering all part names, numbers and translations) to deliver email alerts as soon as that hens teeth rare part suddenly pops up for sale.

In additional to eBay, put a shout out on any owner's forums and Facebook market place groups for your bike too.
Don't get ripped off
Get yourself clued up on current prices and availability of new genuine or pattern parts  parts, they may not be as expensive as you first think. Many used parts on eBay are barely any cheaper or even more expensive that new parts. Also, useful information to have before bidding silly money for parts auctioned on eBay.