In the UK, motorbike insurance is a necessary expense when it comes to getting on the road. You should never be tempted to go without, the legal and financial consequences can be severe. But how do you avoid paying huge insurance premiums? Read on to check out our top 10 motorcycle insurance tips.
Start with a Motorcycle Insurance Comparison Search
A comparison of insurance prices is the obvious starting point to finding the best quote, but prices and policies do vary greatly; some have huge excesses, some offer no cover overseas or riding other bikes and many are just plain crazy money. It can quickly get very depressing as it initially seems the motorbike of your dreams is out of reach due to insurance costs.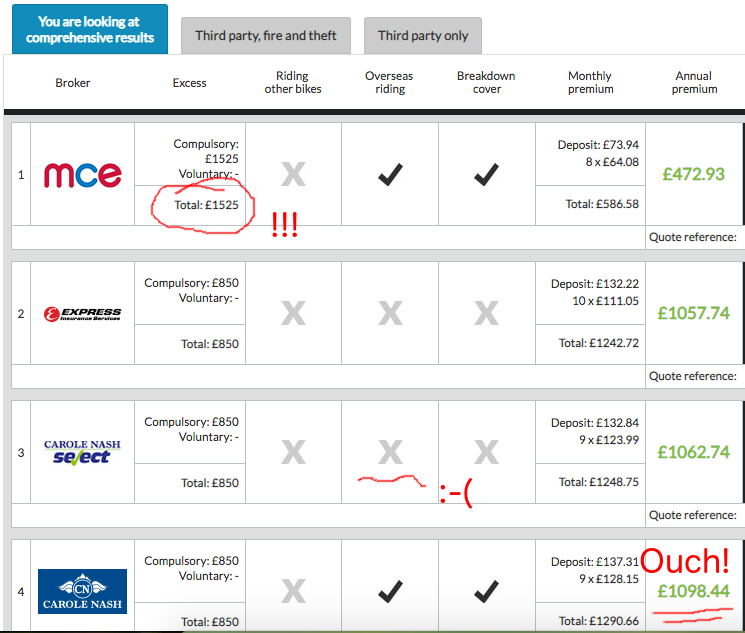 Top 10 Motorcycle Insurance Tips
In this article, I'm going to detail a number of tips for cheap motorbike insurance that should help you avoid paying more than absolutely necessary and save yourself some cash.
1. Get Quotes 20-26 Days Before the Renewal


Money Saving Expert recently did some investigation on how insurance quotes varied depending on how many days before the renewal date (full investigation can be found here). They found the sweet spot to get the lowest motorbike insurance price, is to run a motorcycle insurance compare 20-26 days before your renewal date.
Insurance underwriters deem those who leave things like insurance to the last minute as being at higher risk. Whereas before 26 days there are just fewer companies who will give a quote, thus fewer competitive quotes. It's all about timing.

2. Tweak your Occupation
It is likely there are a number of job titles that describe your occupation(s), but did you know the premiums charged for each can differ dramatically? Use this free tool on Money Saving Expert to find all occupations similar to yours and see which will give the lowest premium when entered into a motorbike insurance comparison site.

2. Do you need Pillion Cover?
Will you ever take a pillion on your bike? If not, consider dropping pillion cover from your policy. But, if you do intend to take a pillion, double-check you have pillion cover, some insurers and motorcycle insurance comparison tools won't include it by default.

3. Get on Advanced riding courses or Join the BMF
Completing an advanced riding course like RoSPA, IAM or the new Enhanced Rider Scheme, will not only make you a better and safer rider but can also afford a small discount on a motorcycle insurance UK premium. It may take a few years for savings to out way the investment, but as a better rider, you are less likely to crash and thus save on costly repairs, excess deductions and lost no-claims.
IAM also have their own associated IAM Surety Insurance firm (managed by Cornmarket), who can be very competitive in their own right for those passed the IAM test. I've personally bagged very cheap motorcycle insurance from them over the last few years.

Members of the British Motorcycle Federation can get up to a 25% discount on motorcycle insurance UK, with BikeSure. You may even have associate BMF membership via another group too (e.g. Curvy Riders). Well worth investigating if this will help you.

4. Check your Annual mileage
Don't over-exaggerate your annual mileage. A lower figure can reduce your premium slightly. Conversely, don't underestimate too much, if you exceed your annual mileage, increasing it, later on, will be more costly as it could incur admin fees. Some insurers may also ask for your vehicle mileage when starting the policy to check you don't exceed it. On a recent policy, I undertook the difference between 7,000 and 10,000 annual mileage was £9, so only a small difference, but it all helps.
Update: I've since heard of some people actually getting more expensive quotes from very low annual mileage. As it could be argued a rider putting more miles in will be a better rider.

5. Watch your Mods
Any performance-enhancing modifications to your bike must be declared and will likely increase the premium. In fact, it is often cheaper to insure a more powerful unmodded bike, than mod a lower-powered bike. Modifications that don't enhance the performance usually don't increase the premium, but do still need to be declared and aren't usually insured, i.e. they'll be replaced with standard parts if you make a claim. Failure to declare any mods could leave you with an invalidated policy in the event of a claim and in some serious financial trouble.

6. Add Security & Trackers
Fitting an alarm, immobiliser, tracker and/or using a quality security chain/ground anchor can help bring your premium down. However, do compare premiums with and without, if no different, don't specify it – in the event of a claim, an insurer may use the none use of a specified security item as a way to avoid paying out. Conversely, in some areas, you may find some companies will turn you down if you don't use some security measures.
See if you can park your motorcycle off the street or better still in a garage. But do double-check the small print when it comes to garages, many insurance firms are picky. Often insisting they are brick built or won't accept garages away from the registered address.
→ Read our guide on the best motorcycle security devices.

7. Add a More Experienced Named Rider
Try adding an older family member or friend with more riding experience and a clean license as a named rider. This can often give a lower insurance premium, regardless of whether they'll ever actually ride your bike.
However note, that some multi-vehicle policies will not allow additional named drivers

8. Never Accept Renewal Quotes & Haggle
Never accept the renewal quote companies give you. Renewal prices are always higher to catch the lazy folk who can't be bothered to hunt around each year. Always run another motorcycle insurance comparison search. You'll either find someone else cheaper, a cheaper quote from the same insurer/broker or very occasionally your renewal is, in fact, the cheapest. Either way, do ring up your current insurer and ask them for a better price. I've achieved cheaper premiums, even when the renewal quote was the cheapest! My personal best saving was a £404 renewal, down to £240.

9. Insure the Excess
Many insurance quotes these days are only offering huge excesses, sometimes in the thousands are even almost as much as the value of the bike. As a biker this is bad, it means in the event of a claim you're going to be seriously out of pocket as you have to stump up for that excess yourself. It can also put you in a tricky position if you've bought the bike on finance…
One solution is to separately insure your excess with another policy. This can often be much cheaper than paying a higher premium to reduce the excess (if even a possibility). However, you must be aware an excess insurance policy will only pay out if there is a valid claim on your main policy, so if the value of the claim is below your main policy's excess, then there is no claim. As always, read the small print.
10. Avoid Speeding Tickets, Penalty Points and Incidents with Third Parties
Pretty obvious really and barely warrants a mention on the top 10 motorcycle insurance tips list, but if you've got a number of penalty points on your license from speeding, you will be considered a higher risk to insure. No brainer really, if you've been known to ride too fast you are more likely to crash. Don't ride like Rossi on public roads, if you want to ride fast, book yourself on a track day.
If you are caught speeding and are offered a Speed Awareness Course instead of points and a fine, always go for the course. Most insurance firms do not require you to declare a speed awareness course. Penalty points must always be declared, failure to do will almost certainly leave your insurance null and void.
Any collision or incident with a third party should be declared to insurers, no matter how minor, who was at fault or even if there was no claim. Any such incidents are likely to impact your premium, as statistically, those involved in one incident are more likely to be involved in another.
So how do you avoid incidents? They'll always be incidents that are completely out of the control of a motorcycle rider, but many could be prevented through better planning. With improved anticipation, reading the road further ahead and more appropriate speed many potential incidents can be predicted and averted. A large number of riders come unstuck from not anticipating risk up ahead until it's too late, thus heading into situations with too much speed and getting into trouble. Sign up for advanced riding training with an organisation like RoSPA or IAM, where you can learn better techniques and improve your road awareness.

Cheap Motorcycle Insurance Conclusion
Some of these top 10 motorcycle insurance tips may get you a big saving, others may only yield minor reductions, but every little bit helps.
→ Try the above tactics out on your favourite motorcycle insurance comparison site and see if you get different prices back.
If you have managed to blag some big savings or have other tips for cheap motorcycle insurance, I'd love to hear from you in the comments below.