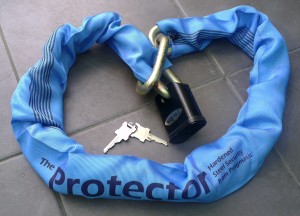 After getting Mary her own motorbike, getting an extra security chain was a top priority. Being so pleased with the Pragmasis Protector chain I've been using, they were the obvious choice. I had considered an Almax chain, which is generally regarded as being on par with the Pragmasis chains. Both brands cost the same and are supplied with the same Squire padlock, however, Pragmasis offer free next day postage – can't argue with that.
This time we stuck with the 16mm chain, an absolute minimum to scupper any tea leaf with a pair of 42″ bolt croppers (the jaws of which generally only open 14-15mm). However, we went for just a 1.5m chain, to keep the weight down. It has only been in very rare cases have I needed the full 2m length of my chain. Keeping the length to a minimum is better to help ensure the chain and padlock is not resting on the floor, so it can't be levered or smashed against.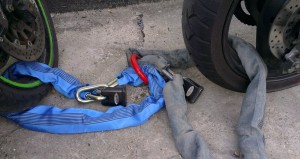 I already have the Pragmasis Torc ground anchor installed for my bike, which was just big enough to thread the two 16mm chains through. As you can see in the photo left, the cover over my one-year-old chain has discoloured quite a bit compared to the brand new one. However, there are no tears in it and it's still holding up well nevertheless.
Overall, I can highly recommend these Pragmasis security chains, don't settle for anything less, it's just not worth it. One mate recently lost his DRZ-400 Supermoto to some low life scum, after locking it up with an Oxford Hardcore chain… Broad daylight, lunchtime, in front of hundreds of shoppers, gone in seconds. Lost £750 in insurance excesses and facing inflated premiums for coming years. Don't cut corners on security!
→ Check out our full Motorcycle Security Guide