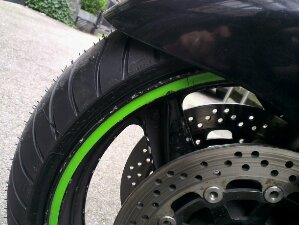 Stuck a new tyre in Mary's ZZR400 yesterday. Nice Michelin PilotRoad, to match the rear. Big thumbs up to the guys down at FWR Kenington for sorting it out double quick during my lunch break. Definitely recommended if you in the city and need new rubber in a hurry.

They also found the head brace was a bit loose too, which has been causing a bit of clunking over the bumps. Much better ride now.
Seasoned London commuter, doing my best to stay rubber side down and never stop moving forward.