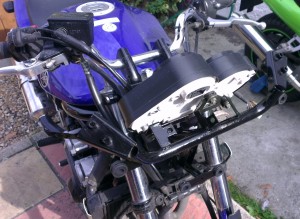 After my incident last week when some idiot not paying any attention ran into me, I had to spend sometime fixing up the Fazer and getting it road worthy again. There was quite a bit of damage, but thankfully all cosmetic. The fairing was scratched and cracked, the fairing brackets were bent badly, screen snapped off, belly pan was crumpled, crash bobbins almost snapped off, broken mirror, broken indicator and bent Givi rack and snapped Givi mounting plate. Obviously I am working with my insurance to claim for as much of the damage as possible. However in the mean time my priority has been emergency repairs to make the bike usable again. I want to avoid taking a courtesy bike as liability is still yet to be assigned.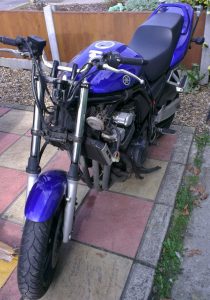 I stripped off the front fairing and have managed to bend back the brackets almost to their original position (still a tiny bit skew-if), ditched the belly pan and bent back the crash bobbins. It was very tempted to say hell to it and go all streetfighter on the bike!
I managed to purchase a new mirror and some new indicator lenses off ebay cheap. The screen was held on with plastic bolts, the heads of which has all snapped clean off. I replaced these with some generic M5 black nylon bolts off ebay too. I think I must have landed on the screen and mirror, which would explain why my ribs are still aching. I can recommend sticking with nylon bolts rather than coloured steel ones that are fashionable now, as I would have totally trashed my screen had it not been the plastic bolts breaking first.
I haven't been able to source a cheap Givi rack yet, the condition and completeness of second hand ones is often poor. Also the strong Euro makes buying from Italy less favourable now. So a new rack and plate is on order, £100 though. The top box is battered, but I'm hoping I can make do for now.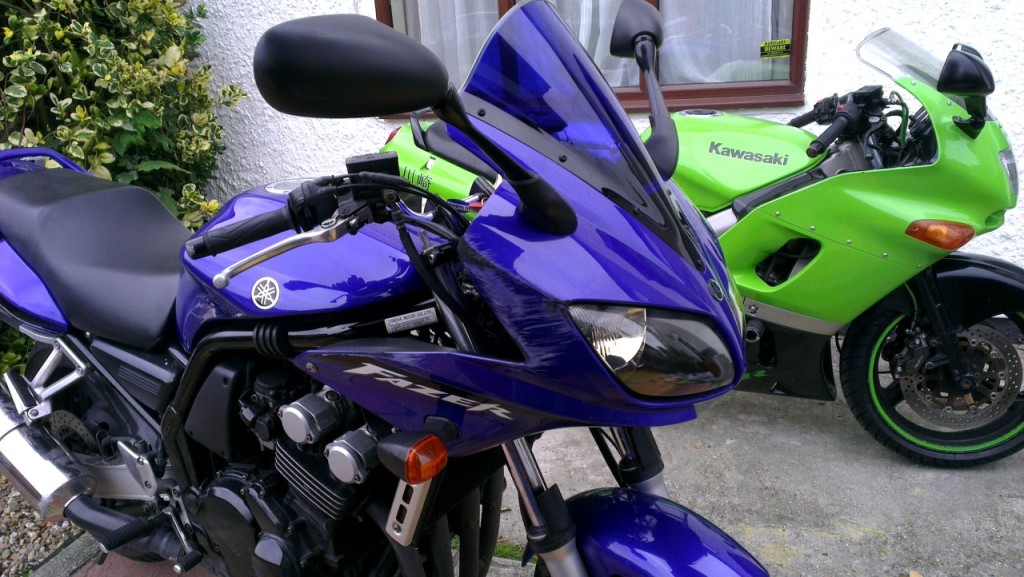 Either way, it was good to get back on the Fazer this morning and ride it to work. A few more battle scars just add to the character, right? Hmmm…