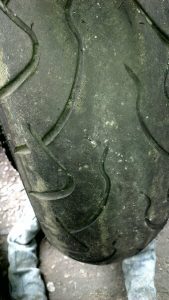 There I am trying to make a quick getaway from work with an afternoon off to watch my daughter on her sports day. But something is wrong, bike is all wobbly as hell. Back tyre totally flat. 🙁
A lot of crap stuck in the tyre, but crucially a big hole with lump of glass in it. Tried to pull it out, with a view to repairing it, but I can't get it with the pliers, just ends up crumbling. The hole also seems bit big for emergency repair. Breakdown recovery it is. At least I've got some this time.
Well that's my afternoon off work scuppered.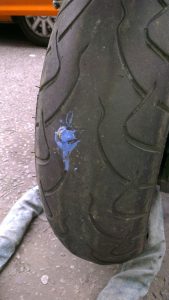 RAC chap managed to bodge a repair, using a heavier duty kit to the one I carry and plastering it with vulcanising rubber goo. Got me to garage OK. Went to FWR on Kennington Road, who were very commendable. Although extremely busy, they managed to fit me in promptly and fitted new tyre very quickly. All done in about 40 mins. Opted for a Metzeler Roadtec Z6 in the end, to match the front (from last puncture). Was tempted to try the newer Z8, but alas they had none in stock in my size. Total bill £110 fitted.
The old tyre, to be fair didn't have a great deal of life left in it and was starting to get a bit squared off. With the MOT due later this month, it may well have been an advisory anyway. New rubber, with more grip is definitely good.