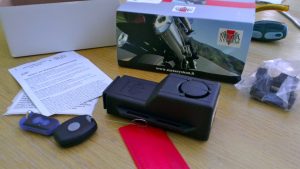 Last week the Meta M357TV2 alarm and immobiliser on my Fazer started playing up. It refused to make any sound when arming and disarming, just silent flashes of indicators. When deliberately triggering the alarm it remained silent and I just got hazard lights flashing. The immobiliser did however continue to work. Then later in the week, it started to make a noise again, just extremely quietly. Very odd. Obviously I kept my lack of alarm hush hush until I had remedied the situation.
Reading up, it seems that after around 10 years the internal battery on these alarms starts to give up the ghost and causes these kinds of issues. I also came across accounts from those who left it and it deteriorated further to the extent they couldn't disable the immobiliser – eeek!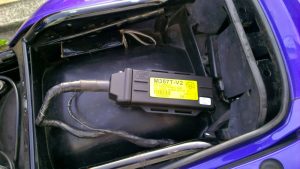 Some professional alarm fitters quoted me £200 to replace the control unit. However the control unit is very much a plug and play job. With the wiring loom already in place, the hard work has already been done. So I managed to order a replacement control unit and key fobs for the princely sum of £135 + postage from Abacus Alarms. Fitting was indeed a breeze.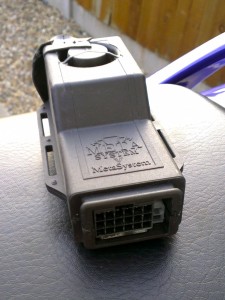 First, whip off the seat, locate the alarm and remove any cable ties securing it, carefully. Don't slice any nearby looms! Next you need to remove the two screws that hold and cover the loom plugs. These are special anti-theft screws, specifically designed to cause your screw driver to slip on removal. However a firm grip with a thick headed flat screwdriver will do the job with a little perseverance. Remove the now loose plastic covers a peel back the rubber sleeve beneath. Next unplug the two cables, there's an 18 pin black one and a 2 pin white one. Fitting the new control unit is merely the reverse of the above. Plug it in, check plug catches catch, replace rubber sleeve, fit plastic covers and screw together. New plastic loom covers and screws are provided. Secure it neatly, turn the ignition on and off and then test with the new key fobs. All in all, a half hour job.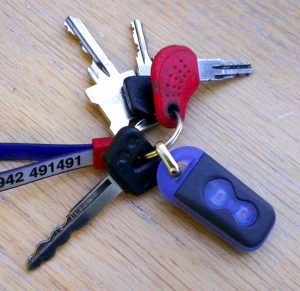 The new alarm is hideously loud, far louder than my old one ever was. The new key fobs also have an extra button for an alert/rape alarm, that set off the bikes siren. Possibly useful, but just make sure you press the right button when you try to unlock your bike!
I just need to sort out sticking my Fazer key in the other alarm fob, rather than carrying this separate key ring fob (shown left).
So, if your Meta M357TV2 alarm is on the blink and you're pretty sure the wiring loom is still in good order, try swapping the control unit yourself. It's a straightforward job and could you a good wad of cash.
Update: replacement Meta M357TV2 alarms are becoming harder to come by. I suggest you get in contact with Abacus Alarms, who have a few options you can check out. If you have a Meta M357TV2-1, there is an alternative drop-in replacement from DefcomT which you can buy from Abacus or Amazon.