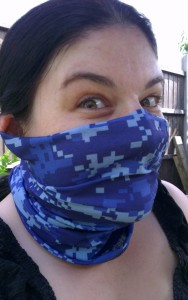 The wonderful people at Hoo-Rag recently sent a couple of their Bandanas in for review. Less well known here in the UK, however, the Hoo-Rag is a big product over in the US. Essentially it is a tube of material that can be worn in a multitude of different manners. As a biker, I've been wearing it predominantly as a neck gaiter, but of course, it need not be just for ride-outs on the motorcycle.
Hoo-What? (Why?)
The key thing about the Hoo-Rag, is it's made from a single seamless piece of soft polyester microfiber tube. No annoying seams, or labels, just one nice stretchy, soft tube to protect your neck from the wind, cold, dust, insects and so on. Wear it around your neck, over your face, or go all '80s rocker style and wear it as a headband or bandana. With such versatility and loads of different patterns available, there should be a Hoo-Rag to suit almost everyone. They even do one for your Dog!


Any good?
My wife and I have been testing these Hoo-Rags out over the last few days on our daily commute into London. The weather has been super toasty, but the Hoo-Rags have still been very comfortable, with no problems overheating and getting sweaty. The fabric is very soft, it's stretchy enough to pull over your head with ease and the tube is plenty long enough to pull up over your nose and still tuck into your jacket.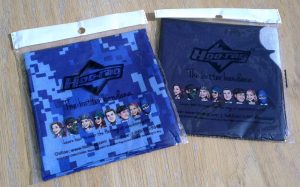 As for use in the cold, I can't really tell you yet, but it did help when some idiot turned the AC in the office down to some silly low temperature. Watch this space for another update later in the year, when the British summer ends, i.e. about 12 days time…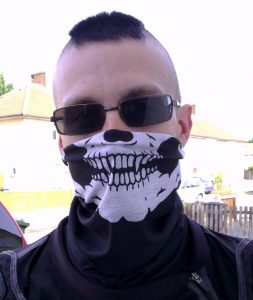 Yeah, but does it look cool?
The first Hoo-Rag is black with a skull nose and jaw motif on it. Pull it up over your face and pretend you are some ghost rider back from the dead. But of course a damned sight cooler than Nicholas Cage in that god-awful film. Either way, this is fine, but you'll spend ages twisting the tube around to line up the skull to yours, otherwise, it looks a bit odd. The second Hoo-Rag is a blue digital camouflage print and is actually my preferred pattern. A simple design that works really well and looks good. Probably why my wife nabbed that one…
Worth the money?
Overall both my wife and I have been very pleased with our Hoo-Rags, they're definitely both more comfortable than other, albeit cheaper neck tubes we've had and certainly more stylish. So in conclusion a hearty recommendation for all bikers. But I can see them being equally good for trips on the push bike and other outdoor pursuits.
Rating 4/5