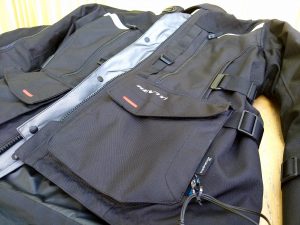 The lowly motorbike jacket is an underrated garment we all take for granted, yet it has a tough role to perform. A good jacket must first and foremost keep you well protected from impacts, slides down the road and whatever the weather throws at you. On rough days, it should keep you warm and dry, and on hot days keep you cool. Finally, it needs to be comfortable to wear and crucially, look good. No one is going to enjoy a jacket that's badly fitting or looks a bit naff. Some of you may splash out on a jacket for each season, but others starting out on two wheels will likely be on a tighter budget and will be after a single all-weather jacket. Similarly, if you're planning a long tour or just commuting at the mercy of the British weather, then you really need one jacket that can cover you from all eventualities.
Rev'It! Sand 3 Jacket Review
The Rev'It! Sand 3 jacket aims to tick all the boxes and provide an all seasons jacket in the mid-price bracket for around £360. Provided for review by Fortamoto.com (the well regarded Amsterdam based motorcycle store), I've put it through its paces over the last few wintery weeks in London. Read on to see if it lives up to promises.