We maybe having a particularly warm and dry autumn so far, but it won't last long. So now is the time to start thinking out your winter preparations. At Beginner Biker Adventures, we're not fair weather bikers,
we're not fair weather bikers
it'll take some pretty extreme weather to stop us riding and we use our bikes to commute year round. Granted, in London the weather rarely gets too bad and very few roads will be impossible to ride in the winter, never the less, good preparation ensures safe riding throughout the winter months. Check out these useful tips to prepare.
Bike Preparation
Tyres
As obvious as it may seem, do double check your tyres and their remaining grip. They may still be legal (minimum of 1mm, all the way round over a continuous 75% width), but when the weather is cold and wet, you need as much grip as possible.
The winter months are not the time to eeek out the last bit of life from your tyres
The winter months are not the time to eeek out the last bit of life from your tyres. It's a false economy, as a slide in the wet will potentially cost you far more than putting on new rubber a couple of months early.
ACF50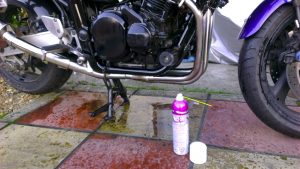 Give your bike the ACF50
treatment. I've extolled it's virtues many times on this blog, but it works wonders at protecting your bike from the wet and salt. Spray it all over your bike (brakes excluded) after a good clean, and it'll will form a protective layer against the elements and halt corrosion. You can buy it in a spray can or visit a specialist who will strip down your bike and then power wash your bike with ACF50. Don't forget to reapply a couple of times throughout the winter and regularly wash off accumulated salt
Gear Preparation
Waterproofing
It's pretty much guaranteed you'll be caught out in the wet a few times over the coming months. Hopefully, you've already got some decent textiles or an over-suit to keep you dry. However, even the best gear needs some regular TLC to keep it effective and prevent leaks. Now is the perfect time to wash and renew your waterproof gear. Most textile and Gore-tex gear can be washed in the washing machine (just rinse out all Biological detergent first) with stuff like the Nikwax Tech Wash/Softshell Proof
products. NikWax also produce a number of other waterproofing products for leather boots, gloves and so forth.
Base Layers
Before the weather turns super cold, take stock of what base layers you have from last year and purchase some new ones as needed. Be it, tops, leggings, thick socks or fleece neck gaiters and balaclavas. I personally have found Lidl's own brand base layers very good, but these are unfortunately not available to buy year round. Otherwise Get Geared for a huge selection of layers, but try to buy early out of season to get the best prices.
It's also worth stocking up on lightweight fleeces that fit well under your jacket. Amazon often have good deals on basic Regatta Fleeces
for under a tenner.
Visors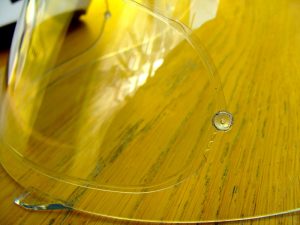 Visibility in the winter can be a big issue, often making riding miserable and damned right hazardous. Visors often steam up or rain and spray can obscure vision. Pinlock visors are  great at preventing fogging up. If they're available for you helmet, I highly recommend you get one. If you have one already, now is a good time to remove it, clean it and double check it still has a good seal when you refit it.
To help ward of the rain, it's worth purchasing a good water repellent product, like Nikwax Visor Proof
or RainX, which will help water quickly bead off your helmet.  Even so, visors still often get crudded up quickly, so it's a good plan to carry some cleaner and a soft wipe with you. There's nothing worse than setting off home from work with a visor still covered in crap from the mornings ride.
 Buying New Waterproof Gear
after the first week of torrential rain, all the cheap textiles on ebay will be snapped up
As with many things, it makes sense to hunt down gear out of season to get the best prices. Buy your waterproof Gore-Tex textiles during the hot summer months and your leathers in the middle of winter. You can be sure that as soon as we have our first week of torrential rain, all the cheap textile deals will end, bargains on ebay will be snapped up and prices will climb.