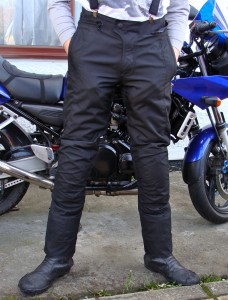 As summer comes to a close and winter approaches, the prospect of wet riding days looms with a damp inevitability. I was fed up with my waterproof over-trousers that were no longer waterproof,  and a hassle to put on, as well as causing me to slip around on the seat and more importantly, look pretty naff. Definitely time for some new textile gear. Being a cheapskate, I hit eBay and found these Alpinestars P1  Sport Touring Drystar trousers brand new for £100. They're not current, but the Drystar range is still going strong and well regarded.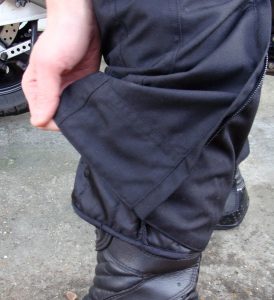 Key features are the 500D Cordura material, which is lightweight and breathable, a fully waterproof Drystar lining (very similar to Gore-Tex), a removable thermal lining, CE knee and hip armour and a long leg over boot cut. I went for a Small size, which suits my 32″ waist pretty well. I normally wear a 30″ waist Levi's or a Euro 46 Alpinestars leather trousers, the small Drystars, should sit between a 30-32″ waist (Alpinestars size-chart), but were fractionally loose on me. They have just enough length for my 32″ inside leg, zipping over my Alpinestars SMX-4 boots fine.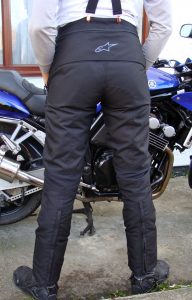 Overall, the Drystars are very comfortable, but as I bend, they do slip down at the waist or ruck up at the ankles a little. No big deal, I am an odd skinny and lanky size!  A pair of braces do a great job of keeping the trousers up, but I still find myself pulling the legs back down over my boots every time I get off the bike. The length is fine standing upright but crouched on the bike the ride up a bit. The problem is they don't slide back down again when dismounting. A long leg fitting would help, but this only seems available on those higher up the range. Nevertheless, the knee armour always remains in the right place. There are two zip-up front pockets, both deep and have plenty of room for a phone, wallet and keys. The fly has a waterproof panel behind, which is good for keeping the crotch dry, but gets in the way when going to the loo.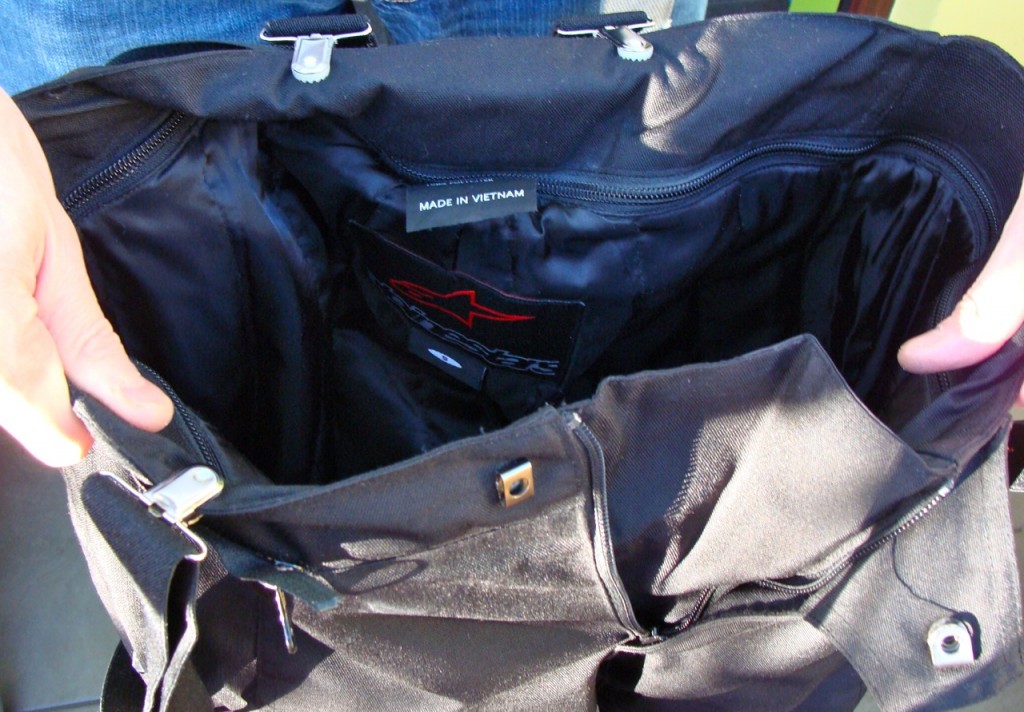 In the wet weather, they perform pretty well, the only issue is your ass feels really cold and damp. It seems the wetness on the other side of the waterproof layer makes the inside feel cold and damp. Not really wet, but you can't help but question and be mildly annoying. Even refreshing the waterproofness with NikWax SoftShell Proof didn't help. The pockets zip up and keep your phone or wallet dry in the rain, which is a big plus over other trousers. The thermal liner does a great job of keeping out the cold. I've not tested them in icy conditions yet, but on cold mornings hovering around 5-6°C, they've been perfectly toasty without resorting to thermal leggings. The biggest downside with these Drystars is I still find myself slipping forward on the seat every time I brake. An issue I've had with everything other than leather trousers, but I've since resolved this by fitting a Triboseat Rider grippy seat cover.
Pros
Very warm.
Waterproof.
Quality knee and hip armour included.
Large zip-up waterproof pockets.
Cons
No skinny/lanky fitting.
No braces included.
Slippery on the seat.
Feel cold and damp around ass.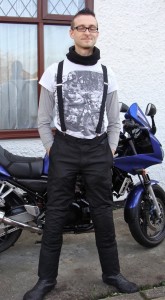 Despite a few niggles, I've been getting well with these Drystars whilst commuting for the last few weeks. Granted, I've supplemented them with my own braces and grippy seat cover. The slight leak is only noticeable in really heavy showers and hasn't been bad enough to be uncomfortable or require a change of clothes on arriving at work. They are not perfect, but not bad for the price.
Rating 3/5
Buy the latest Alpinestars Drystar Textile Trousers from SportsBikeShop