When the weather turns inclement I resort to waterproof over-trousers or textile trousers to stay dry. The biggest downside with these is the slipping around on the seat. Whether wet or dry, I kept finding myself sliding forward every time I brake or sharply cut the throttle. Being fairly tall, I sit a little way back from the tank on my Fazer to remain comfortable and stop my legs from getting too cramped up on the pegs. No matter how much I grip the tank with my legs when wearing textiles I just slide forward and down right up against the tank and then indistinctly grip the bars really tight. I feel unstable and my tense grip on the bars is detrimental to my riding, especially in the wet. Perched close against the tank, my legs feel squashed and uncomfortable on the rear brake and gears.
Meet the Triboseat, a super grippy cover for your bike seat. Triboseat predominantly sells bike-specific seat covers to help your pillion remain still, preventing them from sliding into the back of you. However, they also sell The Rider, a generically shaped cover to keep the rider planted on their seat. Sounds like exactly what I need.
A few days after ordering, the Triboseat cover arrived in a flat white envelope. It's comprised of a small patch of super grippy material which has a couple of clip straps to go around under your seat. it has a neat trim around it and just a little Triboseat label.
my arse remained perfectly still on the seat, the Triboseat Rider did exactly as it said on the tin.
Fitting was a doddle and obvious, which was a good job as it came with no instructions. Wearing my Alpinestars Drystar trousers, my arse remained perfectly still on the seat, the Triboseat Rider did exactly as it said on the tin, no more sliding forward. It took a little while to get used to as it does completely stop you from sliding around, which can be an issue if you want to lean off the bike, be it to keep the bike more upright on a wet corner or get your knee down. Not that you'd want to get your knee down whilst wearing textiles…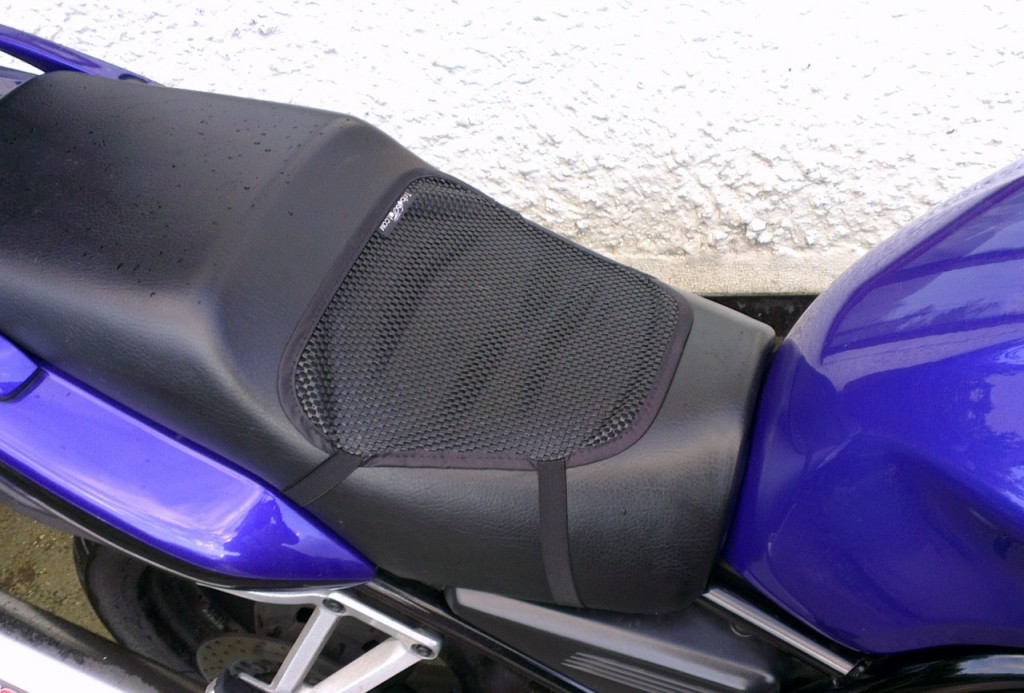 Looks-wise, it's not particularly great, like you've just strapped a random bit of mesh to your seat. The pillion Triboseat covers look a lot better as they continue around and under the seat with only the front edge on show. A whole seat cover design with no seams or straps on show would look a lot better. But at just a mere £13, it's pretty good value considering functionally, it does the job well.
I have only used the Triboseat Rider for a couple of days, so expect an update here in the future with regard to its longevity.
Epilogue: Nearly 2 years later I'm still using this Triboseat whenever I'm wearing textiles. It's held up fairly well, with one clip bust (it got squashed under the seat due to user error) and the elastic straps have stretched a lot, such that I'd had to tie some knots into them to get them short and tight enough. Otherwise, it's doing grand and doesn't look too tatty.
Rating 4
More details on The Rider at the official Triboseat website.