Yuck! Piddling down with rain, leaking boots, wet, soggy socks – that time again. My old Alpinestars SMX-S boots finally wore out, the soles are worn through and no longer waterproof. But what boot to replace them with? I am usually a creature of habit and would have just ordered a similar pair of Alpinestars SMX boots again, or the Alpinestars Web Gore-Tex boots, however this time I was stuck. A lack of stock, long lead times, very little in a size 11 that were waterproof (note many of the SMX models come in waterproof 'WP' or 'normal' non-waterproof versions…), and those in stock were commanding silly prices of around £200+ Hmmm.
I needed an alternative to the Alpinestars Web Gore-Tex boots.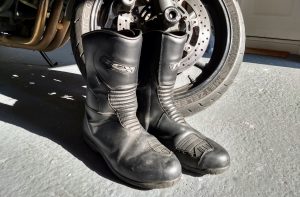 So, I had a hunt around and came across these Gore-Tex TCX X-Five.4 boots for the slightly more acceptable sum of £160. I've never had TCX boots before, but have heard a few good things about them. I figured £160 was a good price for Gore-Tex motorcycle boots since Gore-Tex always carries a premium for the Gore-Tex guarantee.
The TCX X-Five.4 boots are a fairly standard construction and have an understated design that doesn't stand out. Black leather outer, a small reflective panel on the rear shin and textured rubber toe cover to protect against the gear lever. There's some discreet TCX branding on the front shin in a grey and tiny Gore-Tex metal badge, but that's it. Ideal if you don't want anything to stand out to wear under your Kevlar jeans for work or a meet down the pub. Further to this, these TCX Gore-Tex boots are not as bulky as the SMXs, so fit a lot better under trousers or jeans.