If you are an old fart like me and hark after a simpler time where dressing to go for a ride didn't take hours and you didn't feel like your legs were encased in lead pipes then the Spada Pilgrim Grande Boots are for you. I still don't like wearing full-length boots, even though I know that they give better protection. However, proper motorcycle ankle-length boots are a good compromise. In the event of an off, they will provide support and protection to your feet and ankles whilst not feeling as restrictive as full-length boots. They allow you to walk around and get lunch without feeling like you are walking up the hill to the cafe in moon boots. I have worn these Spada boots for a few months now and they are still comfortable and hard-wearing. They also work well as a chunky alternative boot off the bike too.

They allow you to walk around and get lunch without feeling like you are walking to the cafe in moon boots
The design of the Spada boots looks like the classic Doc Martens 1460 Cherry Red boots, with the characteristic yellow stitching and similar oil distressed leather. The Spada boots are a slightly lighter shade of Cherry Red than the DM boots that they are obviously inspired by, however. They are also considerably cheaper than the DM boots and have extra motorbike specific design enhancements that the classic Doc Marten boots lack. You can also buy the Pilgrim Grande boots in brown or 'distressed black' leather colours, should you want to distance your style from an ageing '80s punk rocker.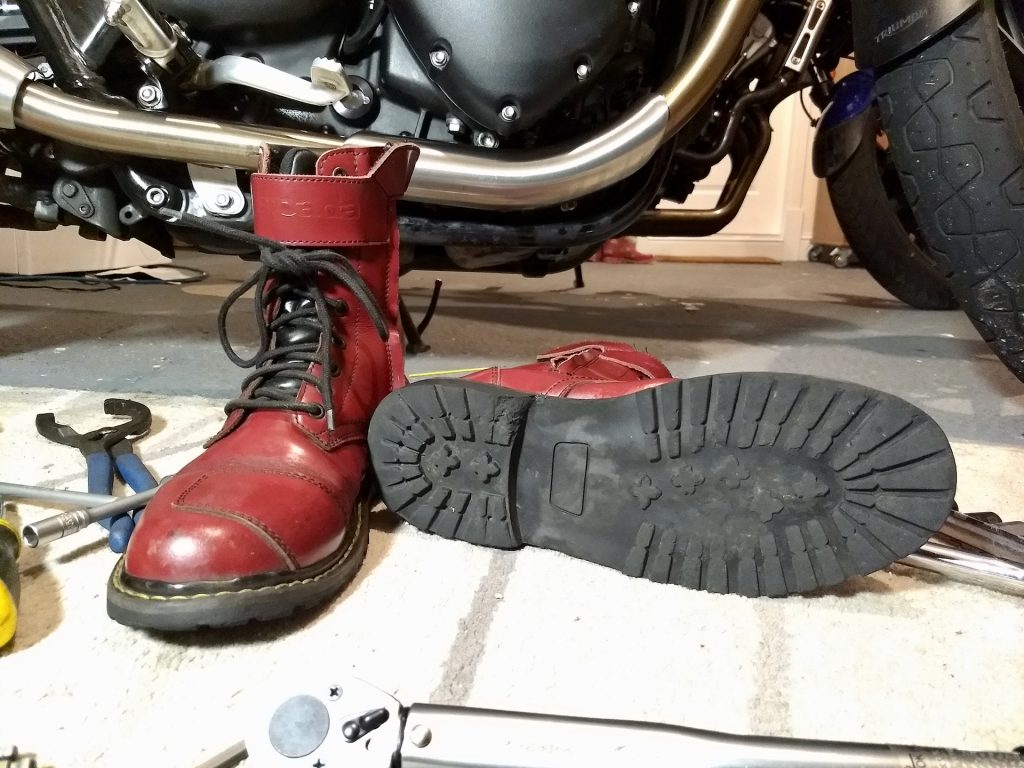 The Spada Pilgrim boots have a thick sole that has good grips on the bottom, making it a versatile boot on and off the bike. Unlike non-motorcycle boots, it has a Hippora waterproof lining which works well except in the heaviest of downpours, when often the only thing that works is sandwiching a carrier bag between two pairs of socks. It is made of leather so it is still breathable. The boots are further designed to be worn on the bike because they have a small pad on both left and right designed to protect the boot when changing gear. There is a side zip on the inside of each boot, so you could in theory lace the boots up and leave them laced, using the zip to access them. In practice, however, I have found I have had to undo the laces to get them to fit properly again once I put them on. These waterproof motorcycle boots are protected from water leaks by the side zip by extending the lining to cover the inside gap between both zip sides. A further touch that makes them different to non-motorcycle boots is the strap which extends over the front at the top of the tongue to prevent the laces from becoming undone when riding and getting entangled in the chain of the motorbike. If you have wide calves you may find this strap is too short however to fasten as intended.
As I have worn these Spada Pilgrim Grande boots I have noticed that the leather has softened a little and cracked as they have aged. This is completely normal and to be expected and they are still waterproof and comfortable. Selling at just over a hundred quid, they are also a bargain. I would recommend these if you are looking for a casual boot that works well in the summer on and off the bike.
Rating: 4/5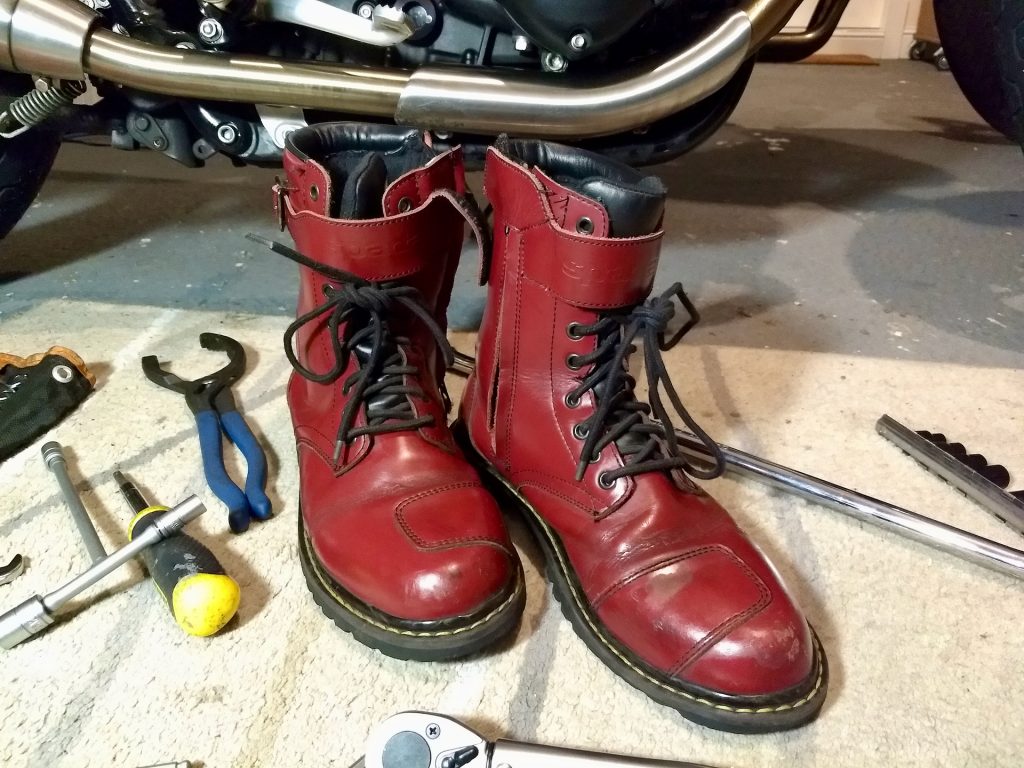 Update: The cherry red colour version seems to have been now discontinued. However, these boots are still available in 'distressed black' or brown.
Buy these Spada Ladies Pilgrim Grande  Boots from SportsBikeShop