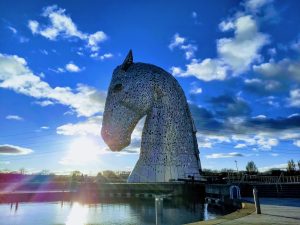 Wet. Wind. Sleet. Cold.
Pretty much what one would expect from a winter in Scotland. Although some extreme weather has hit the UK (122mph wind on the Isle of Wight! WTF!), here in Stirling we have dodged the worst of it. But it's still been pretty wet and miserable, so not a lot of biking has occurred this last few weeks and things are a little quiet on the blog. In the meantime, I've been keeping busy with other projects.
In my day job, it's been super busy, with many projects in their final stages. Additionally, I was sent to Boston for a week to work a tradeshow (SLAS), setting up a stand, pulling in leads, meeting customers, liaising with partners and speaking at one of the talks. Proper cold out there, -15°C one evening! But everything was running fine one day after the huge ice storms – some places just know how to deal with the weather. Nevertheless, it was still way too cold to consider renting a motorbike over there for a couple of extra days.
This last week has been a big family shindig, celebrating my old Man's 70th birthday (much to his chagrin). Been good to catch up with family and see my young toddler nephew and cousin, who I've had little chance to meet throughout the past lockdown restrictions. Been great to have the space to put people up and entertain, something we never had the room for in our old London terrace house. We drank, feasted and checked out many local attractions including the local Deanston Distillery in Doune. My first visit to a distillery believe it or not, and I might even be developing a taste for whiskey. When in Rome…
Other projects have been in the house. Getting the garage organised, sorting out all our motorcycle gear and tools. Longer-term, I'd love to kit it out with proper worktops and tools cabinets, but for now, it's just a case of making do with basic shelves, some old furniture and unpacking everything so I can find stuff I need when I need it.
I've also been getting a bit geeky lately and have been laying down ethernet cable around the house (with the help of a mate). More reliable and faster than wifi and makes more sense for anything that stays put in one place. Many runs of cat6a cable behind the dry walls up to a comms cabinet in the loft with my trusty old 3Com switch. Just running 1Gigabit for now, but the infrastructure is there for 10Gigabit later on.
My next plan is to upgrade my file server with bigger drives to give me space to deal with video footage and produce some more YouTube vids for you all.
Hopefully, the weather will begin to improve soon and we'll be able to get out more on the bikes. I can't wait to explore more and head out into the highlands. But for now, as I'm no longer commuting on the bike, I'll be remaining a fair-weather biker!
What winter projects have you been occupied with through this inclement weather?