No one likes cold hands and fingers when riding a motorbike. Sure, some will pack their bikes away for the winter, but they can miss out on some beautiful sunny winter days. Some make do with heated grips, which do help but can still leave your fingers and back of your hands cold.  Some fit muffs on their handlebars, which although effective rarely fit on a faired bike. One of the best solutions is heated motorcycle gloves – decent protective gloves with an integrated electric heating mesh sewed inside.
Heated Motorcycle Gloves Tested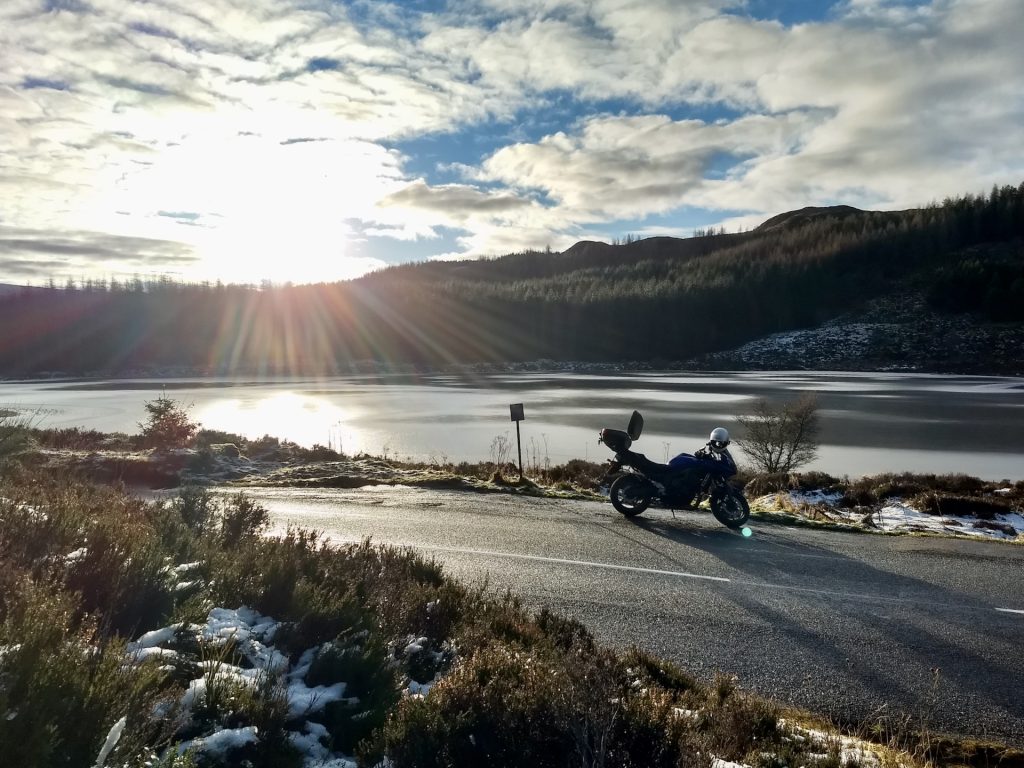 Dutch firm HeatPerformance produces many such heated gloves for a variety of sporting activities, skiing, hiking, outdoor work and of course heated gloves for motorcycles. HeatPerformance put forward their gloves for review, which now we are in Scotland we can most definitely test out.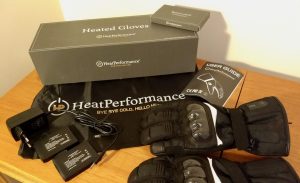 The HeatPerformance Maximum heated motorcycle gloves are powered from two 7.2V 2600mAh Li-Po batteries, which slot into the cuff of each glove. The gloves have 3 heat settings, which are quoted to give you between 2.5 and 8 hours of heat depending on setting and charge within 4 hours. The gloves retail for £150 which includes one pair of batteries and a charger. A spare/replacement set of batteries costs £40.
Construction
The HeatPerformance gloves for motorcycles appear very well made, constructed from a mix of waterproof softshell and goat leather exterior and soft fleece lining. It's good to see all the key goat leather abrasion protection on the palms, down the side of the hands and along the forefinger and thumb where one grips the bars. All places that will wear and likely slide against the tarmac should you come off.
Other features include carbon fibre armour on the knuckles, reflective strips on the back of hands and visor wipes on both forefingers. The latter is great to let you wipe with either hand regardless of whether you are focused on clutch or throttle control. The forefingers have a patch in the tips to use a mobile touch screen, but in reality, I found them too chunky to reliably use a phone with them on. They were fine with a dedicated motorcycle satnav that is designed specifically for use with fat gloves though.
HeatPerformance Gloves In Use
First things first, one has to charge the batteries ready for use, however as these hail from the Netherlands the supplied charger had a Euro plug on it. Not too big a deal, a UK travel adaptor is only a couple of quid, but I did find the charger kept coming loose in many of my cheaper travel adapters. A minor annoyance, but it would have been better if the charger had interchangeable pins for Euro, UK, Swiss, US main sockets.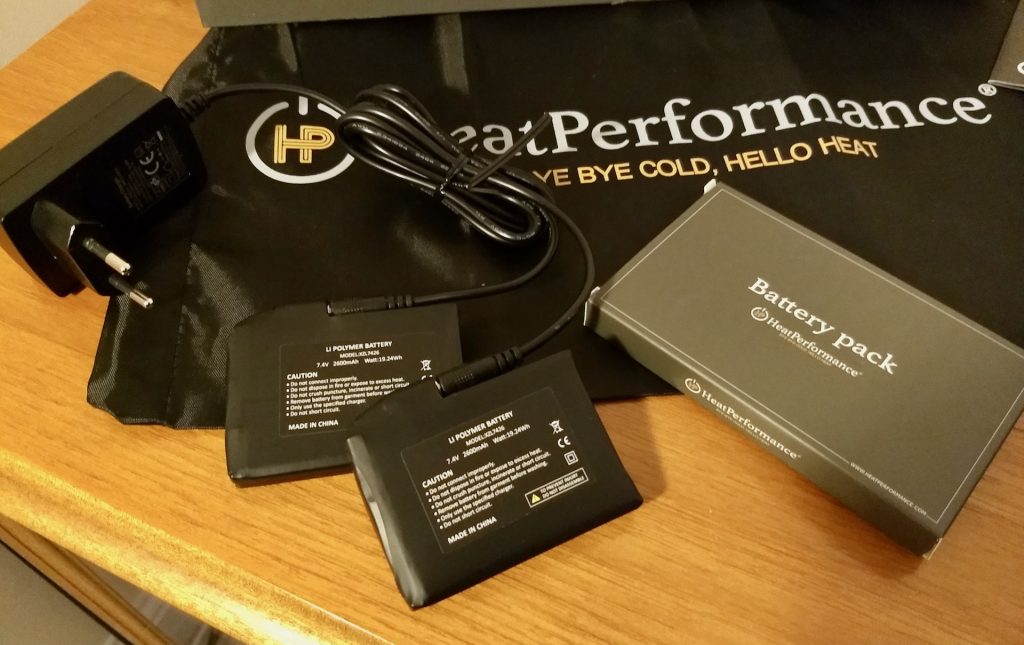 The fully charged batteries are then plugged into the gloves and slotted into a pocket in the cuffs with a thin Velcro seal. I liked the slim 10mm thick batteries and how the socket on them was small, unobtrusive and flush and likewise, the cable on the gloves had a nice small plug without too much cable slack. The batteries, plugs and cabling on my older Gerbings heated gloves are much chunkier and trickier to tuck away. I was less convinced by  HeatPerformance's decision to place the battery pocked on the inside of the wrist, I can't help but worry if the hard battery could cause a wrist injury in the event of a crash and hitting the road palms down. The pockets also seemed designed to accept the batteries lengthways, but this caused some hindrance to wrist movement downwards. The batteries just about fit widthways which I found more comfortable, but are then trickier to seal the Velco seam. That said when on the road, you don't really angle your wrist down, rather the other way as you twist the throttle.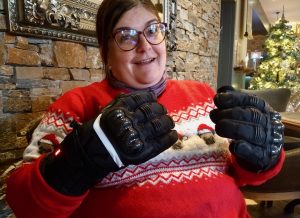 Originally, Mary was going to review these gloves, however, we found the sizing was much larger than expected. Her palm circumference is ~17cm, so we went for Small based on the HeatPerformance size chart. However, they were too big with too much length in the fingers flapping around at the end, not ideal for petite womens' hands. This small size actually fitted me better, just a fraction tight and I normally wear an XL in Alpinestars gloves!
HeatPerformance suggests wearing the cuff over a jacket, however, I found it too small to do this. With the battery also in the cuff, it was just too tight to tuck a jacket in as well. They also have no elastic gaiter on the cuff to stop rain from running down your arm and into the gloves. As such, I wore them under my jacket cuffs which worked well thanks to the slim battery. The downside to this was the on/off/heat setting button was then inaccessible beneath my jacket.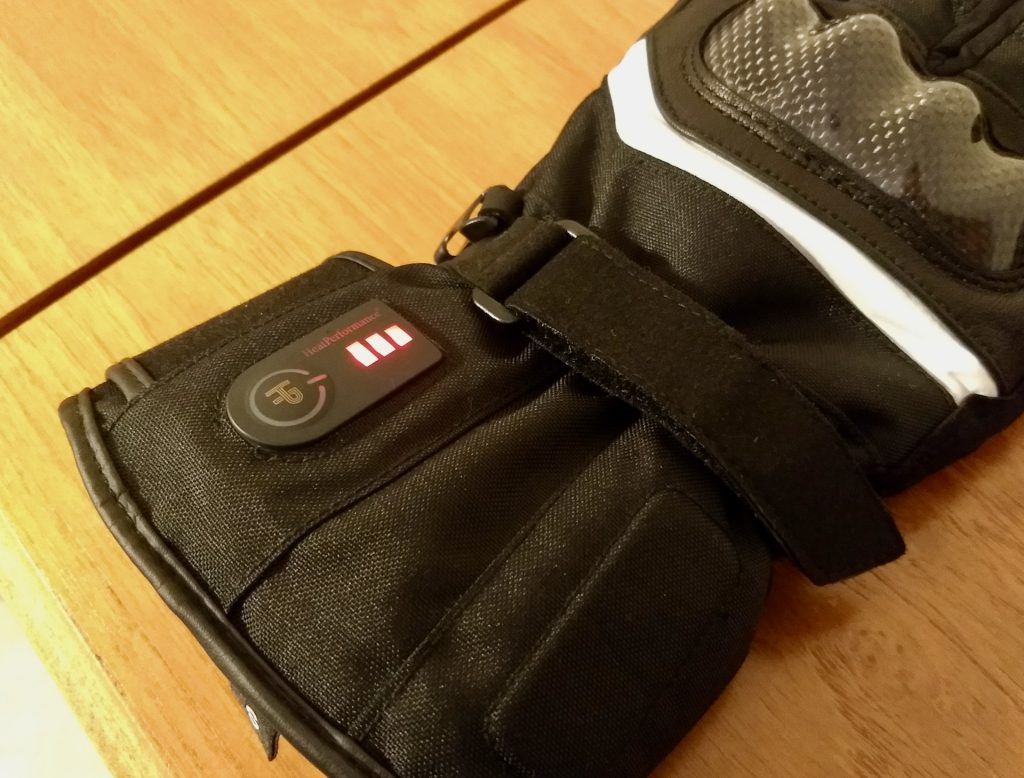 Heating wise, the gloves worked well. The heat setting button is nice and easy to operate; a long press to turn on/off and a short press to cycle through the three heat settings, with an obvious set of LED bars to indicate the current state. With a button on each glove working independently, you do of course need to press each which is a little extra effort whilst on the move. On max, I didn't find these HeatPerformance heated gloves quite as hot as my old Gerbing heated gloves for motorcycles, but still ample for a cold ride on a 3°C day in Scotland around the snow-covered higher ground and frozen Lochs (TBH I never use the max setting on my Gerbing gloves as it's too hot for comfort!) I've no complaints regarding the waterproofness of the gloves, they held up very well.
The performance was great, nice comfortably warm hands and fingers, that is until the batteries went flat, which happened at just over 2 hours of riding. Without the heating, the fleece lining did maintain warmth quite well on its own, but eventually, fingers did start getting numb. Unfortunately, there is no option to hardwire them to your motorbike's battery, so for a good day of riding you going to have to carry several sets of batteries and swap them regularly or try to eke out the battery life by lowering the heat setting. Definitely more suited for a shorter commute than spending all day on the bike. Nonetheless, some of you will likely prefer the battery option, to avoid the faff of adding wiring to your bike's battery and the repeated hassle of plugging yourself in each time you get on the bike. Battery-powered gloves are also easier if swapping between different bikes or if you're renting a bike in colder climes, where you don't have a hardwire handy. There's pros and cons, but it would be better to have both options with these gloves.
Conclusion
Overall, these HeatPerformance Maximum Heated Motorcycle Gloves are well made and very effective gloves that are priced very competitively. Cheaper than Gerbing, Keis or Ixon gloves which don't come with batteries by default. £150 for these with batteries included is a very good deal.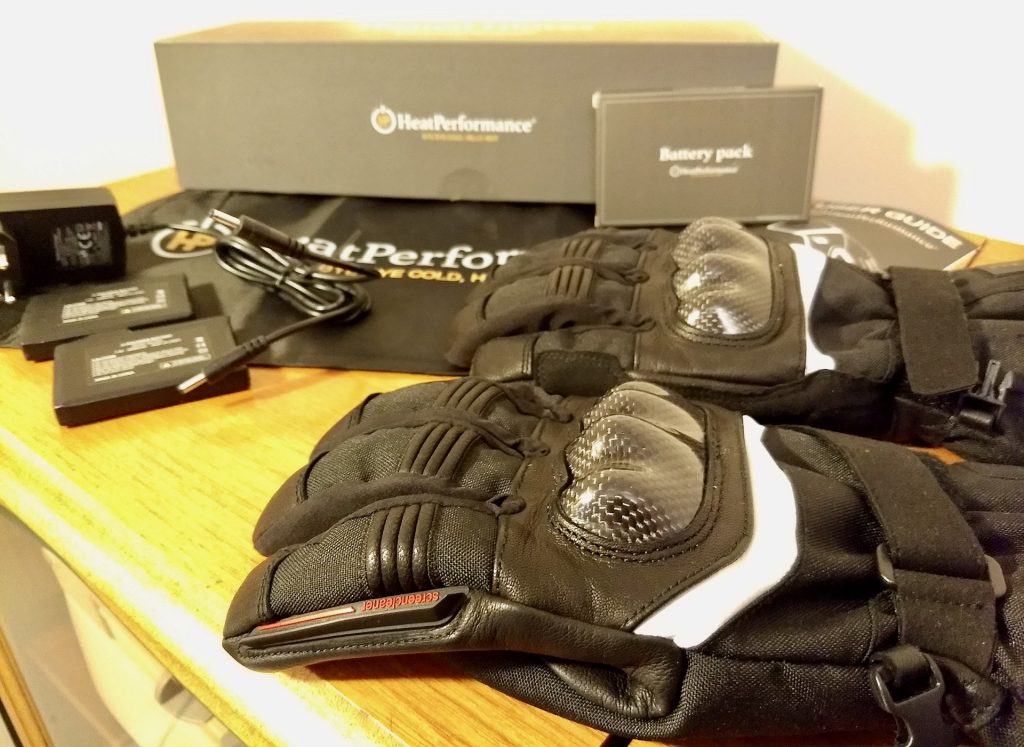 There's a couple of points where these gloves could be better; hardwire option, sizing, cuff design, but these are all relatively minor issues and are certainly not enough to stop me from recommending these gloves for commuters and those on shorter rides. However, without the option to hardwire them to your bike's battery, these gloves are less suited to those riding all day in all weathers, e.g. instructors, observers, couriers, blood bikers, those doing winter or cold weather touring etc.
Rating: 4/5