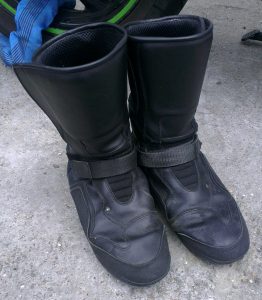 These boots are made for riding. I purchased these boots almost a year ago during the 'closing down' sale at Hein Gericke when the UK arm of the company went into administration. As such they were heavily reduced at cost me around £60. Consider this a long term review on how they have fared as I've worn them 5 days a week for 12 months during my daily commute.
I was initially drawn to these boots as I was looking for something I could wear during the day at work without looking too obvious as motorcycle boots. The discreet black leather design fit this bill well. The Sheltex layer promised to provide waterproof protection and the reinforced sole – impact protection. I took a size 11, but do have narrow feet. The fit of the boots was pretty good, but a little wide, so did necessitate yanking the strap pretty tight. The next size down was too cramped on my toes.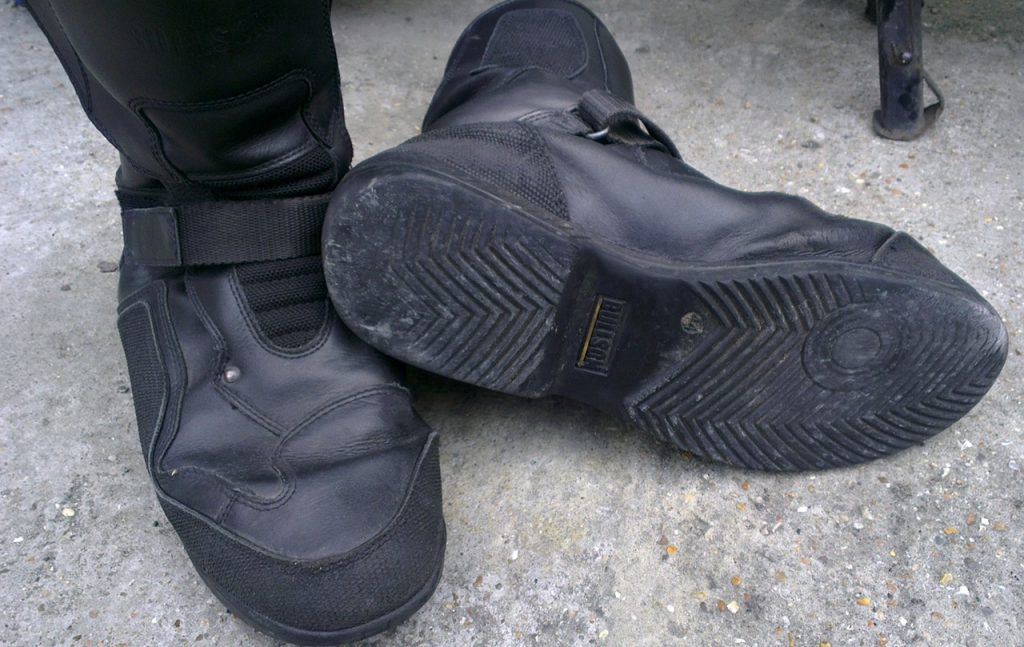 So how did hold up? Overall, pretty well, but hampered by a couple of niggles. First the positives: they've never leaked, my feet have always remained dry (I do pull my waterproof over trousers over the top of the calves mind). They're comfortable, no problems wearing them on commute to/from work and during my working day on all but the hottest days. No problems feeling and using gear/brake levers either. Throughout the winter they've been adequately warm, no numb toes, even when riding in sub zero temperatures. Robustness has been good, no holes worn through, no stitching come apart. As you can see from the photos they are holding together well, just a few rub marks on top from gear chaining. I've had a couple of low speeds off's and found my foot stuck between bike and road, in both instances the boots protected me well, walking away with just a small bruise on my ankle.
Now for the negatives: on the sole there was a little round detail in yellow rubber than became unstuck quite early on. Purely cosmetic, but annoying when it was half stuck on and flapping about. Secondly the Velcro straps don't always hold down well. I quite often find them coming loose, flapping about and leaving me with a very loose fitting boot. Often I need to stop and just refasten them up. This has definitely got worse as the Velcro has aged.
To sum up, the Hein Gerick Bullson boots are decent quality, pretty much live up to what they promise. For me though, the Velcro strap coming loose is really annoying, were it not for this I'd certainly buy another pair when they do finally wear out. But bacause of this issue and considering the current new price of £110, I find it hard to give a strong recommendation for these boots.
Check out the Bullson Cycko III boots on the Hein Gericke website here.