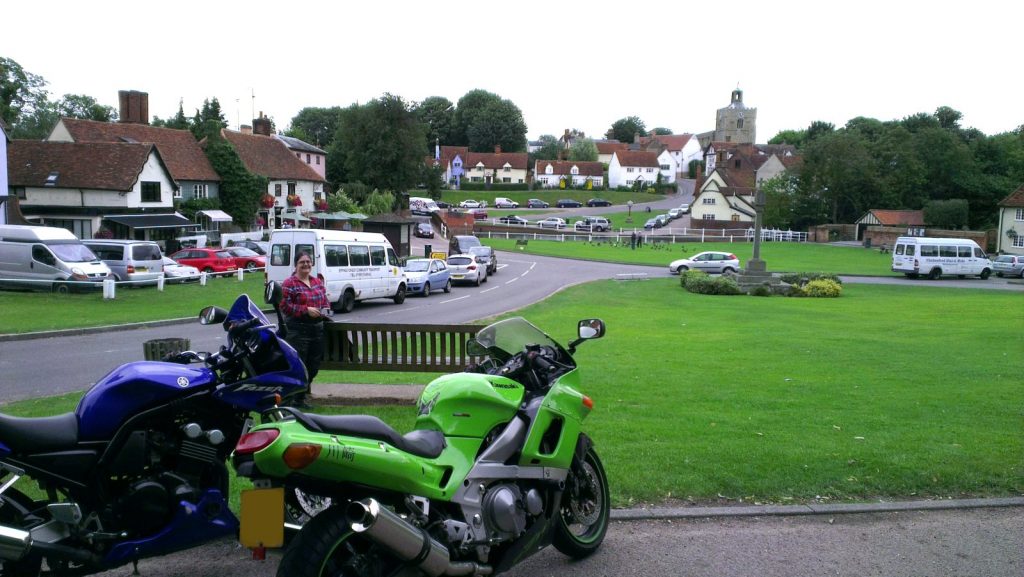 A day of annual leave booked, kids with childminder, mid week, quiet roads, lovely sunny weather – ah! the perfect ride out and chance to take in the best motorcycle roads Essex has to offer. The intention for the day was to go for a reasonably long run on the bikes, get Mary more accustomed to her new ZZR400, build up her confidence after returning to biking from several years off bikes. The day should have been a chilled Essex out ride, culminating in a picnic in Finchingfield.
The route was fairly straight forward. From Dagenham: Hainhault → Stapleford Abbots → Chipping Ongar → Leaden Roding → Great Dunmow → Finchingfield. The route is very scenic, especially the stretch North of Great Dunmow. Undulating fields, twisty bends and corn in the fields being harvested. Total length is just shy of 40 miles and easily doable in under 1.5 hours. If you fancy a longer ride, you could continue North through Haverhill and onto Bury St Edmunds, which is another 28 miles.
Motorcycle Routes: Essex Finchingfield Run
You can find many other top motorcycle routes Essex has to offer here.
The ride went at a gently pace as Mary felt comfortable, however she quickly developed serious back issues. Always having been susceptible from her time working as a nurse and having to lug patients about. She already had a twinge of back pain prior to setting out, but it rapidly deteriorated further. Unfortunately this really marred the ride out, necessitating lots of breaks, pain killers and a slow pace. With Mary in pain and not comfortable on the ZZR, she just couldn't get to grips with it and ride confidently. Sometimes you just have to listen to your body and not push things too far. Riding in pain on a less familiar bike is just asking for trouble.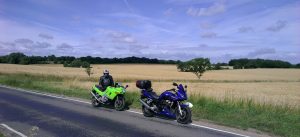 We now have a dilemma, is the Kawasaki ZZR400 really the right bike for Mary? Was the hunched over race posture the cause of her back pain, or did it merely exasperate her existing back problems? The ZZR certainly is a stretch for Mary, the suspension is very hard and puts a lot of stress on the lower back. Previous outing on the bike never caused her back pain, but neither were particularly long rides. For now, Mary is busy recovering and pilled up on a multitude of pain killers. Could be a little while before she heads out on another Essex ride out on the ZZR. 🙁
We do have a set of riser bars for the bike, which are probably worth a try. However long term, I can see us selling the ZZR on and switching to something more upright like a CB500.