Being based in East London, Essex is right on my doorstep and where I head for the majority of my ride outs. Essex may not have epic hills and deep valleys, but it offers many great twisty roads, rolling farmland, postcard villages of thatched cottages and some great coastlines to explore. Here I have rounded up some of the best motorcycle roads Essex has to offer, from the infamous Burnham Bends, the Clacton coast and of course the biker Mecca that is Finchingfield. You will not be disappointed by these routes:
Harlow to TTT Motorcycle Village, Sudbury
This loop takes a twisty back road motorcycle route from the North-Eastern outskirts of London up to TTT Motorcycle Village in Sudbury. TTT is a great motorcycle dealer with a wide range of bikes from Royal Enfield, Mash, Herald etc, plenty of bike gear to peruse and refreshments on hand.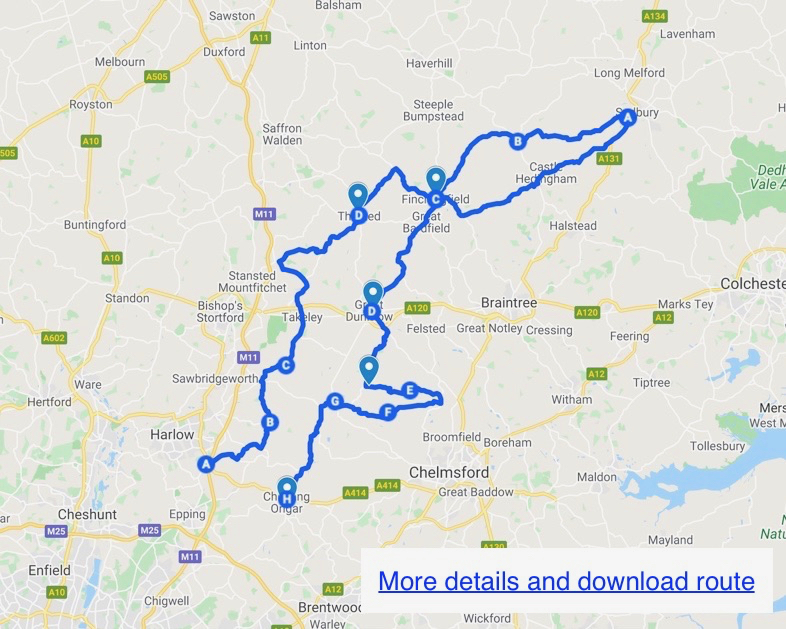 The route out starts on quiet narrow country roads with some tight bends up to Matching Green where you'll often see local villagers playing cricket. Moving on, Hatfield Heath to Takeley (B183) is a fast twisty road where you can really open things up, then skim past Stanstead Airport where you'll often see jumbo jets coming in low overhead to land. Onto Thaxted, a very picturesque village (with a handy public WC) and then Finchingfield – the Essex motorcycle Mecca where you'll find hundreds of bikes on show on a sunny weekend. A great place to stop for coffee, ice cream and admire the bikes and postcard-pretty village green. It's then one final blitz over to Sudbury on a nice fast twisty road carving through the fields with minimal hedges for clear visibility to let you string the bends together.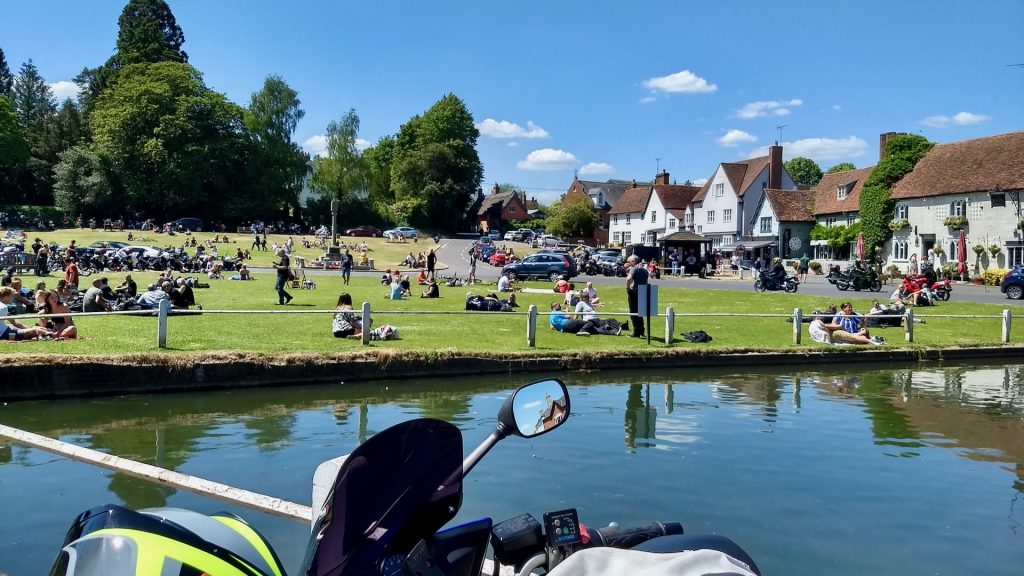 The return is an alternate route back via Finchingfield on smaller country lanes, then the very popular B1057 South to Dunmow taking in the technical S-bends of Bran End. The default road from Dunmow to Ongar is a very straight and boring, so I prefer to deviate East on the back lanes around High Easter. Much more fun, but a popular cyclists route so look out on the blind bends. The Snug Cafe in High Easter is a good pit-stop for refreshment. After doubling back to Leaden Roding, the final leg to Ongar (B186) is another popular Essex motorcycle road through Fyfield, a fast route with many fun bends, but don't have too much fun as it often policed.
Each way: 50 miles, approx 1 hr 45 min riding time.
Oyster Run to West Mersea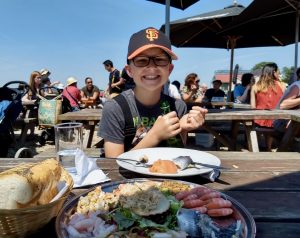 This Essex ride out heads East to Mersea Island for some top nosh at our favourite West Mersea Oyster Bar situated on the harbour. A great place for fish lovers, with super fresh produce, classic Essex seafood and all at very reasonable prices. Oysters, prawns, rollmops, crab, cockles, mussels, it's all here! Lots of seating outside, but be warned it gets busy. Neighbouring pubs do decent grub making for a backup plan though.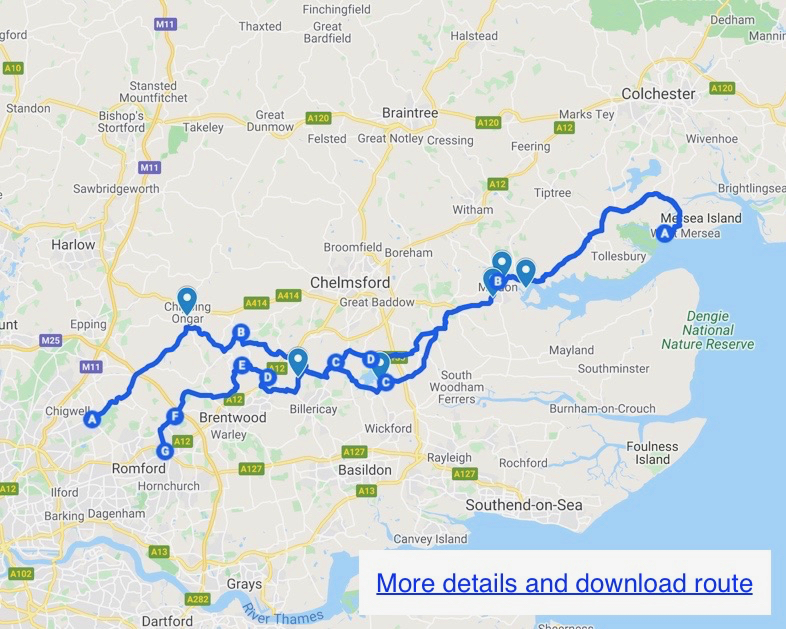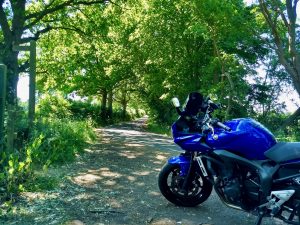 The ride starts out through the picturesque Blackmore (which has some decent restaurants, tearooms and pubs BTW), then snakes through some beautiful tree-lined corridors before popping out into Ingatestone. This motorcycle route then cuts through Stock, the Hanningfield's, Bicknacre and Maldon, all fun twisty country roads join up these little villages but mind the high hedges that obscure blind bends on the narrower roads. In Maldon, you could pop into the Hyside Motorcycles Ducati dealership to check out what's on offer. Just a little further up the road, Heybridge Basin has some nice cafes and pubs making for another good pit-stop or an alternative destination if time necessitates a shorter route.
The last stretch from Maldon to West Mersea (B1026) is a good blast, a chance to open things up with a mix of fast sweeping bends and tight 90 degree corners to keep you on your toes. So much fun, in fact, the return trip retraces this road. Mersea itself is a bit of a tourist hotspot, so it's just a steady crawl as you follow the road through town and round to the harbour front.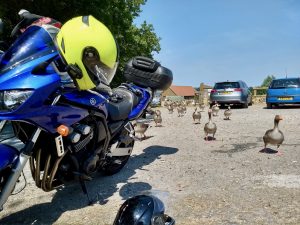 Coming home, the route deviates at Bicknacre to take the Southside of Hanningfield reservoir back to Stock. Cafe on the Water at the reservoir visitor centre is a good pit-stop, but watch out for the armies of ducks! Head out of Stock on the back lanes to cross Buttsbury ford (check the recent weather, it can flood pretty deep after big storms) and take the Old Church Lane to Mountnessing. From there pick out the back roads skirting Wyatts Green, down to Pilgrims Hatch, Noak Hill and back into Romford Gallows Corner roundabout, basically trying to catch as many rural twisties as possible before hitting the suburbs
Each way: 50 miles, just under 2 hrs riding time.
Burnham Bends
Arguably one of the most infamous motorcycle roads Essex has, the Burnham bends consist of many sweeping right-angle bends in succession on the B1010, perfect to practice your corning techniques. However, the road is often too busy to get a clear run and regularly policed due to a few bikers often taking the piss. As such, I prefer this loop around the Northside of the peninsular, which is a bit quieter and also has many excellent, if not better bends too.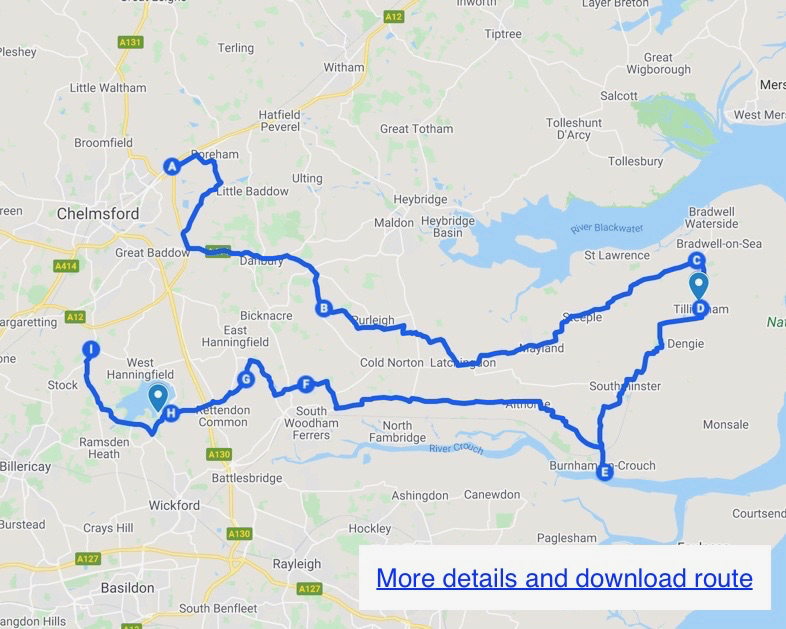 The route starts at Boreham services on the A12, with the first leg taking some chilled outback roads to Danbury, Cock Clarks (one for a dodgy place name ride!) and to Latchingdon. From here the fun really starts, Maldon Road from Latchingdon to Bradwell is a good fast road, with many sweeping bends and generally not much traffic. Hang a right before Bradwell-on-Sea and into Tillingham, a quiet of pretty village (note handy WC here). The road down through Southminster and into Burnham-on-Crouch has some very tight 90 degree bends that'll keep you on your toes.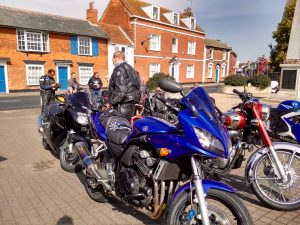 In Burnham, there's motorcycle parking by the war memorial outside the Cabin Dairy tea rooms and on the street opposite (Sundays & Bank holidays, April-October only). Grab yourself a cuppa, some ice cream or a snack and soak up the laid back ambience with other bikers.
The return leg takes in the main 'Burnham Bends' route back (B1010) West and then avoids the boring South Woodham Ferrers bypass by cutting North on some back lanes – fun, but narrow with high hedges, so watch for cyclists on oncoming traffic. The road skirting around the RHS Garden Hyde Hall has some great sweeping bends on super smooth tarmac and few hedges to obscure visibility. Next onto South Hanningfield reservoir, which has a reasonable cafe if you don't mind the mosquitoes from the adjacent water. The ride finishes at the Shell garage just outside Stock, a stone's throw from the A12 and Chelmsford.
Whole loop: 55 miles, approx 2 hrs riding time.
Ongar to Krazy Horse, Bury St. Edmunds
Technically, this route extends out of Essex and into Suffolk, but hey-hoe, it's a great route to visit the Krazy Horse Custom Cycles showroom, cafe and shop, which has plenty of bikes well worth checking out.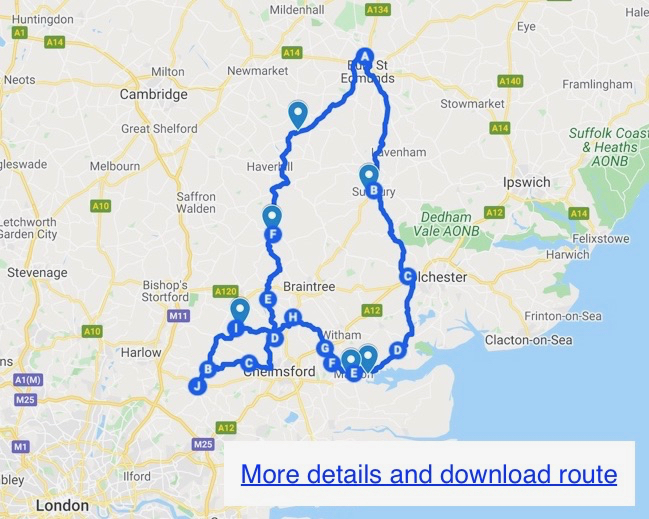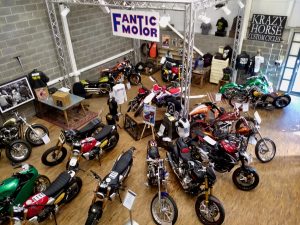 This route takes an alternative path from Ongar up to Finchingfield, hanging a right in Fyfield onto some small back roads over towards Whittle, many with fresh smooth tarmac. The route avoids Chelmsford and cuts North through more back roads to Great Waltham, Felsted and Finchingfield – perfect for a halfway pit-stop. Keep heading North to Steeple Bumpstead and Haverhill where we leave Essex. Pass by HMP Highpoint where next door you can find Cafe 33, another good biker cafe, then continue on the A143 to Krazy Horse in Bury St. Edmunds
The return leg starts with a quick jaunt South to Sudbury on the A134, then cuts across towards Colchester on the quieter B1508. We skirt past Colchester Zoo, then down to Tolleshunt D'Arcy, where we pick up the B1026 down to Maldon. A great fast twisty road that's part of the above route to Mersea. Out of Maldon the route takes some tiny back lanes to Hatfield Peverel, small single tracks, tarmacked but gravel down the middle, cutting through small hamlets some very rural and picturesque farmland.
The route finishes back in Ongar, by cutting back through Pleshley, High Easter, Leaden Roding and the ever favourite biker road, the B184
Outbound: 60 miles, 2 hours riding time
Return: 80 miles, 2 hr 45 min riding time
Walton-on-the-Naze Seaside Loop
This is a route I had half done many times, but then discovered this full loop in the Bikers' Britain AA route book. Always more interesting to ride a loop of fresh roads than retrace your steps. This is a decent length route, a good day's riding with a few stop off's to take in the Essex coast.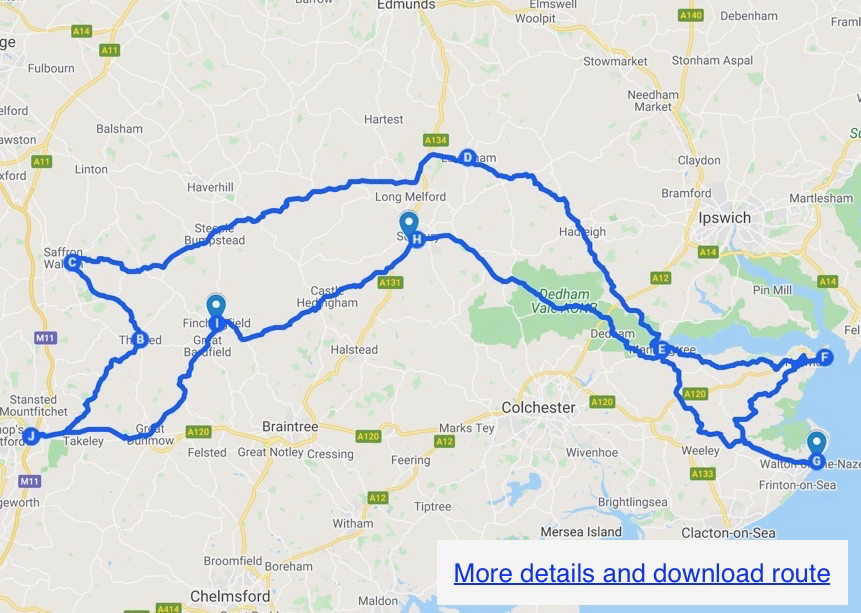 This loop starts at Birchanger Services on the M11 and heads over to Thaxted and up to Saffron Walden on nice twisty country back roads. Barely hitting Saffron Walden, the route doubles back East to Steeple Bumpstead (B1054) and dips into Suffolk to pass the mediaeval town of Lavenham (B1092) full of wonky and crooked half wooden buildings. Continue on the B1141 to Hadleigh and onwards to skirt the Dedham Vale to Manningtree and the River Stour estuary, which we follow onto Harwich where you can check out the harbour and old forts.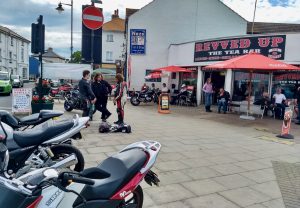 It's then a short hop down to Walton-on-the-Naze, where all the bikers rock up outside the Revved Up cafe and shop overlooking the seafront and beach. Dip your toes in the North sea, grab yourself an ice cream or a chippie tea.
The return leg runs roughly parallel to the outbound just a little way South. Back through the Dedham Vale and onto Sudbury (where you can pop into the TTT Motorcycle Village) and then back via Finchingfield and Dunmow on default biker favourite routes that snake through beautiful Essex countryside.
Big Essex Loop
This is a longer route that strings together many segments from the above motorcycle roads Essex offers, to form a long loop from Harlow, Finchingfield, across to Mersea Island, then back via a loop of the Burnham Bends. A great route if you want to make a full day of it and really stretch yourself.
Essex Loop – Part 1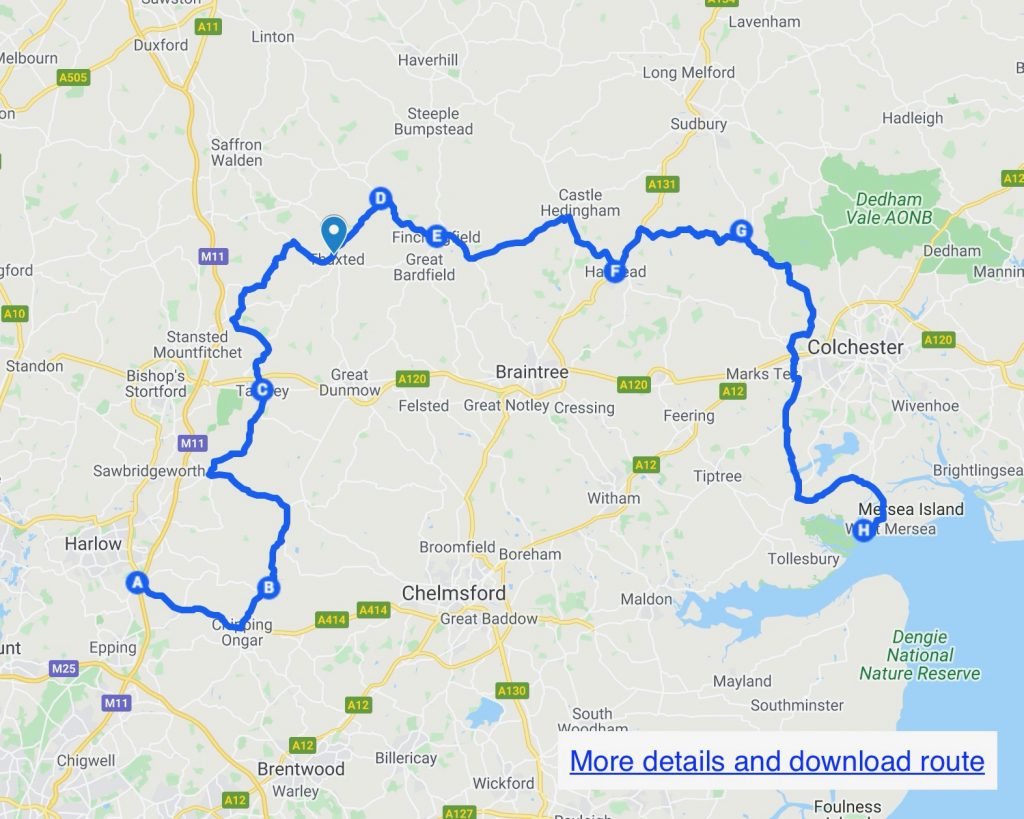 85 miles, approx 3 hours riding time
Essex Loop – Part 2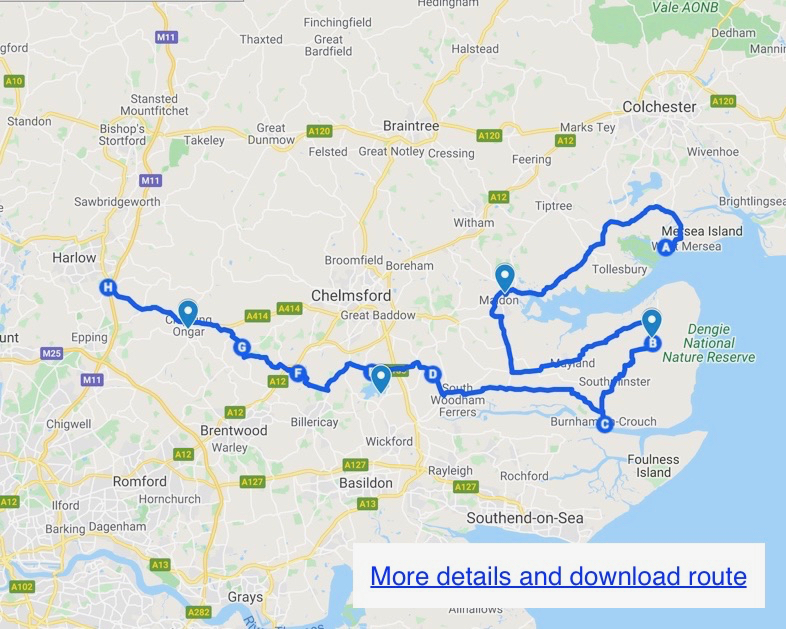 80 miles, approx 2 hr 45 mins riding time.
You can read more on this particular Essex motorcycle route in this post when I led an ELAM ride along this route. If time is short, you can easily cut out the Burnham-upon-Crouch loop. Or if you want to chase the sunset, stretch part 1 out further and divert out to Walton-on-the-Naze or Clacton too!
Are these the Best Motorcycle Roads Essex has?
These are definitely some of my most favoured and best motorcycle routes Essex has. Have you ridden any of these already? Have you tried one of these routes, did you enjoy it? Do you know of other even better Essex roads? What's your favourite Essex ride out route? I'd love to hear from you, your comments on the above routes and any other great rides you can share.