Today I attempted to make good the damaged fairing from last weekends off. The damage isn't too bad, just a big crack and scuff on the right hand side. However the fairing brackets are bent and thus the headlights, clocks and fairing all point to the left somewhat. 🙁
Enlisting some help from the decent chaps on the FOC forum, we spent the morning removing the fairing and bending everything back. In the end there was four of us Fazer owners, all with blue bikes and having a good fettling session. It turned out rather straight forward to remove the fairing, but bending the brackets and gauging when it was true again was not. After a lot of errming, arring and lots of judgement by eye everything sits pretty much straight again now.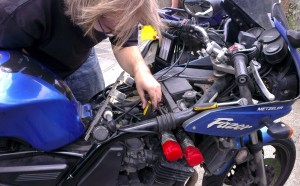 I also took the opportunity to bend the exhaust bracket back into shape. It had been bent such that the neck of the exhaust kept wanting to pull off. Oddly the exhaust is welded to the bracket underneath, rather then gripped with a rubbed band between the bracket and can. This make things awkward.
Unfortunately, whilst under the bike we discovered the downpipes were pretty rotten and had a couple of small holes. Arse. The downpipes are still original, so have had a good innings, always figured some nice stainless pipes would be on the cards at some point. Looks like they'll be next on the shopping list.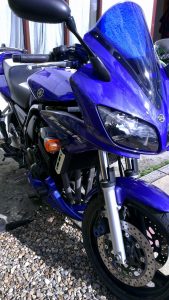 The FOC crew were also busy fettling, from salvaging some forks, balancing carbs to swapping coloured bulbs in clocks. To finish off, I've just given the bike a damned good clean, and tried to smooth in the paint scuffs with some T-Cut and polish. Looking fairly respectable now. Ideally a little time with a plastic welder and fresh spray paint would bring it up new, but it will suffice for now. All in all, a rather productive day tinkering. But lastly a big thank you to Dead Eye for his fettling skills in getting my bike back into decent nick.