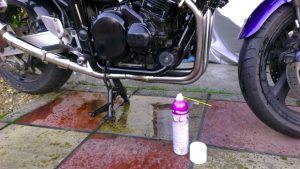 With the weather rapidly turning colder, winter will soon be on us and out comes a bike's worst enemy. Salt.
Spread on the roads to tackle ice, it literally eats our bikes, accelerating the oxidisation of ironwork causing your downpipes, frame and anything else exposed to rust and disintegrate before your eyes. Now is the time to take preventative action to tackle this problem.
ACF50 is an amazing product you can just spray onto your bike, totally covering it (just stay away from brakes), whence it will leave a protective film that halts any existing rust and preventing further rust. And so, at the weekend I gave the bike a good clean, removing a lot of the grime and dirt, then completely doused it in ACF50.