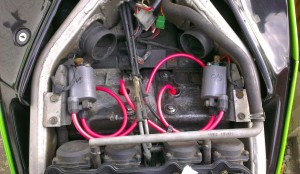 Over the last couple of weekends I have been tinkering with Mary's ZZR400, trying to diagnose some running issues. I had known for a while the HT leads and spark plug caps were on the way out and last time I had the tank off I had managed to split a fuel line – doh! So with a some new fuel hose, fuel filter, NGK leads, caps and spark plugs I set to work.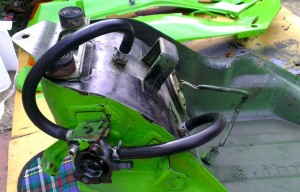 First job was to replace the fuel lines. A straight forward job, especially as the tank was now empty, I simply had to cut various lengths to size and swap them in. Rubber/latex gloves are recommended for this job, as inevitable some petrol is split.
Whilst at it I replaced the inline fuel filter. Partly in case it was clogged up, hindering fuel, affecting running and partly because it was cheap and simple to replace at the same time.
With some fuel in the bike I fired the bike up (battery still good, even though not used for a couple of months) and quickly confirmed it was still running rough. It would only run on choke, die without, and die with throttle open. I squirted some water on the downpipes to see if it was firing on all barrels, low and behold, cylinder 2 was cold, obviously misfiring (see photo below).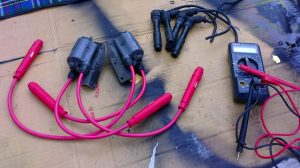 With the old HT leads and caps in such a poor state and the spark plugs of unknown age, these were the first port of call. To get to all of this the tank and air box had to be removed, in fact to remove a couple of the plugs both coils need to removed too. NGK CR9EK are the ones for the ZZR400N. To get to the plugs you will need a long reach 10mm spark plug removal tool. Pick a slim one, the first socket I purchased fit the plugs but was too fat to fit into the engine housing! Since the coils were out, I hooked them up to a multimeter to check the resistance of the primary and secondary windings, which should be 2.3 – 3.5 ohms and 12 – 18 K-ohms respectively. Thankfully all was good.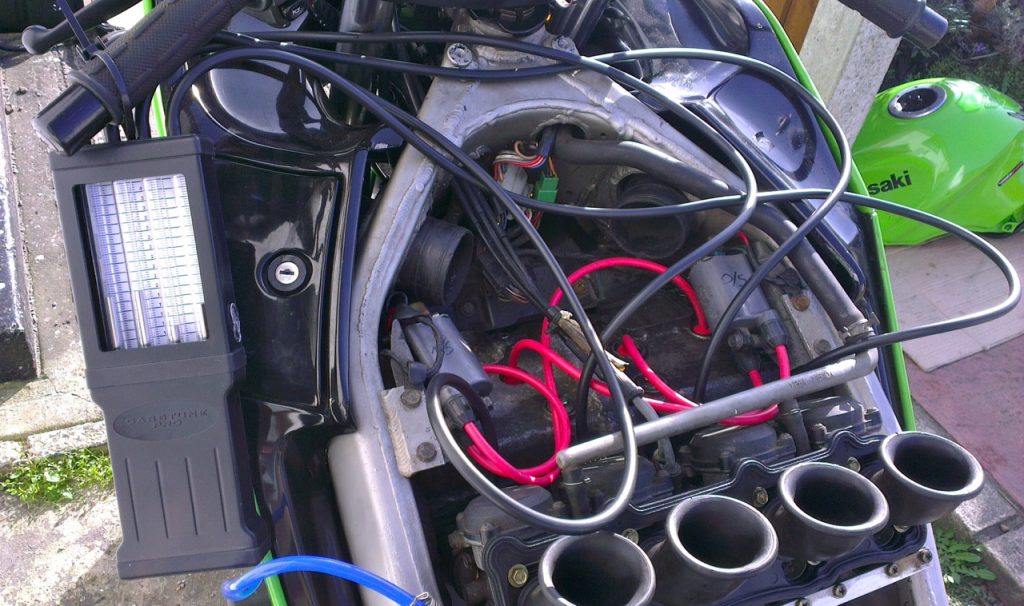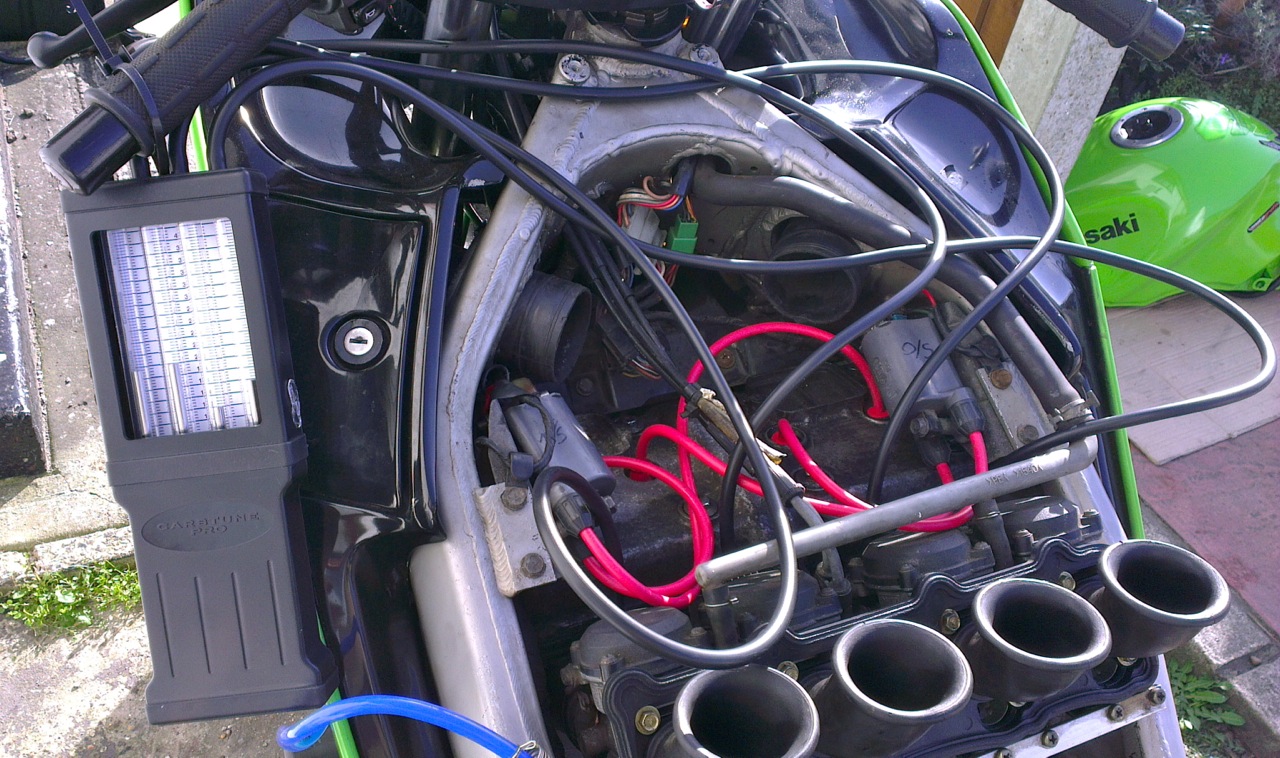 When making up your new HT leads, cut them the same lengths as the old ones and keep track of which one goes where! They're all different.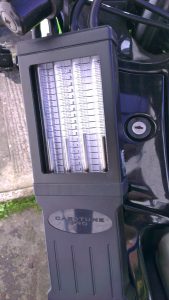 After refitting the air box and tank, the bike fired straight up and ran a lot better, with all cylinders now firing, confirming the old leads/caps were to blame. Next job was to dig out the Morgan Carbtune and get the carbs balanced. Sometimes considered a dark art, but actually quite straight forward if you've got the kit.
Next job was to dig out the Morgan Carbtune and get the carbs balanced. Sometimes considered a dark art…
Essentially you start by checking the idle revs, then hook up the Carbtune to the vacuum hoses, which causes the Carbtune's columns to rise, fall and visually highlight if each cylinder is in sync and getting the same amount of fuel. If not, you simply tweak three screws between the carbs until all are in sync. All are fairly easy to access on the ZZR, certainly easier than my Fazer.
It helps if you have a mini petrol bottle to hook up, rather than fiddling about trying to hook the bike's fuel tank up, whilst leaving carbs exposed.
As you can see from the photos, the carbs were indeed out of balance. But once in sync the bike runs much sweeter now. It starts first time, and happily revs high smoothly and with ease. Job done!
Seasoned London commuter, doing my best to stay rubber side down and never stop moving forward.