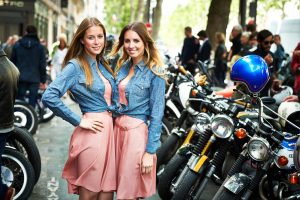 On Sunday 25 May, Paris bore witness to an unusual sight: 200 motorcycle riders revving their vintage and customised bikes through the streets, leaving the city with a noisy crescendo that turned the heads of all around.
It was a one-of-a-kind event organised by RRL – Ralph Lauren's denim line inspired by Americana and authentic, traditional workwear – in conjunction with Paris' own resident hipster bike mechanics from Blitz Motorcyles.
The route was 99 km and lasted for three hours, heading in a loop through Versailles, the Chateau de Dampierre and Saint Cyr l'Ecole, before finishing at the Ralph Lauren flagship store on the Boulevard St Germain, which had been decked out in vintage petrol pumps and bales of hay, to help add to the sense of adventure.