As the days grow longer and my IAM course progresses, I have been looking for decent routes to hit after work on my commute home to squeeze in some extra practice and take advantage of the lovely weather. I ride home Eastbound on the A13, so have been hunting down quiet, yet interesting roads in close proximity to the areas of Upminster, Bulphan, Tilbury, Horndon-on-the-Hill and Brentwood. This is my route: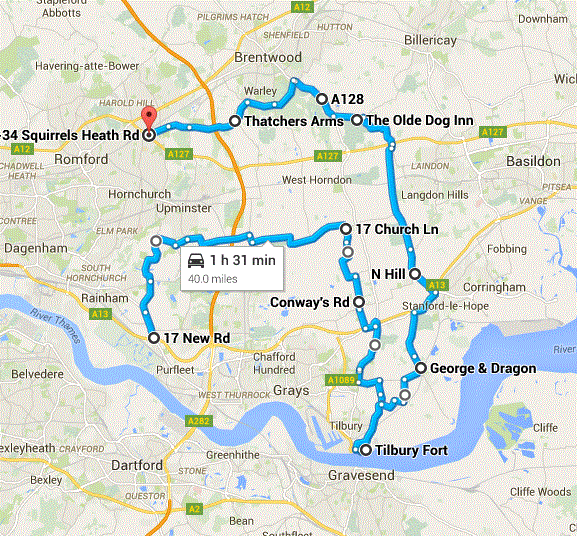 Check out full route on Google Maps here.
This route starts off leaving A13 at Rainham (New Rd), then follows many NSL roads North skirting Upminster, then across through North Ockendon and on to Bulphan (Church Ln). The section from Corbets Tey to North Ockendon is a mix of 30/40mph zones, but Fen Lane to Bulpan is NSL, has some nice fast straights with some tight right/left handers thrown in. The road South of Bulphan to Orsett (Conway's Rd) is a quiet narrow single carriageway with more tight right angle bends.
At Orsett, you can choose to head South of the A13 down to Tilbury, or just cut East to Hordon-on-the-Hill. Much of the roads down to Tilbury Fort are quiet, NSL and have some great twists and turns. Fort Rd has been newly resurfaced and rarely has traffic, hence the U turn to hit it twice. 😉 It's only marred by the bleak surroundings and excessive fly-tipping.
Butts Lane is another nice twisty section from Linford up to Standford-Lee-Hope and the A13. From here North it is mostly 50 and 40mph zone until you hit the A12. Check out the huge solar farm along this road and don't miss the left hand turn to Dunton or you'll end up in Langon. If time is short, hang a left down Doesgate Lane back to Bulphan, or the A127 back to the M25. Once you cross the A12 you hit some great hill climb taking on some fun bends before reaching the Olde Dog Inn and Herongate. Watch out for the give way junction at the top of Dunton Road that meets you a little by surprise.
It's then a sedate ride through Ingrave, right at second mini round about before cutting across through Thorden Country Park with some great bends weaving their way between the trees. A nice road, but invariable featuring too much slow traffic spoiling the fun. Hang a left at light by Ford HQ, then things improve again as you head past the Thatchers Arms in Warley and back West to Harold Wood, with a great down hill section. From here you can take up the A127 and A12, and are a stones throw from the M25 too.
All in, 40 miles and about 1.5 hours of riding. But with plenty of scope to chop bits out or cut the route short and hit the A13 or another big road back. Perfect for sneaking a little blitz around in on the commute home. Do you have any after work circuits you're partial to having a blitz around? Do let us know.
Errata: Fen Lane from North Ockendon to Bulphan is now almost all a 30 mph zone (despite this rural road having only 3 houses spread over 2 miles…)