It was a Bank Holiday weekend, so as per tradition it pissed down. Not that rain could stop the Essex Motorcycle show, over at North Weald airfield.
Being local and free I dragged the family over (albeit in the car), to see what the fuss was about having not visited in previous years. It was a small, local show setup outdoors with various aeronautical gubbins as a backdrop. Stands were mostly a mix of local dealers (promoting KTM, Suzuki, BMW, Ducati, Harley Davidson), local advanced riding groups, training schools and the emergency services. Not a huge amount, but still worth an hours mooch, especially as it was free. Oh yes, did I mention it was completely free to get in?!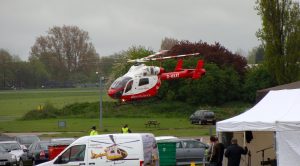 Riding safer and better was definitely the underlying theme for the day, with Essex Police promoting their BikeSafe day and the nudge tactics of the Fire Service road safety wing. There was also the opportunity to have an assessed ride on site and various numerous IAM and training schools promoting what they can do. Another key focus for the day was fund raising for the Essex Air Ambulance service, a vital emergency service that receives zero money from the Government and is entirely funded through charity. With yearly running costs to the tune of £5.8 million, that's no mean feat. I hope never to need use the service,  but I would not want to see the service shut down.
By lunchtime, the sun had made an appearance, the car park had filled up nicely with bikers and the show filled with a good vibe. Stick it in your calendar for next year, definitely worth a visit.