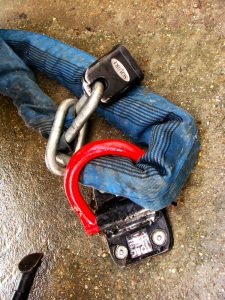 Bike security is essential in London. It's a sad state of affairs, but bike crime is rife and only a fool would skimp on security. A good solid chain is one of the best measures you can take, but it is only as good as what you chain the bike to.
→ Check out our full Motorcycle Security Guide
Your chain should have at least 16mm thick links, anything less is a waste of time. As many would be thieves favour 42″ bolt cutters, which generally have a mouth that can only accommodate ~14mm chains. Even better, opt for a 19mm chain. The best brands out there are Almax and Pragmasis. Price wise there is little difference, however I opted with Pragmasis as their ground anchor appeared to have the edge slightly. The downside of these big chains is weight. Since I would be carrying the chain to work everyday, I opted for the 16mm chain, which at 2m and with lock, weighs in at about 15Kg!