If you've never heard of DirtQuake before – Oh boy, you have been missing out! DirtQuake is essentially flat track oval dirt racing, but with a big slab of tongue in cheek fun and open entry to any crazy enough. This year's event was hosted at the Essex Arena, a stone throw from Lakeside retail hell and M25 traffic hell, but dead handy for us all London folk. The Essex Arena normally hosts all kinds of Speedway and banger racing, so was perfect for DirtQuake.
Racing was split into a number of classes:
Ladies
Street Tracker
Chopper
Scooter
Inappropriate Road Bike
DTRA Super Hooligans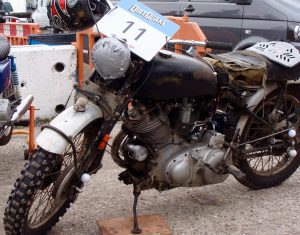 The last DTRA class were all experienced pros, with serious skills, serious bikes (mainly Indian FTR's and Ducati Scrambler 1100's) and were extremely rapid. In contrast, the first five classes had a random mixed bag of contenders from novices to celebs like Guy Martin and Jenny Tinmouth, and many in fancy dress to boot! They featured an even more eclectic collection of bikes, from brand new Husqvarna Vitpilen and Ducati Scramblers, stripped down sports bikes (an R1), random street bikes, the odd adventure bike (a Super Ténéré), right through to classics like a RD350 and a Vincent Rapide!