Last weekend I popped by Llangollen Motorcycle Festival up in North Wales. Having not attended before and staying with family nearby, it seemed like a good day out plan. Situated on the Royal International Pavilion ground in Llangollen (pronounced Lan-gof-len), a short walk from the town centre, the event saw thousands of bikers descend to check out bikes and attractions on show.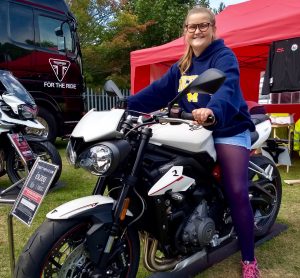 In the pavilion there were hundreds of classic and famous bikes on show, from famous race bikes to old Brit bikes from times past. Celebs John McGuinness, John Reynolds and Steve Platter gave talks and Q&A sessions, with some interesting opinions from McGuinness with regards to Honda! Outside, there were many stalls to pick Motorcycle gear, new bikes to check out from Triumph, Indian and Suzuki – who were offering test rides for visitors. It was interesting to see the new Triumph Street Triple R low in the flesh – very few seem to be available at dealers for test rides. Something Mary and other shorter female friends are tempted by; my daughter at 5′ tall could pretty much flat foot on it.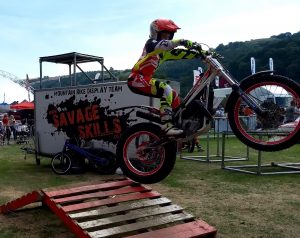 Over in the arena there were various stunt shows throughout the day from Savage BMX riders, local Junior Kick Start trials group and Steve Colley. More entertainment was on hand over at the stage with many local rock bands playing through the afternoon and late on Saturday night. Shame the sounds quality from the stage trunk was a bit rough.
Despite the show ground being quite small, there was loads going on and lots to see. Other highlights were George Formby (of No Limit fame), various globe trotting adventure riders on for chat, and many groups doing great work for bikers like BikeSafe, Cheshire  Fire & Rescue, North Wales Advanced Motorcyclists, Wrexham Blood Bikes, Wales Air Ambulance, various owner clubs and other charities.
With the famous North Wales Horseshoe Pass just around the corner, there was hope for many ride outs across the surrounding hills. However, recent wild fires still prevent access to the Pass and nearby Ponderosa Cafe, despite best efforts to open them specially for the festival weekend.
Overall, an excellent day out, loads to see and do, even the kids and my mum enjoyed themselves there! Definitely recommended it if you nearby, well worth the tenner entry. If you're further afield, do consider camping over and exploring Llangollen town centre and the surrounding area, you will not be disappointed.