If you've never heard of DirtQuake before – Oh boy, you have been missing out! DirtQuake is essentially flat track oval dirt racing, but with a big slab of tongue in cheek fun and open entry to any crazy enough. This year's event was hosted at the Essex Arena, a stone throw from Lakeside retail hell and M25 traffic hell, but dead handy for us all London folk. The Essex Arena normally hosts all kinds of Speedway and banger racing, so was perfect for DirtQuake.
Racing was split into a number of classes:
Ladies
Street Tracker
Chopper
Scooter
Inappropriate Road Bike
DTRA Super Hooligans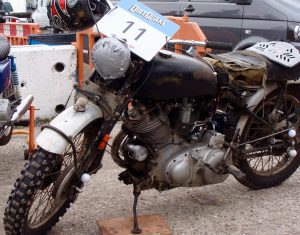 The last DTRA class were all experienced pros, with serious skills, serious bikes (mainly Indian FTR's and Ducati Scrambler 1100's) and were extremely rapid. In contrast, the first five classes had a random mixed bag of contenders from novices to celebs like Guy Martin and Jenny Tinmouth, and many in fancy dress to boot! They featured an even more eclectic collection of bikes, from brand new Husqvarna Vitpilen and Ducati Scramblers, stripped down sports bikes (an R1), random street bikes, the odd adventure bike (a Super Ténéré), right through to classics like a RD350 and a Vincent Rapide!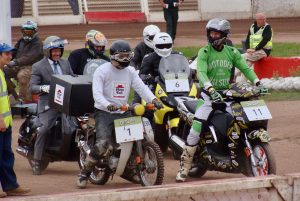 The scooter category was definitely one of the more entertaining races pitting globe trotting C90's against big maxi-scooters, Vespa and pizza delivery mopeds. Hats off the chap in full business suit and brief case.  The chopper category was equally entertaining with custom bikes with crazy raked out forks trying to drift on dirt… It's a wonder they got round at all! Even Guy Martin racing a mental Krazy Horse chopper struggled, dropping it in practice.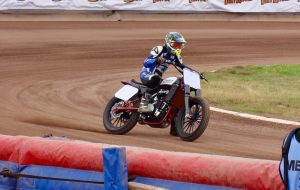 It was good to see Jenny Tinmouth racing too, who was bloody fast and only beaten in the Inappropriate Road Bike category by Vinnie Snell on an R1 with NOx who was a dab hand at drifting. Also on the celeb front, we were entertained by Jenny putting a new Indian Scout FTR bike through it's paces, before Gary Birtwistle  won it after winning the Hooligan class. Neil Hodgson and Steve Parish kept the smiles going by ragging a pair of Indian Road Master Behemoths around the dirt!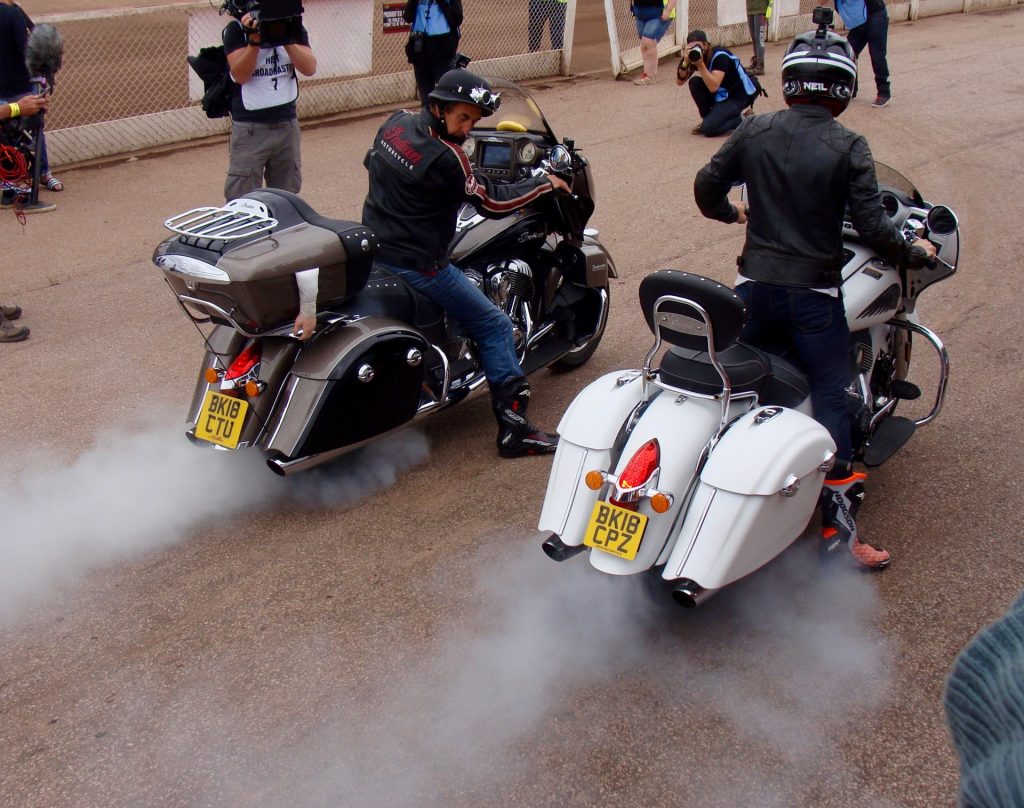 Big smiles were certainly the mantra for the day. It was clear by the big grins on all the racers, they were having a right giggle out on the track. Likewise, the audience were loving the comedy, the speed and occasional mishap. With the pits fully open to the public, it was great to mingle with racers and get up close to the bikes, be they serious flat track race race bikes, exotic customs or just cheap and cheerful ebay finds with dirt tyres.
Overall a great day out for not much money, lots of fun and spills. Oddly the event wasn't massively busy. However, the low key nature of the event is half the attraction, if it grew large and commercialised, it would loose a lot of its charm. It's also sad to hear the Essex Arena will be closing later this year. 🙁 So we wait to see where next years DirtQuake will be hosted.
You can catch highlights on ITV4 on August 29th at 8pm. Below is a selection of my photos from the day – enjoy!