When we review motorcycle clothing for this blog, we usually only evaluate how well it's made, how comfortable it is, how well it functions daily and stands up to the weather. However, we don our motorcycle gear for one primary reason – to protect ourselves if we crash. To gauge how well something will protect you in a crash we just rely on various certifications and tests manufacturers place their garments through. This requires lots of specialist equipment and avoids risking the health of a motorcycle blogger.
However, I recently had the occasion to put my gear to a real-world test. Not exactly planned and caused by some misjudgment on my part, but I found myself locking the front wheel at around 60 mph and sliding down a tarmac road for some distance. I began the slide on my front but later rolled over, thankfully, I didn't come into contact with anything else and just slid to a halt. I couldn't tell you exactly how long or far I was sliding, I forgot to count/measure in the heat of the moment…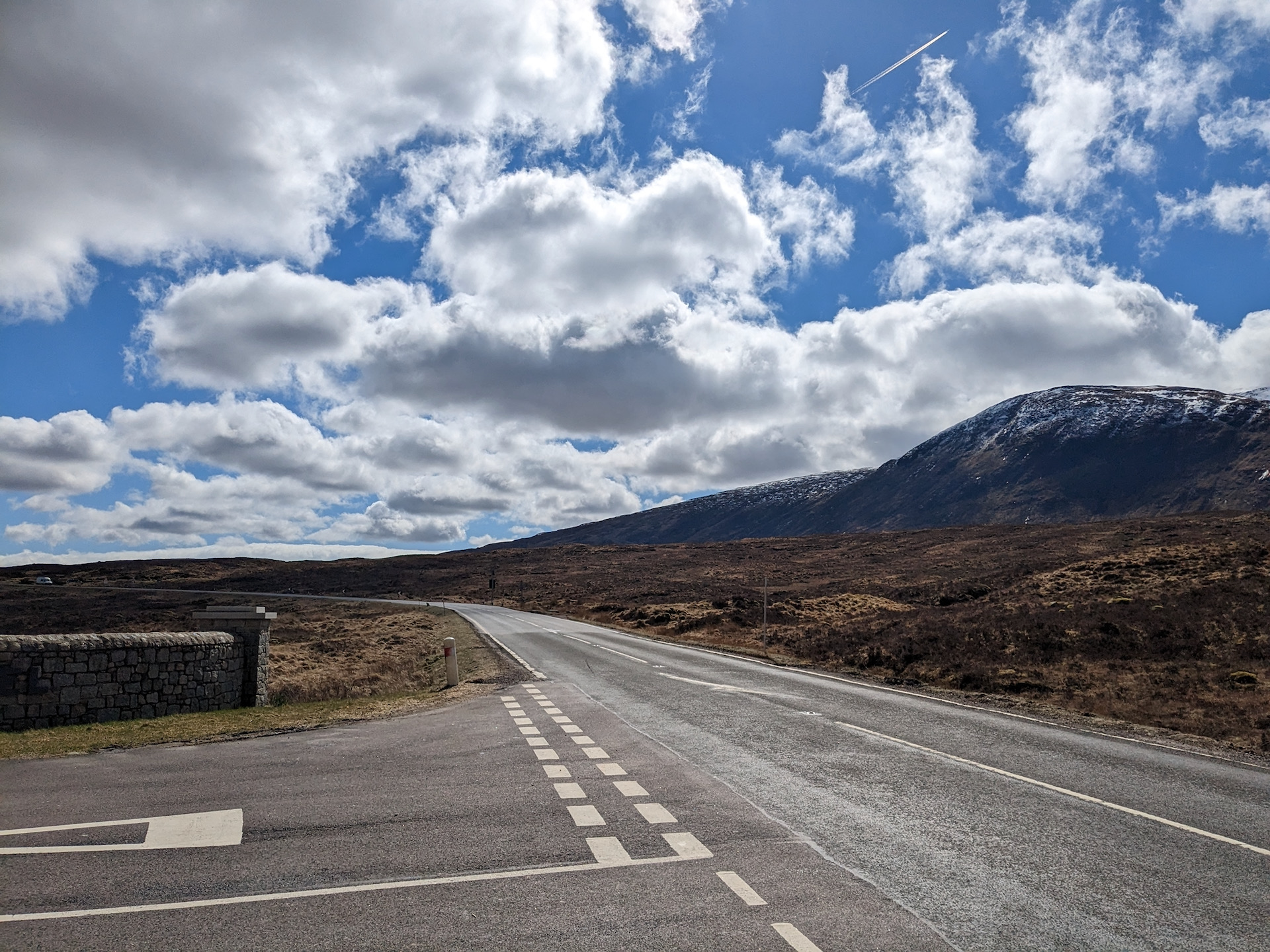 Firstly, everything performed well, I was able to get straight back up and only had a slight ache in my knee and thumb for a couple of days later. No breaks, no grazes, no skin broken, not even any visible bruises in the days following.
Had I only been wearing shorts, t-shirt and bare hands, things would have been quite messy.
So, in that sense, everything here gets top marks. After a breather, I was able to jump back onto the bike and continue riding. But let us take a closer look and see how well all my gear held up.
Rev'it Textile Sand 3 Jacket
The manufacturer's specs:
SEEFLEX™ Level 2 CE protection
SEESOFT™ CE-level 2 back protector insert (an optional extra, but I had this fitted)
Polyester 600D ripstop PWR|shell 500.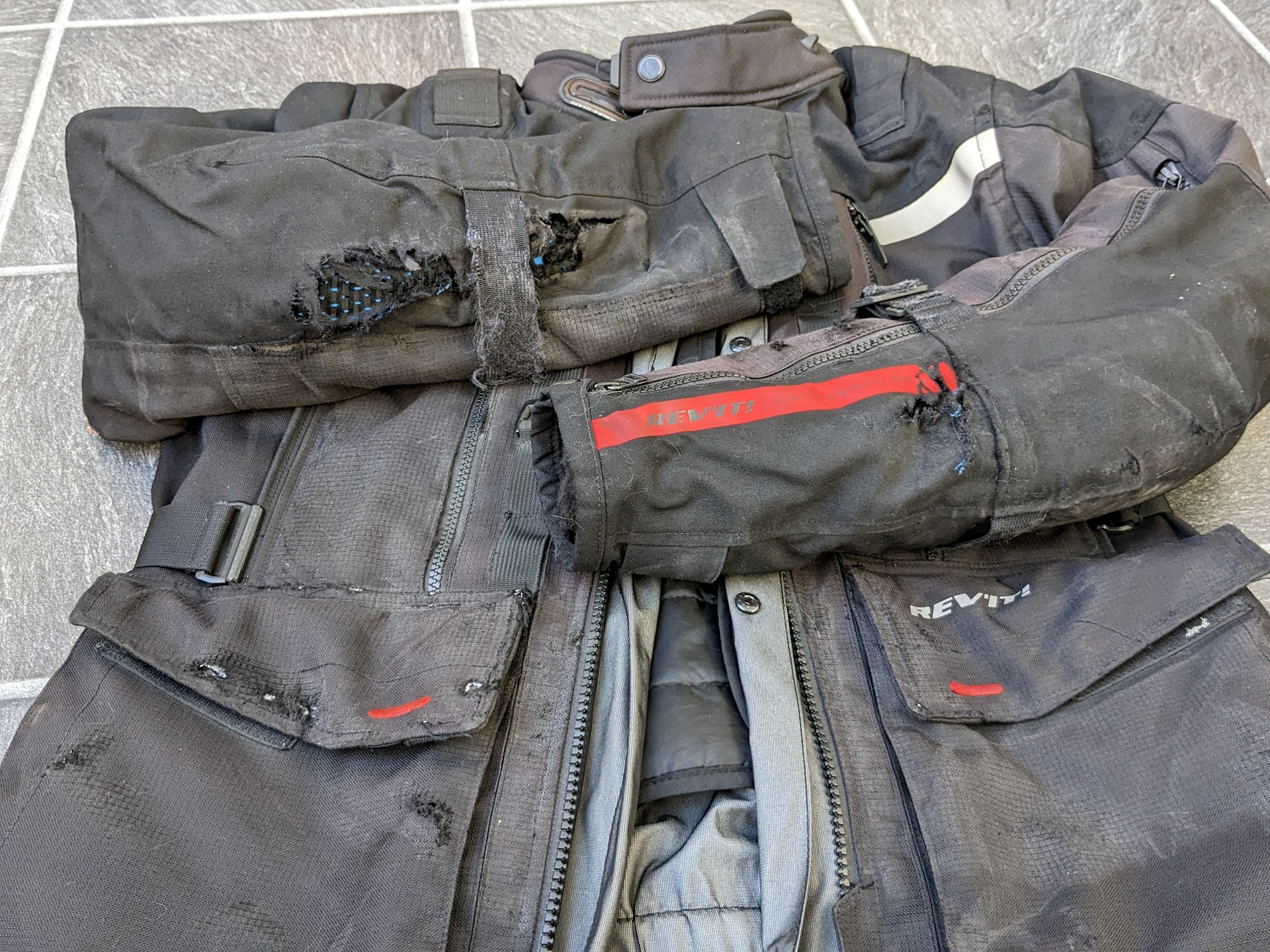 The jacket took a lot of abrasion on the front and forearms, which did initially rip many holes. The big front pockets were great in offering an extra layer of protection, but they still kept my phone in them in perfect condition (though it was in an Otterbox case, it was without a mark). The forearms took the worst hit, I must have had my arms outstretched. These wore through to the SEEFLEX level 2 elbow armour, which took some scuffing but stopped any further wear.
Overall, the jacket is a write-off, but it did its job and protected me well.
Read my Rev'it Sand 3 Jacket review here.
Buy the latest Rev'it Sand 4 textile jacket from SportsBikeShop
Bull-it SR6 Jeans
The manufacturer's specs:
50% internal covering of Covec abrasion prevention layer
Covec thermal barrier prevents heat transfer from road friction
Triple-stitched side and rear seam construction
CE Level-1 Knee and Hip armour inserts
The 'SR6' in the name translates to a Slide Rating of 6 seconds in all areas as tested per CE EN 13595-1 Level 1 Clause 5.4 for abrasion resistance. This was certainly put to the test, as my right-hand knee took quite a beating in these and I managed to wear through the outer denin, through the Covec aramid protection below and grind down a bit of the foam knee armour pad. Thankfully the wear stopped there and my kneecap was left intact. Did I slide for more than 6 seconds? I couldn't say for certain, but it is a possibility.
The only other damage was a small hole near one of the pockets where I had my house keys… Definitely a lesson there, not a good idea to keep sharp bits of metal in your pockets when on the bike. Could have been quite painful had it poked the other way into my groin!
Otherwise, the jeans remained intact, no stitching came apart or any other failures. The large hole in the aramid layer at the knee does however make them a write-off. Not all motorcycle jeans have a Kevlar/Aramid layer that extends down the legs, so do check what cover jeans have before you buy.
Read my Bull-it Jeans review here.
Buy Bull-it SR6 Jeans from SportsBikeShop
Gerbing XR12 Heated Gloves
The manufacturer's specs:
Outer construction comprises both leather and textile, offering the perfect balance of abrasion resistance and flexibility.
Reinforced knuckle protection.
I clearly made the mistake of putting my hands out in front of me to break my fall, was lucky I didn't knacker up my wrists from the impact.
These Gerbing XR12 heated gloves were a few years old now (this model is no longer available) and were already showing their age a little. Nonetheless, the leather and armoured gauntlets and knuckles held up well to protect my hands and wrists.
The face of the controller was also badly scraped, but I can confirm that all the electric and heating elements still work following the crash! However, given the amount of wear on these gloves, I'll be looking to replace them for next winter.
Alpinestars SMX-S Boots
Manufacturers specs:
Lateral TPR injected ankle support
TPU double-density ankle protectors are layered under the upper at both lateral and medial sides
Breathable textile interior lining features an anti-sliding suede heel area
Replaceable bi-injected TPU slider features easy no-screw fixing
Internal toe box protection
Similar to the gloves above, these boots were already pretty well worn, the waterproofing had already failed and I was only using them on dry days. As you can see the toe sliders and shin protection took quite a scrapping as I slid down the road. However, it all appears pretty superficial and cosmetic, probably still a bit of life left in these boots!
R&G Crash Protectors
I do like R&G crash protectors, frame slides, crash bobbins/mushrooms or whatever the hell you call them. Either way, they do a great job of protecting your bike in a slide, which is exactly what they did here.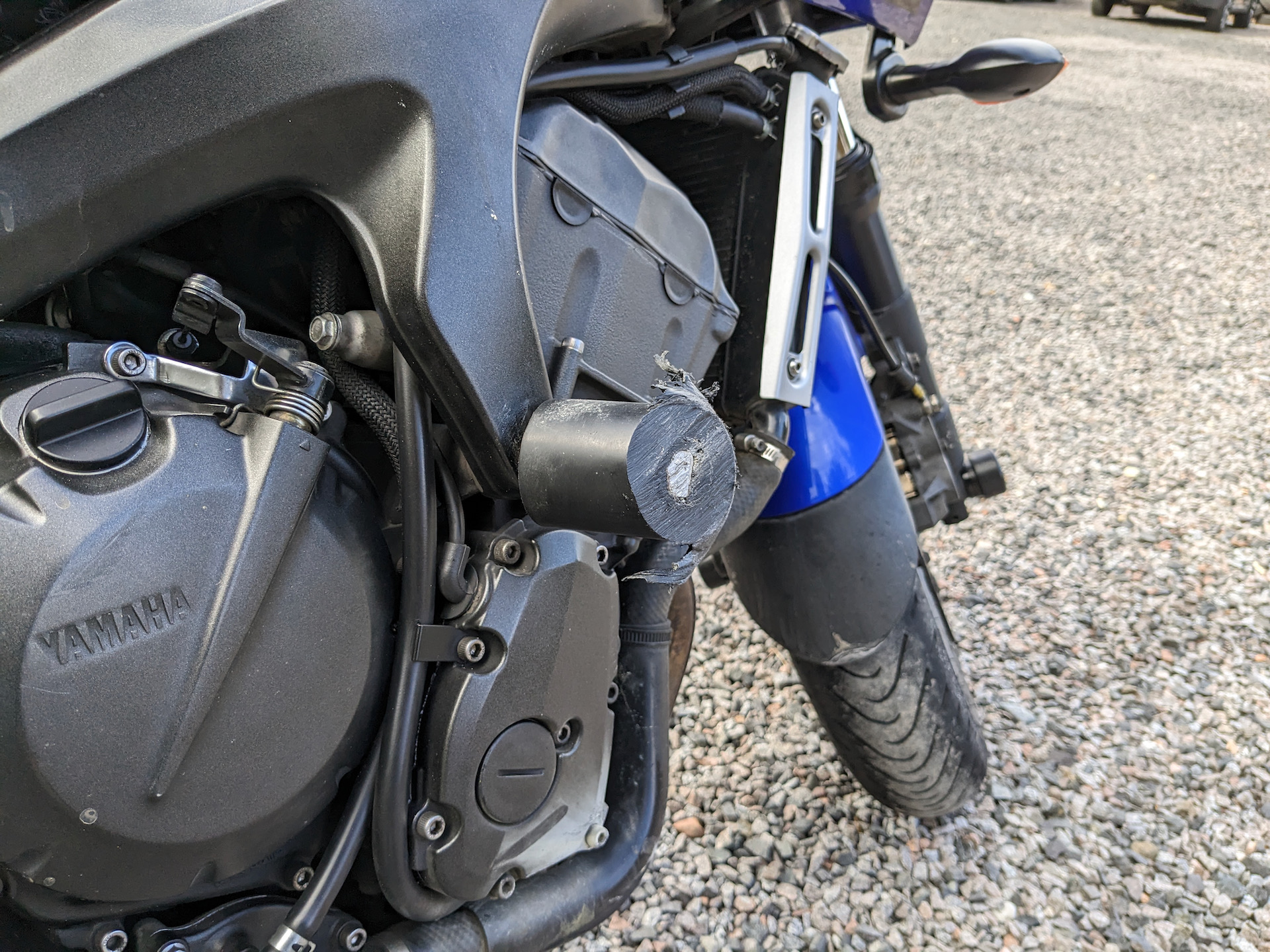 The slide properly wore down my right-hand frame slider and slightly scuffed the front fork slider. Then my huge Givi top box gave similar protection at the back! This left me with pretty minimal damage to the bike itself, a bit of a scuff on the fairing, and very minor scuffs to the mirror, footpegs, indicator and one clutch cover bolt. The rear brake pedal was slightly bent too. All very cosmetic and superficial, the bike was still very rideable.
The fairing scuff will be the most costly to fix, but even then, on this FZ6 S2, the sides of the fairing are separate pieces (called moles, no idea why!) that are available brand new from Yamaha fully painted for a round £100 each. I've picked up a second-hand brake pedal for £30 and had a spare R&G frame slider 'in stock' from my last mishap a few years ago. The rest is so minor, it barely warrants replacing.
Summing Up
Aside from needing to reappraise my own riding, I was pretty lucky to come out of this incident unscathed. A lot of my gear is wrecked, but it did ultimately serve its purpose and protect me, and had I not been wearing this gear, it would have been a very different outcome.