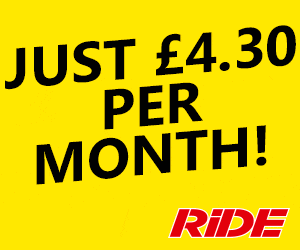 What does every biker Dad want on Father's Day? Answer: Decent weather and a pass to head out on their motorbike for the day.
The first you can't really guarantee delivery of, the second is doable and might not even cost a penny. But for those days when the weather is a bit naff and your biker Dad is needed at home to watch the kids, a subscription to RiDE magazine will undoubtedly be appreciated.
RiDE magazine is currently running a special offer of 6 mags for £14.99, and £4.30/month recurring thereafter (offer ends June 19th). Great value, as the mag is over a fiver on the high street and a perfect gift for this Father's Day.