There are many great roads up into the Scottish Highlands, but planning a manageable loop from the Central Belt that fits into a day is harder than you first think. The landscape and mountains force you to follow a limited set of main arterial roads that are full of slow tourists and camper vans. Many quiet side roads I'd normally try to opt for simply come to a dead end up long valleys. As such, you're forced into either shorter loops through some of the low lands, or very long loops North around huge mountain ranges.
This route is a loop North from Bridge of Allan to Fort William and back via Aberfeldy and is on the longer side at ~220 miles but is a great loop you can fit into a day. Albeit a longish day with about 5-6 hours of saddle time, plus stops.
The first leg takes us up through Callandar and Cranlarich to a pitstop at The Green Welly Stop in Tyndrum. The section of the A84 & A85 from Callander to Mid Lix is a great set of twisty roads skirting the side of Loch Lubnaig and then climbing up to Glen Ogle Viaduct. It can get busy with tourists peek season and the A84 is often policed, so take it steady. The A85 from Mid Lix to Tyndrum is all average speed cams, not particularly exciting, so just sit back and enjoy the scenery of Ben More, they'll be time for more progressive riding further on.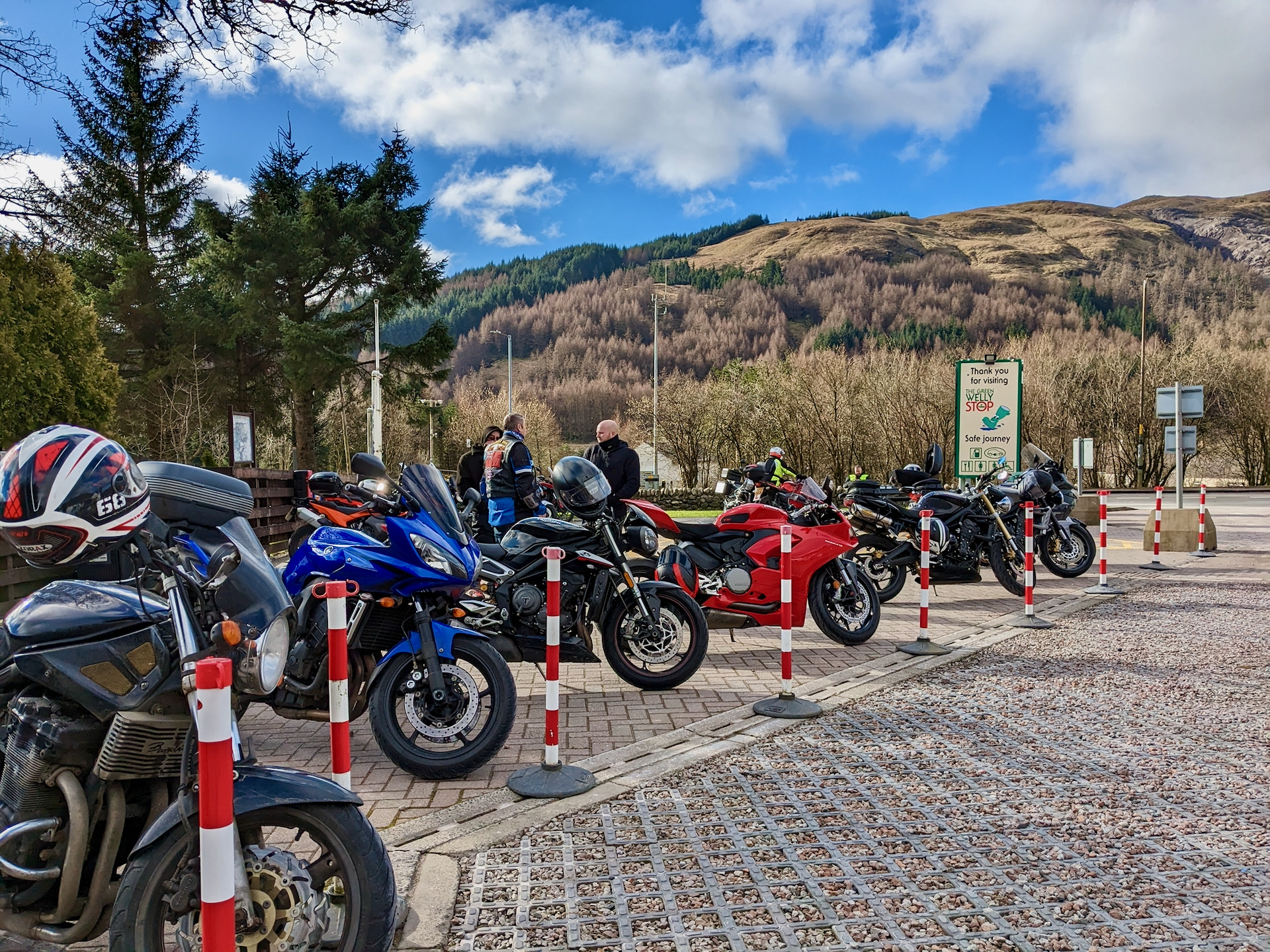 The section from Tyndrum to Glencoe has some stunning views. The roads are fast, with huge sweeping bends and visibility for miles, so you should have no hassle skipping past any camper vans, and there will be a lot! Take care near the parking at key viewpoints, there are always stupid drivers suddenly braking, pulling out in a rush or just bunching up on the road trying to find a free space. You'll probably want to stop yourself anyway to take a few pictures of the stunning mountains and valleys.
The A82 North from Glencoe to Fort William is a nice road, but slow going. There are few overtaking opportunities and it's often busy with tourists. Again, just sit back and enjoy the views. I'd advise fueling up in Fort William, it's the only sensibly priced fuel for quite some way. You'll probably be feeling a bit hungry by now, so you can either mooch about Fort William and grab some lunch (the Highland Cinema in the centre has a great cafe), or push on and stop at the Bridge Cafe in Spean Bridge.
Super quiet, with great views, lots of fun twisties, a proper smiles-for-miles road.
The next section is the A86 going East towards the Cairngorms, an epic road where you can really push on uninterrupted for miles. Super quiet, with great views, lots of fun twisties, a proper smiles-for-miles road. At the end, you'll drop into Dalwhinnie and onto the A9. There's a wee 24hr fuel stop in Dalwhinnie if you're desperate, but they charge top dollar. There's a quick dart down the A9 before pulling off the dual carriageway onto single tracks towards Tummel Bridge.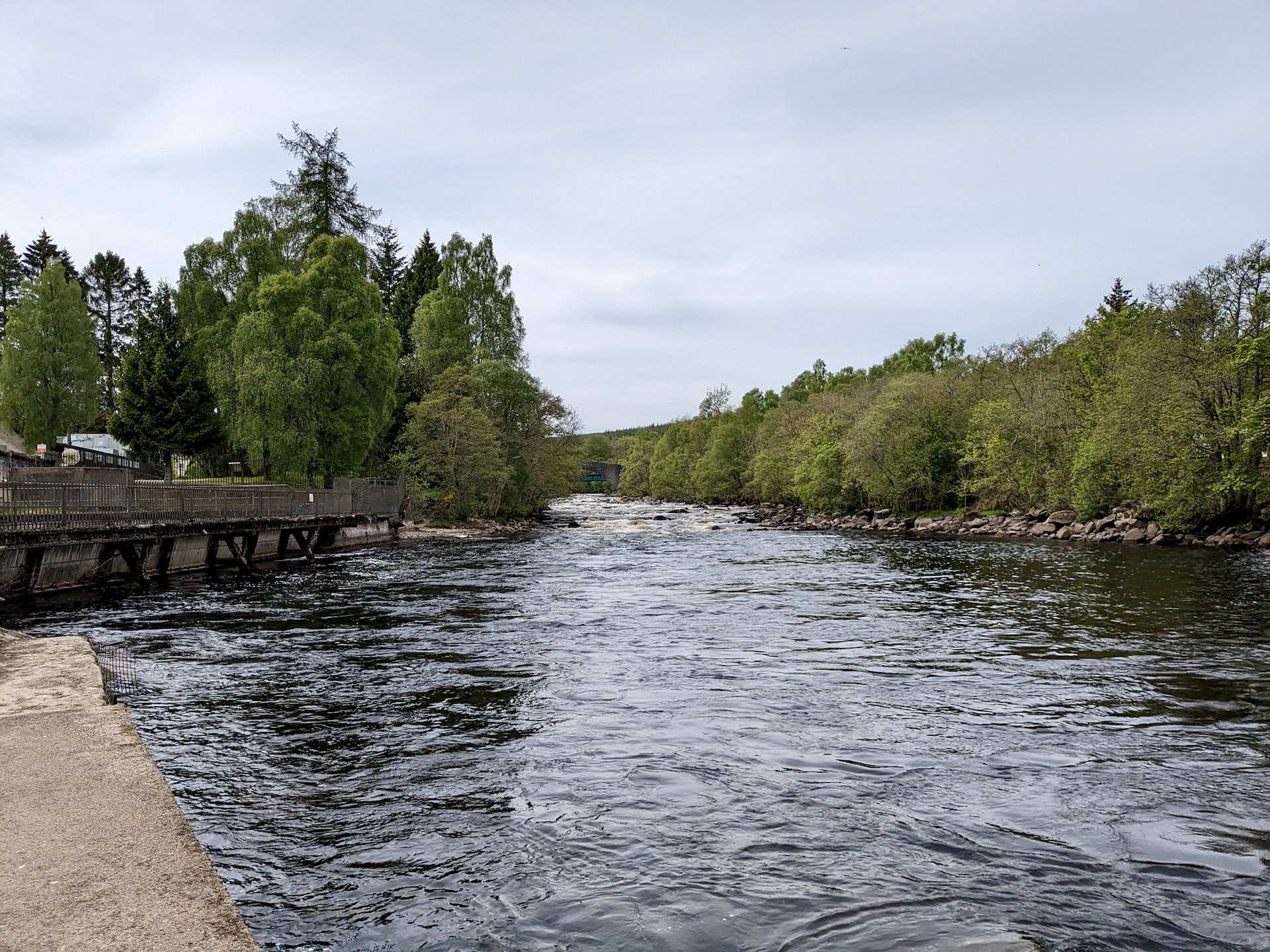 The single track South through Trinafour and Tummel Bridge to Aberfeldy is part of General Wade's Military Way, it takes a super isolated route across the top of the hills and has some fun switchbacks hairpin bends on the descent into Trinafour. In Tummel Bridge, you'll ride past the old Tummel Hyrdo-Electric power station. This whole section is nicely chilled out, weaving through green lowlands before popping out into Aberfeldy. There are many cafes and bars in Aberfeldy, and the Cinema also does decent coffee and snack too.
The final leg is the A826 and A822 back South to Crieff and the A9 into Bridge of Allan. Some great roads are often quiet and have some fun twisty sections. Again, all great scenery, especially the section following the River Almond.
I hope you enjoy this route, do let me know how you get on and if you find any interesting pitstops worth checking out on the route.