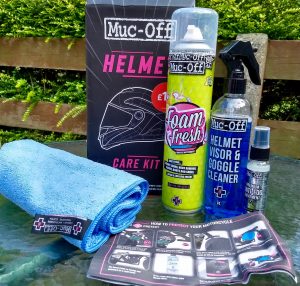 So, when was the last time you gave the inside of your motorcycle helmet a clean? Sure, I bet you keep the visor clean of bugs, but what about all that padding on the inside that's soaked up months or years of sweat and grime? It's probably a bit stinky by now, but you still keep shoving your head in it without a second thought – yuck!  Here's where Muc-off comes to the rescue, well known for bike care products, they also have a number of solutions for your helmet too. I recently spotted this Helmet Care Kit box in one of the Halfords sale bins, half price at £15 – bargain! Even better, upon checking the receipt later the kit had rung through the till at £5 – super bargain! But how does the kit stack up in practice? Read on to see if it managed to de-skank my lid.
Edit: This kit is currently heavily discounted over at Demon-Tweeks
The Muc off Helmet Cleaning Kit contains a number of items:
Foam Fresh cleaner (400ml)
Visor cleaner spray  (250ml)
Anti-fog treatment (32ml)
Microfibre cloth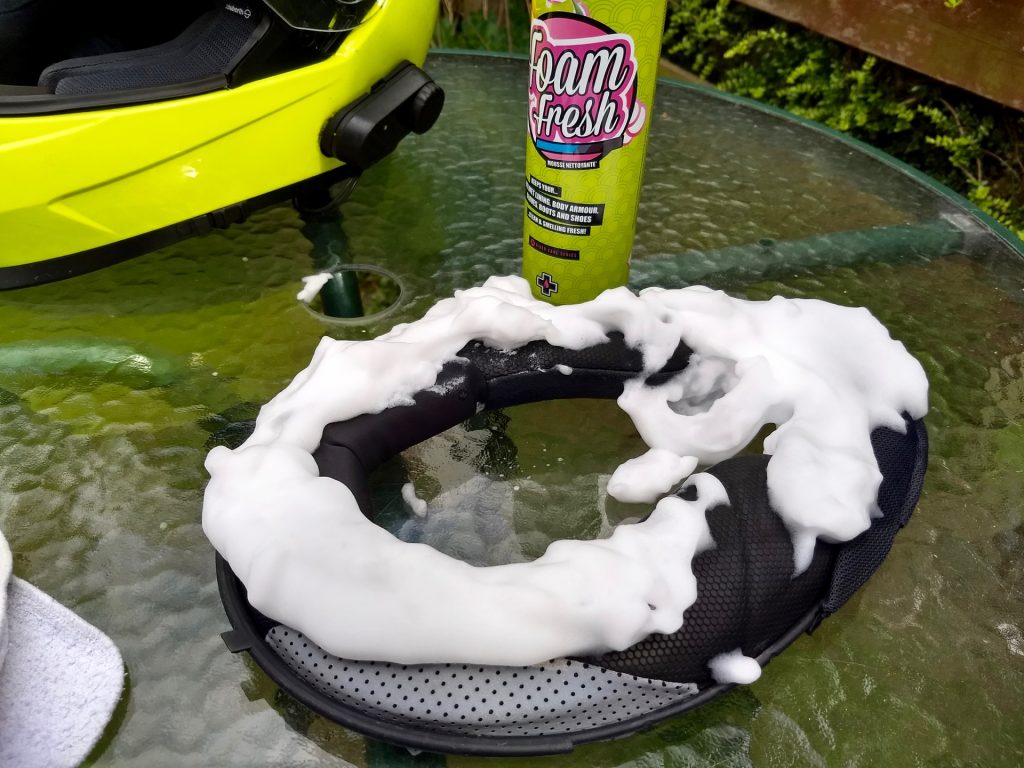 The Muc-Off Foam Fresh cleaner is the key one to de-stink your helmet. Spray it inside your lid, let it soak in for a little while, and then wipe it off. The stuff seriously foams up like crazy shaving foam, it doesn't take much to totally fill up the inside of a helmet. Once done, it soon dries off, the stink is gone and a pleasant fragrance is left in its place. I also used the Foam Fresh on my boots, which were really stinky, and it did wonders on them too.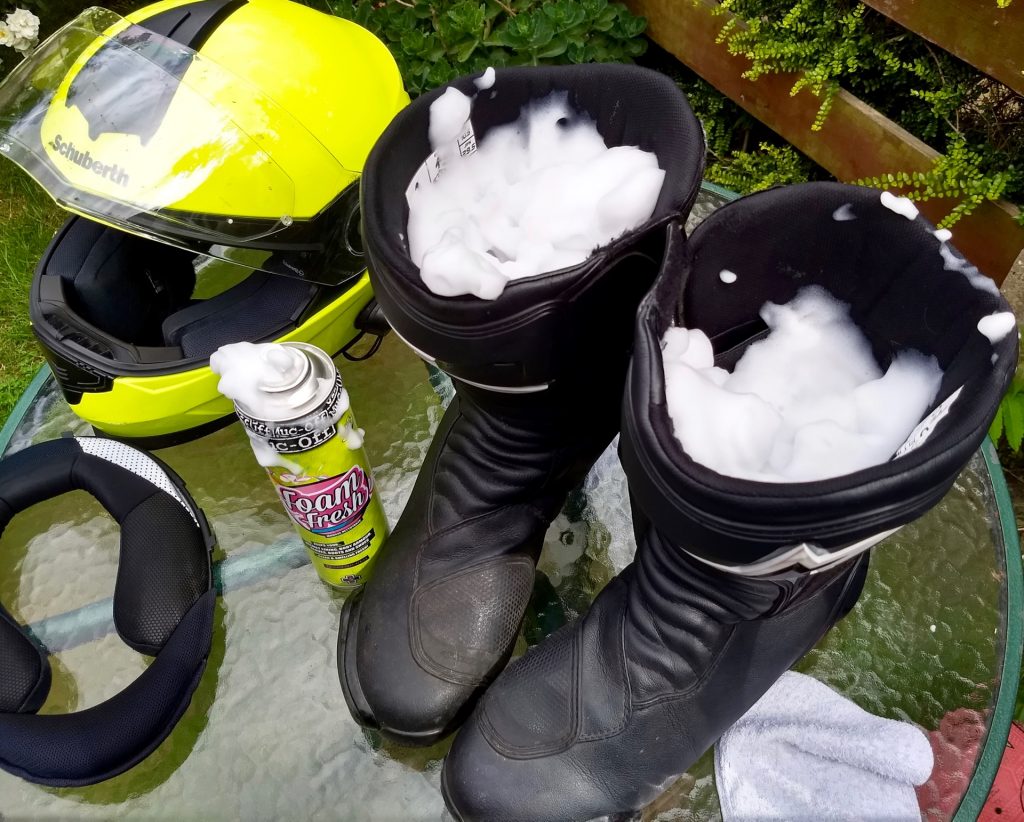 The Muc-Off blue visor cleaner spray is a product that I've been using regularly for some time now. A couple of squirts and some elbow grease with the microfibre cloth clears all but the most stubbornly dried-on bugs, and even they are shifted with an extra squirt and spot more elbow grease. I have a couple of their mini 32ml bottles of this same cleaner which are better suited to carry on the bike, and so the large 250ml bottle in the kit has been very handy to refill these little bottles. The microfibre cloth is a decent size with a different size pile on each side, that's thick strands on one side, thin on the other, which is good to get the crud off whilst being nice to your visor.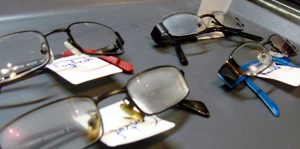 Finally, the kit contains that mini bottle of Anti-Fog treatment, which you can apply to the inside of your visor or glasses to help prevent them from steaming up. I actually tested the effectiveness of this product on glasses in a previous group comparison of anti-fogging solutions for glasses, in which it fared well against other products in the test.
Muc-Off Helmet Care Kit Final Verdict
The products are certainly good and do exactly what they say on the tin, so get a thumbs up in that respect. The kit as a whole would make a great gift for a biker in the family. However, this helmet care kit normally retails for £30, which to be honest is rather steep and not much saving over buying the items individually. So definitely shop around, just pick up the individual items you really need or keep an eye out for this motorbike helmet cleaning kit at a reduced price.
Rating: 4/5.
Buyg the Muc-Off Helmet Care Kit from Demon Tweeks
Read more tips on how to stop visor steaming up here.