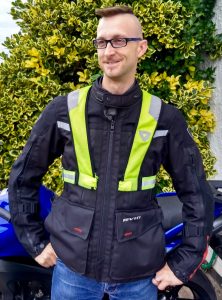 Hi-vis always seems to polarise opinions in the motorcycle community; those that can't stand them and don't believe they make any difference; and those that wear them all the time to stand out. There are arguments and counter-arguments as to when hi-vis would or wouldn't help get you seen, but nonetheless, we can probably agree there are certainly some times when hi-vis could help get you noticed, even if not in all scenarios. As a year-round, daily London commuter, I'm riding into the city in all conditions, day, dusk, night, rain or shine and dealing with far too many less than-attentive drivers. As such, I'll take whatever I can that might help get me seen and save my bacon. It's also worth noting that it's now a legal requirement to have a hi-vis vest with you when travelling in France, and hefty fines for not wearing should you break down.
In the past, I always just opted for a basic hi-vis vest that I zip up over the top of my regular bike jacket. Although this suffices, it's one extra zip to do up, it's an extra layer in hot weather, to get drenched in the rain or slip off your jacket when hung up. For my current Rev'it Sand 3 jacket black, I picked up this clip-on Connector Hi-Vis vest, which promises to clip onto many Rev'it jackets with ease and simplicity.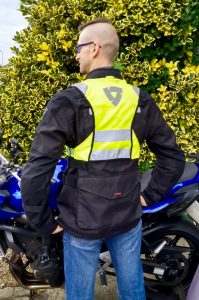 It comes in for around £25-35 quid, which isn't too bad price-wise. Below this, you'll generally only find very basic vests, often with Velcro fasteners ready to fly open as you bomb it down the motorway and flap around like crazy. The Connector vest clips onto a number of Rev'it jackets, covering your back, going over the shoulders, down each breast, and then a clip around the waist. All straightforward and only a 2 min job to clip on. It also came with a little hi-vis bag to roll it up into, I've not used that since attaching the vest but you might find it handy.
Once attached to your Rev'it jacket you can just forget about it, no additional zips to do up and it generally remains in place fine when you hang the jacket up after riding. On the bike, you don't even notice it is there, no comfort issues. As far as hi-vis goes it's certainly bright, helped by the additional silver retroreflective panels to make you stand out under headlights. It's also still looking pretty bright after several months of riding through crappy weather and conditions, unlike other vests I've had previously which look grubby pretty soon.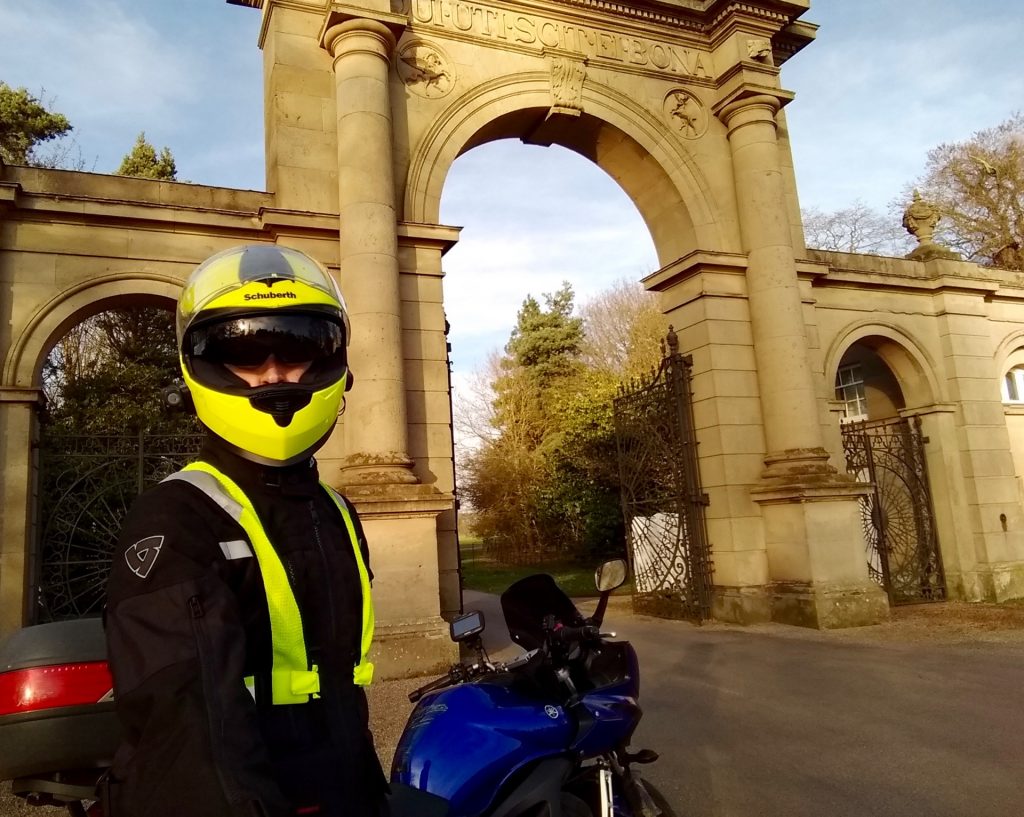 Overall, it does pretty much what it says on the tin. No issues to speak of and about right on price point for a decent quality vest. My only criticism is the styling and how it's quite short and sits high around the chest only. I think a longer cut would look better, but the large front and rear pockets on the Sand 3 jacket would prevent such a longer cut.
Rating 4/5
Buy the Rev'it Connector Hi-Vis Vest from SportsBikeShop
You can read my Rev'it Sand 3 jacket review here.