After some false starts, summer has finally hit us and boy has it now gone hot. As tempting as it is, I'm not fond of the idea of riding in shorts and t-shirt having seen too many photos of others with nasty gravel rash following a spill in such attire. So the issue is then how to stay protected and stay cool in this weather – often with no easy solution and fraught with compromises. If only there was some kind of motorcycle air conditioning or jacket refrigerator… cue the Rev'it Cooling Vest.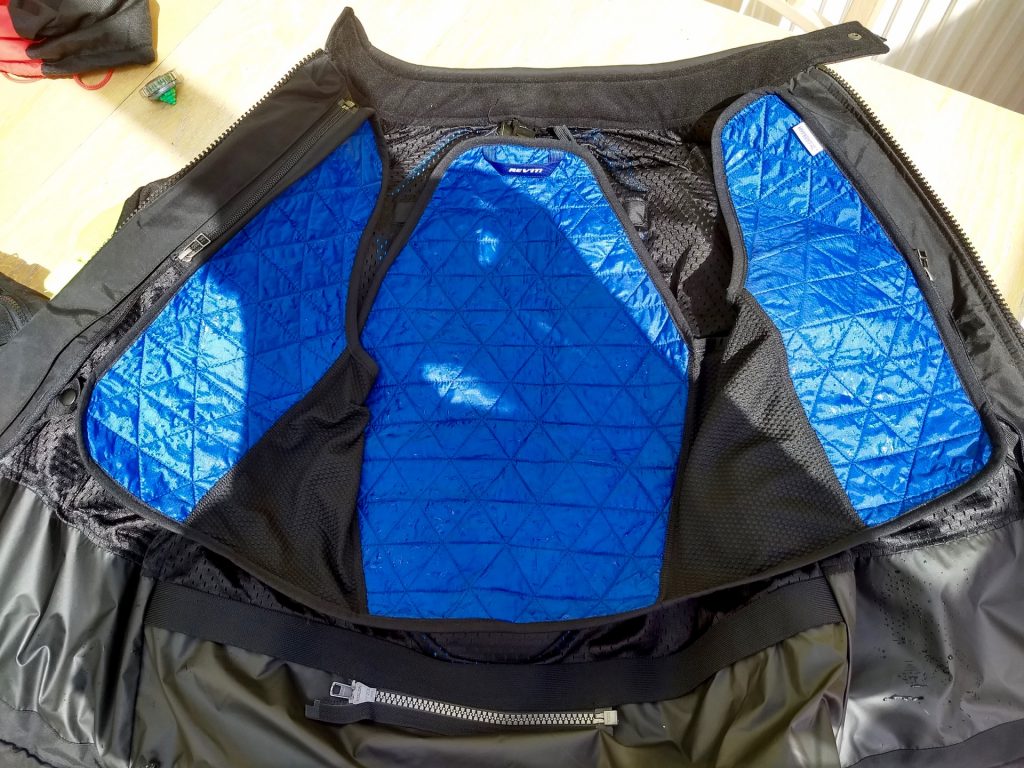 My Rev'it Sand 3 jacket is designed as an all weather jacket, but for those really hot days when you're ripped out the thermal and waterproof liners and are still sweating like mad, you can slot in this optional Rev'it Challenger Cooling Vest Insert. The idea behind this cooling vest is before you set off, you dunk the insert in cold water so it soaks it up and traps it inside. Once clipped into your jacket, the cooling vents on your jacket will slowly force evaporate the trapped water and keep the vest nice and cool against you.
So how does it hold up in reality? The vest certainly soaks up the water fine and does feel cold against your body. Throughout an all day ride out in 30C heat it kept me cool and able to deal with the hot weather to stay focused. It didn't make me super cold, I was still very aware it was warm out and hot under trousers and helmet. I did however find the vest remained wet to touch dampening any t-shirt I wore underneath. Not too big a deal under a jacket in hot weather, but worth carrying something to change into if planning to stop somewhere that needs you presentable. It's not clear if it's supposed to remain wet like this, or if I'm just soaking it too much.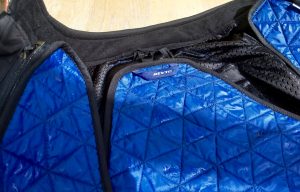 It's not a cheap vest with prices in the £60-80 range, but it does help keep you cool in very high temperatures. I can certainly see it being a useful accessory if you're touring long distances into Southern Europe or further towards the equator. Being able to clip in or out of your jacket as needed by the local weather could be invaluable. It's small enough to stow away when not in use. For shorter journeys and commuting around London however, it's a bit too much faff and the dampening of clothes is off-putting.
Rating: 3.5/5
You can read my Rev'it Sand 3 jacket review here.