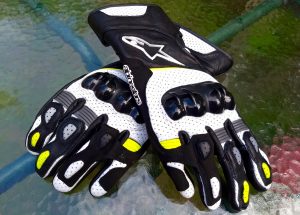 Apparently summer is now upon us, biking season has begun (did it ever stop?!) and I find myself hanging up my textiles and digging out my leather summer gear. Well, on some days when it's not pissing down with rain, got to love the great British summer. Nonetheless, I found my old Alpinestars GP-Plus gloves were looking a bit worse for wear and in dire need of replacement. Whereas the GP-Plus and GP-Pro ranges are very race orientated, this time I was after a more general summer glove that didn't break the bank. I've always been a fan of the Alpinestars brand, having always found them good quality, robust and have protected me well in previous offs. Their SP-2 V2 gloves appeared to fit the bill well, and actually graced my own credit card, no review freebie's this time. Read on to hear my verdict.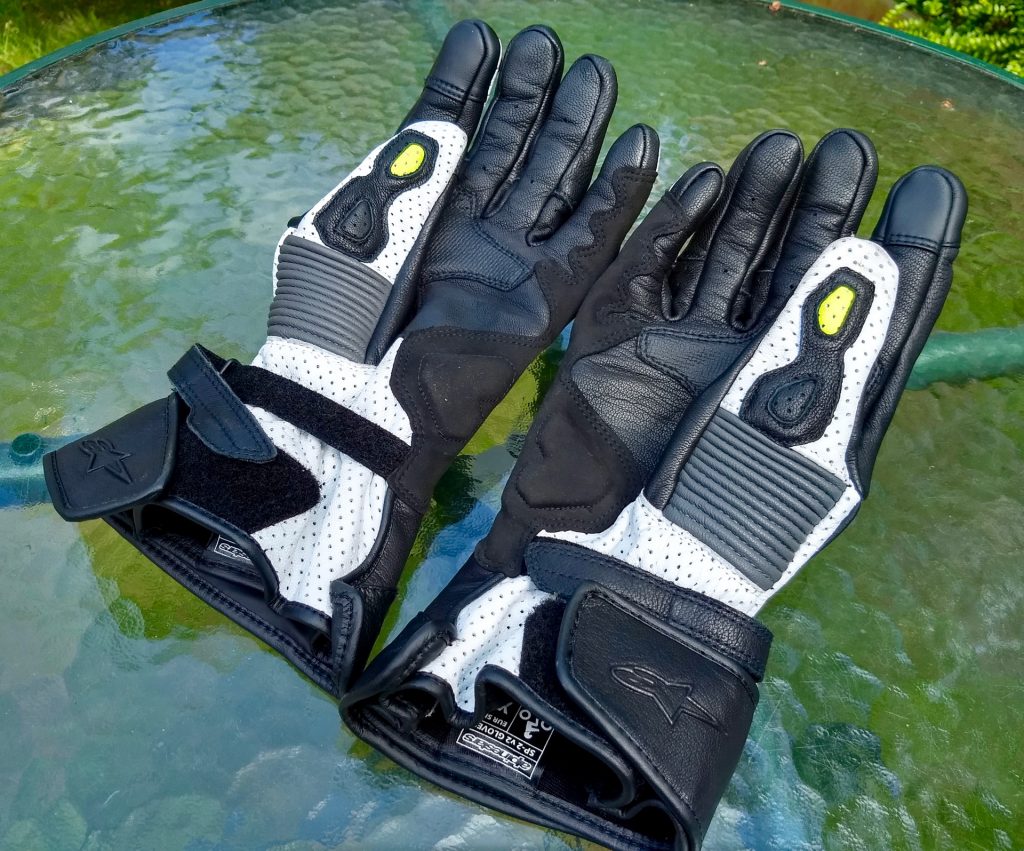 The gloves are full leather with a PU plastic knuckle armour, which makes an interesting alternative to carbon fibre on other models. The leather is a supple goat leather with many sections having vented holes, ideal for summer riding. Additionally, the PU knuckle armour has air vent scoops too. They are lined with a thin polyester for added comfort and have a special forefinger panel to enable mobile touch screen use. However, they still have a nod to racing pedigree with that knuckle armour, bridged ring and little pinky fingers (helps prevent finger breaking in a tumble), longer cuff design and numerous spots of extra padding along the fingers and on the palm to protect in a slide.
Compared to the older version 1 SP-2's, the key differences are the move from carbon to PU knuckle armour, there's now an additional wrist velcro strap as well as the cuff velcro flap and more more venting both in holes in leather and the air scoops on the knuckles.
Out on the road, I found the SP-2 V2's pretty comfortable, plenty of movement to use levers, switchgear and good grip of the throttle. The only part that slightly rubbed is low down between the fingers, where it feels like the leather is just a spot too bulky (especially against my wedding ring). Otherwise, I found them very comfortable, nice supple and soft leather. Certainly better than my old GP-Plus gloves, which weren't lined and would have the wrist strap buckle dig into my wrist a bit. Fit is good and secure, better than the SP-2 version 1 with no wrist strap that could slip off a little. On the few hot days we've had thus far, I've found them acceptable cool and not too sweaty.
I picked these Alpinestars SP-2 V2 gloves up from GetGeared for just under £80 (with one of their promo discount codes), so certainly not a cheap gloves, but a lot less than their GP-Pro or Plus ranges. Nonetheless, they seem to be built to the high standard you'd expect from the Alpinestars brand, they're comfortable, perfectly suited to day-to-day summer road riding and I love their stylish black'n'white look with fluo highlights. If fluo isn't your thing, you can get them in black only, black/white/red or black/grey/red colour schemes. So overall, other than that slight leather bulkiness between the bases of fingers, I can't knock them much at all.
Rating: 4/5
Best prices on Alpinestars SP-2 V2 gloves