So when my boss turned around and asked if I could join him on a sales trip to a prospective customer in Brisbane Australia, I of course jumped at the opportunity. Sure, there was quite a lot of technical prep work setting up demo systems for presentations, the arduous sales meeting itself and the long flights (not business class sadly). But it did afford me a chance to grab a couple of free days to rent a motorcycle in Brisbane and explore some of Australia's beautiful East Coast. Being my first visit to Australia, I was keen to see as much of it as I could cram into my time there.
Brisbane Motorcycle Rental
For motorcycle rental, a quick Google revealed Eagle Rider had a shop in Brisbane, certainly tempting having rented from them previously in Sam Francisco. However, I also found the smaller local firm Rent This Bike, with a good choice of bikes and very competitive pricing. They were also more flexible on return times, affording me two full days of riding. I only had a Friday and Saturday free time and EagleRider close at 3 pm on Saturdays, whereas Rent This Bike was happy to accommodate pick up and drop-offs from 7 am to 7 pm any day.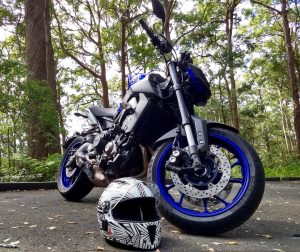 I initially fancied their BMW S1000R but it was sadly already booked up, so I bagged their Yamaha MT09. A bike I've heard many great things about, but still hadn't ridden yet. It was a 2018 model, with Traction Control and a Quick-shifter fitted. Rent This Bike has a large selection of bikes, with many smaller capacity or restricted models for LAMS license holders (roughly equivalent to UK A2 license). It certainly would be nice to have a few bigger bikes to choose from, and something the manager did mention was in his future plans (particularly more cruisers).
On my first day with the MT09, I pointed the bike South and explored Tamborine Mountain, the holiday and surfing Mecca that is the Gold Coast and then the inland mountain areas of Springbrook and Beechmont before returning back to my hotel in Brisbane. The route took in many hill climbs, with twisty hairpins leading to great lookouts. Tamborine North was a particularly quaint hilltop village well worth a pitstop for coffee. The ride down to Springbrook, although a dead-end route, led to some stunning views of high mountain waterfalls. Take care on the hairpins turns, many are a single car width, some wooden bridges and there's much loose gravel about. I definitely appreciated the traction control on the MT09 on a few bends.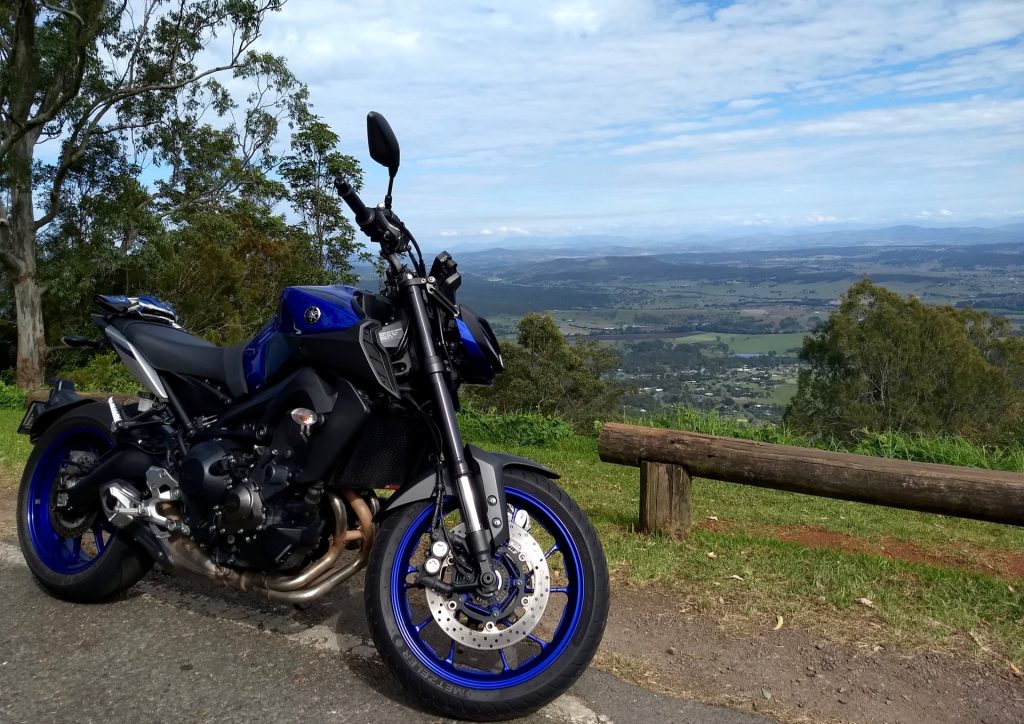 On the Southside of the Gold Coast, I stopped at the Iron and Resin biker cafe for lunch, where they serve great burgers and have a selection of trendy biker clothing gear to peruse. A highly recommended pitstop if you're riding in the area. I had to also check out the surf on the Pacific beach, pretty much obligatory when in Aus. I'm no surfer, but I did stumble upon a competition at Burleigh Heads Beach, very impressive, not that I could fathom the scoring!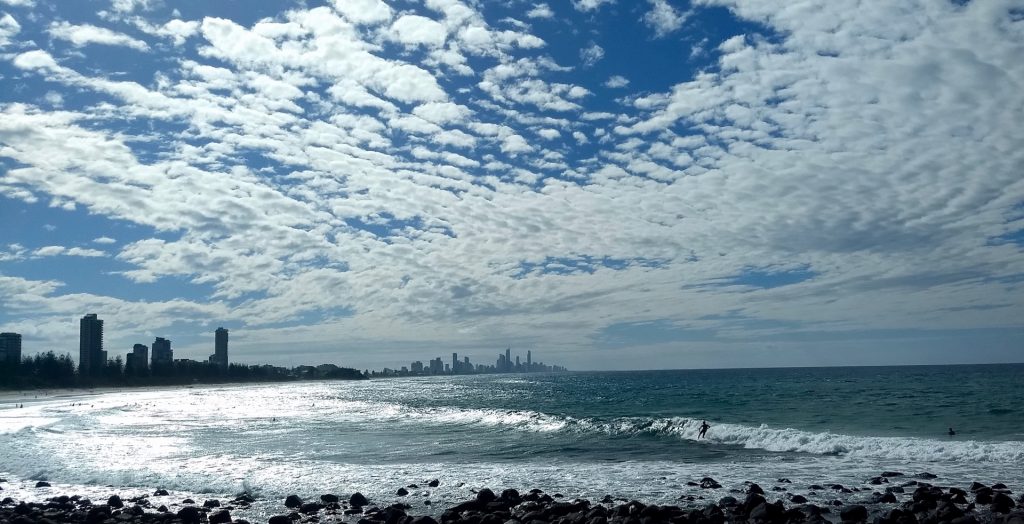 The return leg zig-zags North, South, North again, retreading a stretch near Advancetown (which I'm sure was a level on Advance Wars on GBA), cutting back South down the Beechmont valley, then finally North to Canungra and onwards back to Brisbane. I had planned on another food stop at the Outpost Cafe in Canungra, but unfortunately, it had shut early at 4:30 pm, so I'll have to try their infamous pies another day. Nonetheless, the stretch from Advancetown to Canungra, along Beechmont Road is a lovely chilled out twisty rural road, that just flows perfectly through the forested hills (except for a section of bridge replacement work that left some gravelly sections of temporary road).  The final leg back into Brisbane is a mundane slog up the M1 and M3, which I found heavily congested on a Friday evening. Thankfully filtering (lane splitting) is legal in Australia, however, I did find the M3 lanes quite narrow and many drivers less amenable to filtering bikers than in London.
After a day in the saddle of the MT09, I was dead impressed, it really does live up to all the fuss. So much fun with all its torque on tap, yet an ease and joy to ride. The only real complaint I could pin to it, is the seat which is just not that comfortable for a long day riding.
Enjoy these snaps from my MT09 motorcycle rental. The write up of my second day's route can be found here.