Continuing my Brisbane motorcycle rental adventure on a Yamaha MT09, for my second day I followed a route loosely based on this Rent This Bike blog post, an epic loop heading North West of Brisbane around lake Wivenhoe, taking in Mount Glorious, then North West over to Kingaroy, through Bunya Mountain and then back via Cooyar, Crows Nest and Esk. A substantial ride to do in one day at around 535 km, which left me minimal time to stop and explore along the route, before riding back into Brisbane after dark due to the early autumn nights. Definitely get out on the road early or consider stopping the night halfway for a more leisurely cruise.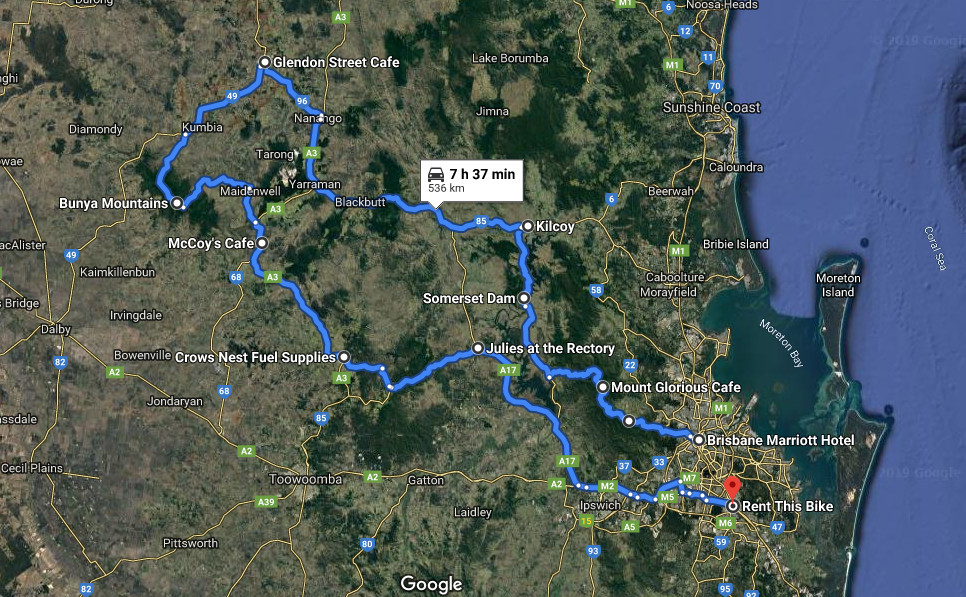 Mount Glorious, Kilcoy and Kingaroy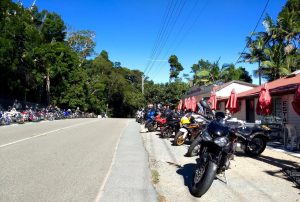 The ride up to Mount Glorious was a roller-coaster route gradually climbing up through the forested step hills. A recent storm had clearly hit the area, the roads were littered with debris and small branches from the overhanging forest. At one point a whole tree was down across the road, leaving only space for bikes to squeeze past! At the top, the Mount Glorious cafe was buzzing with bikers having all enjoyed the climb up and now chilling over coffee and admiring all the nice bikes lining both sides of the street. Good food, good coffee and good vibe, my only complaint was the speed of drinks service – I had received and finished my breakfast by the time my coffee was served!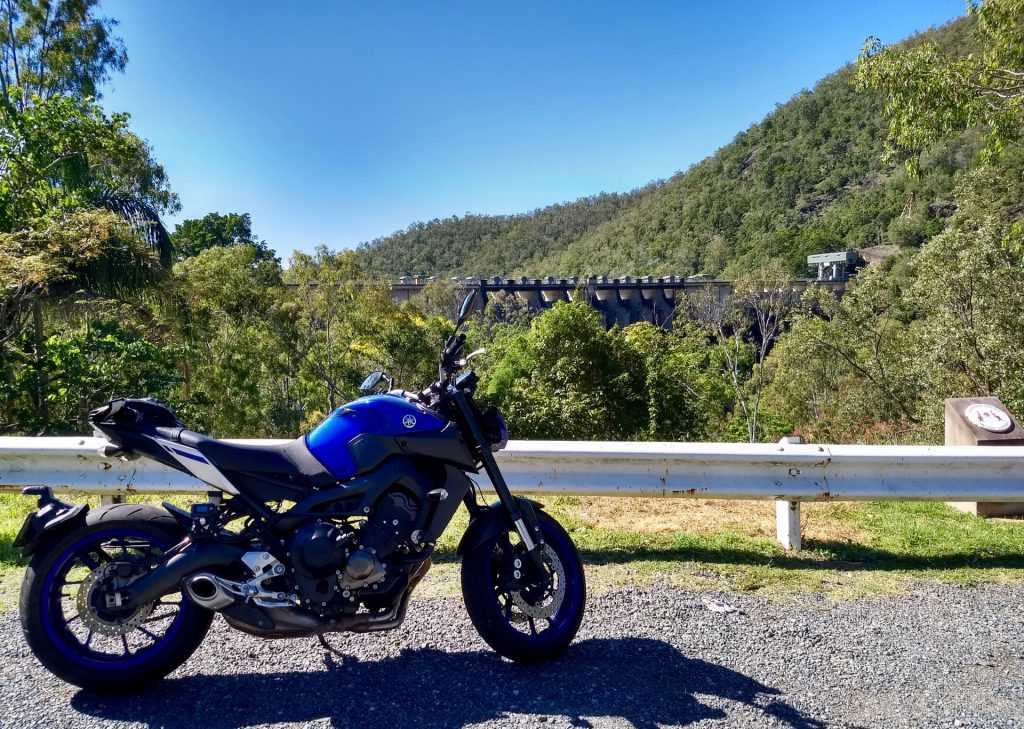 The route descends Mount Glorious, continuing the twisty snaking route through the forest, gradually opening up into big fast sweeping bends. I hang a right onto Wivenhoe Somerset Road, heading due North along a fairly straight and almost deserted road, surrounded by farmland and the odd ranch. A perfect opportunity to open up the MT09 and see what it can do, naked wind blast notwithstanding. Eventually, I roll into the small village of Somerset Dam, not a lot happening here other than the Dam Shed store and fuel station. There's a good view of the dam itself, but the real fun is the road North to Kilcoy. A fun twisty section hugging the Northern part of Wivenhoe Lake behind the dam, climbing slightly before opening out to a beautiful view out over Hazeldean. All too soon, I'm in the small town of Kilcoy, which on this Saturday had a small fair and tabletop sale on (possibly a regular thing?) overlooking a lake with geese waddling about (definitely regulars). After a much-needed espresso from a small trailer on the fair, I was good to hit the road again.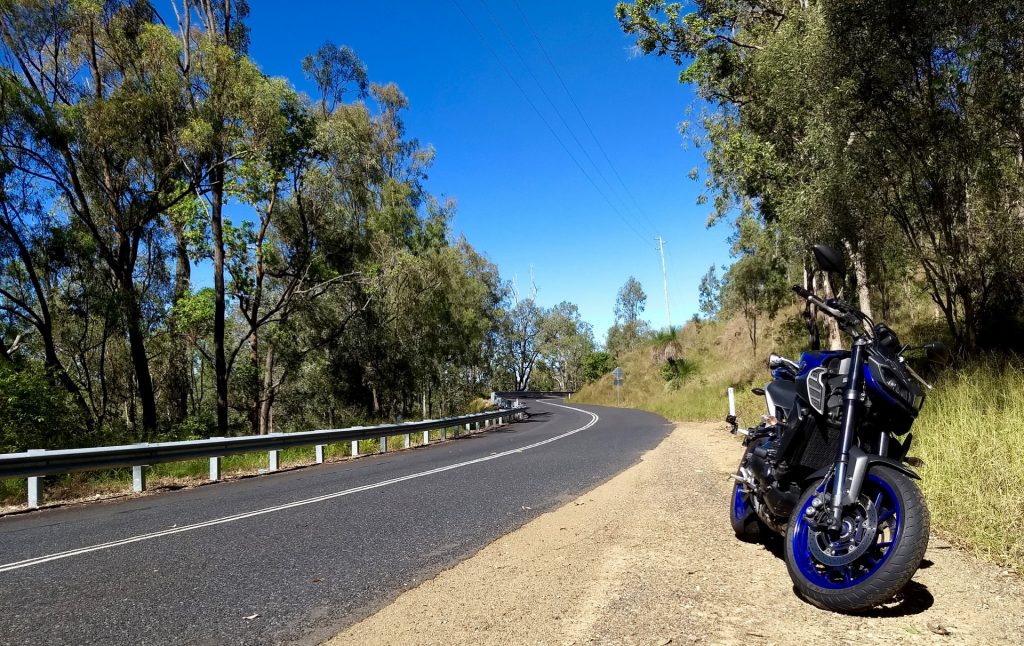 I headed West along the D'Aguilar Highway (route 85 the A17) towards Yarraman. A wide fairly straight trunk road, with more traffic and many big trucks, but thankfully with plenty of overtaking opportunities. The road cuts through fairly flat and open countryside, with only a short stretch twisting up through Benarkin State Forest hills to offer some big swooping bends. There's wasn't a huge amount in Yarraman to note, other than a couple of cafes and fuel stops.
If you're short on time, you can take a shortcut down A3 New England Highway from Yarraman on Cooyar. Otherwise, the road continues North to Kingaroy – a reasonable size town with a fair bit of industry, where I managed to catch the Glendon Street Cafe before their 3 pm early weekend closing. I grabbed a very reasonable burger and caught up a group of bikers touring down from somewhere several days North.
Bunya Mountain, Cooyar, Crow's Nest and Esk
Creek this and creek that, probably millions with the same name, there's more creeks' here than shire's or bury's in the UK.
I didn't hang around in Kingaroy long and promptly hit route 49 towards Bunya Mountain, another straight road cutting through the yellow sun-bleached prairies and ranches. A discreet right-hander took me into Alice Creek. Creek this and creek that, probably millions with the same name, there's more creeks' here than shire's or bury's in the UK. The road shrinks to an empty single track, lined with huge cacti and soon heads uphill and deep into the Bunya Mountain forest.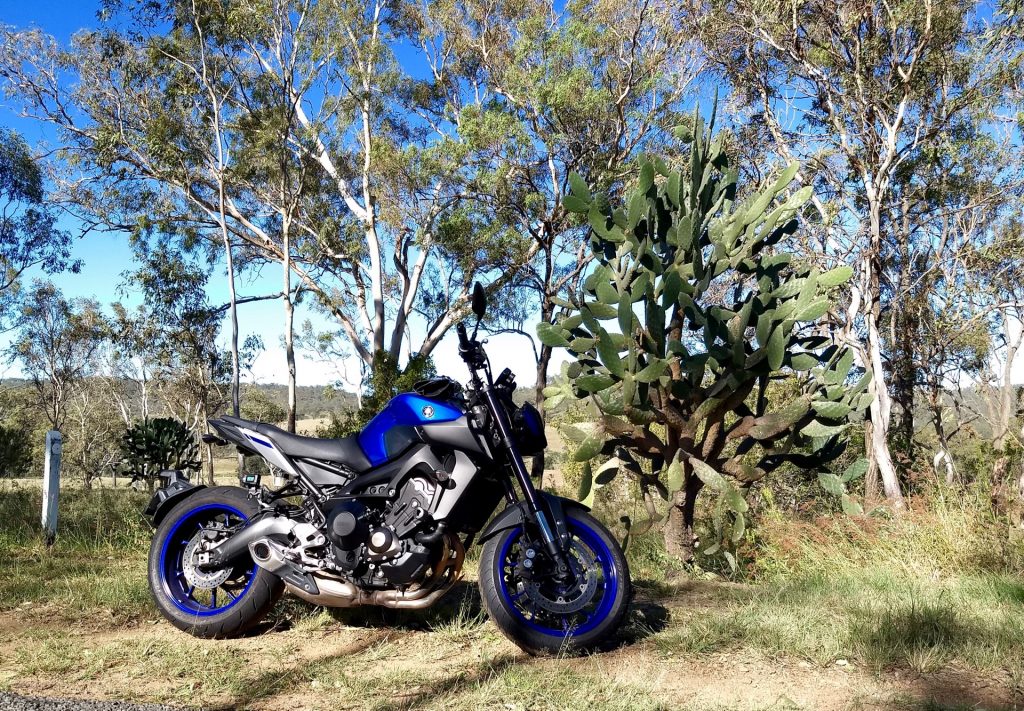 The Bunya Mountain road is a standout route closing in from the open Cacti strewn lowlands, then tunnelling up into the forest, twisting left and right, carving through the trees like some toboggan run. The light levels drop, a chill hits you, random noises from wildlife hidden in the trees, the odd fleeting shadow of something hopping off in your peripheral, but you cruise on connecting up lovely the bends. Not too quick mind, it's still single track, some blind bends, and mindful of what you may encounter around the next bend, hooligan riding would just be too disrespectful here. The road throws us out at the top to treat us with some gorgeous views, then steeply descends back to the low lands, and surprisingly gives way to a few miles of gravel tracks just to keep you on your toes (and really test out the MT09's traction control). Finally, it pops back out into civilisation in Maidenwell, where I head South back on proper roads.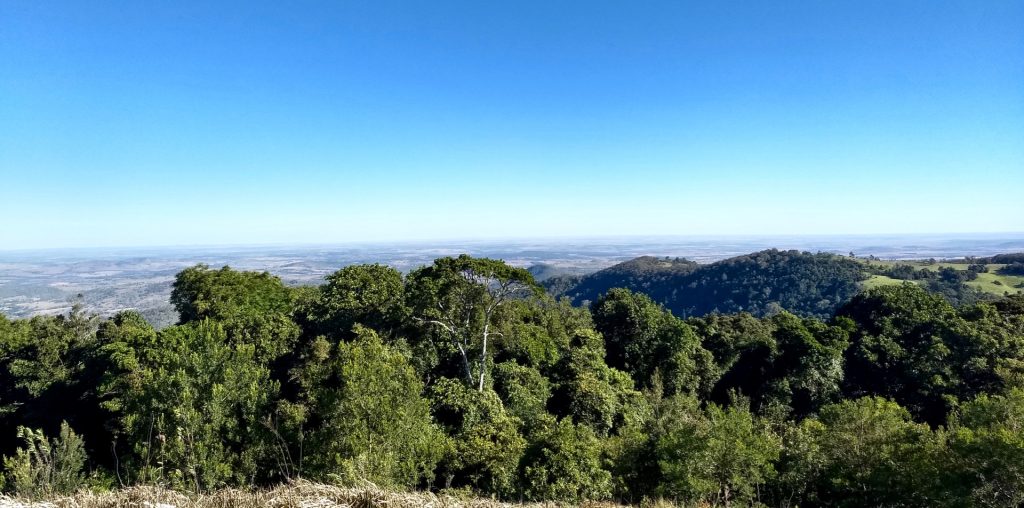 I pulled into McCoy's Cafe in Cooyar for some much-needed refreshment, a cool cafe with lots of trail bikes and motocross memorabilia on display. I was late in the day and the bustling rush of bikers had long since ridden off, but the staff were super friendly, rustled up a delicious milkshake and passed on some handy local knowledge regarding the next leg of my ride.
The afternoon was marching on towards dusk, wallaby hour was approaching, so it was time to get a move on. Continuing South on the A3 was a brisk ride through open countryside, nothing too technical, just a nice cruise along a smooth tree-lined highway. I got into Crow's Nest just in time to fill up before closing time (at 6 pm), so do plan ahead as a lot of these more rural stations and shops don't open late. I was somewhat wary of what range the MT09 had from its 14 ltr tank, especially as the digital fuel gauge doesn't stop saying full until at least 130 km – I was convinced it was broken at first.
Dusk not far off, I had to then hustle my way along East past Perseverance Creek Dam and onto Esk Hampton Road, all a fun twisty route descending past Perseverance Lake, then cutting alongside the Deongwar State Forest. Lots of sweeping hairpins, undulations, technical bends and high-speed sections. Thankfully, not much debris fallen from the trees, but I had to take it easy and keep an eye out for any roo's or wallabies hopping onto the road. However, somewhat disappointingly (or maybe fortunately), I didn't see any wildlife other than a single wallaby hopping around Esk town centre!
I hit Esk quite late, so not much was left open, so I just ploughed on towards South Brisbane on the A17 which skirts the other side of Wivenhoe Lake and then the M2. Both fairly mundane main highways of little note, I just had to get my head down and get on. A big thanks goes out to Rent This Bike, for their great service, a reliable bike and being super accommodating with my late return. Do look them up if you're in the vicinity.
Like many things in life, it's a choice between skimming the surface of much or taking the time to digest the details between the lines.
Overall, it was a pretty epic day with a lot of distance covered including a huge mix of roads and scenery. You could certainly appreciate a lot more along the way by splitting it over two days and going at a slower pace. I definitely would have liked more time to explore Bunya Mountain and Coomba Falls near Maidenwell, and I certainly skipped past many quaint little coffee stops or lookouts. Like many things in life, it's a choice between skimming the surface of much or taking the time to digest the details between the lines. With time against me, I had to compromise with the former. There can always be a next time…
But what of the MT09 motorcycle rental you ask? Oh yes, it's just one big grin machine, so easy to ride, smooth and manageable, but plenty of beans on hand to really bring out the hooligan in you. It has a few minor niggles, the seat is a spot hard, the suspension is a bit mediocre (I can see the appeal of the Öhlins blinged up SP variant) and I'm not fond of that rear reg plate hanging off the swingarm, but easily fixed with a tail tidy. Nonetheless, it's a bike I can see myself getting on well with as a replacement to my Fazer.