I'm always interested in new biking adventures and off road riding is something I've been meaning to try for a long time. To resolve this, I recently booked myself in at the Off The Kerb Trail Riding school down in Dorking, Surrey. Off The Kerb offer a newbie friendly introduction to off road trail riding, exploring local green lanes in the beautiful Surrey Hills on Fantic Moto 250E Case enduro bikes.
Toppling over in an embarrassing fashion is de rigueur when off road
The day comes in at just over £200 quid, including hire of all the kit you need: bike, boots, full armour, top, trousers, waterproof jacket, gloves, lid and not forgetting lunch. Certainly very handy for an off road newbie with none of the gear, and at a price on par with many other off road days elsewhere. Toppling over in an embarrassing fashion is de rigueur when off road, so doing that in the supplied full armour and less precious kit is definitely preferred.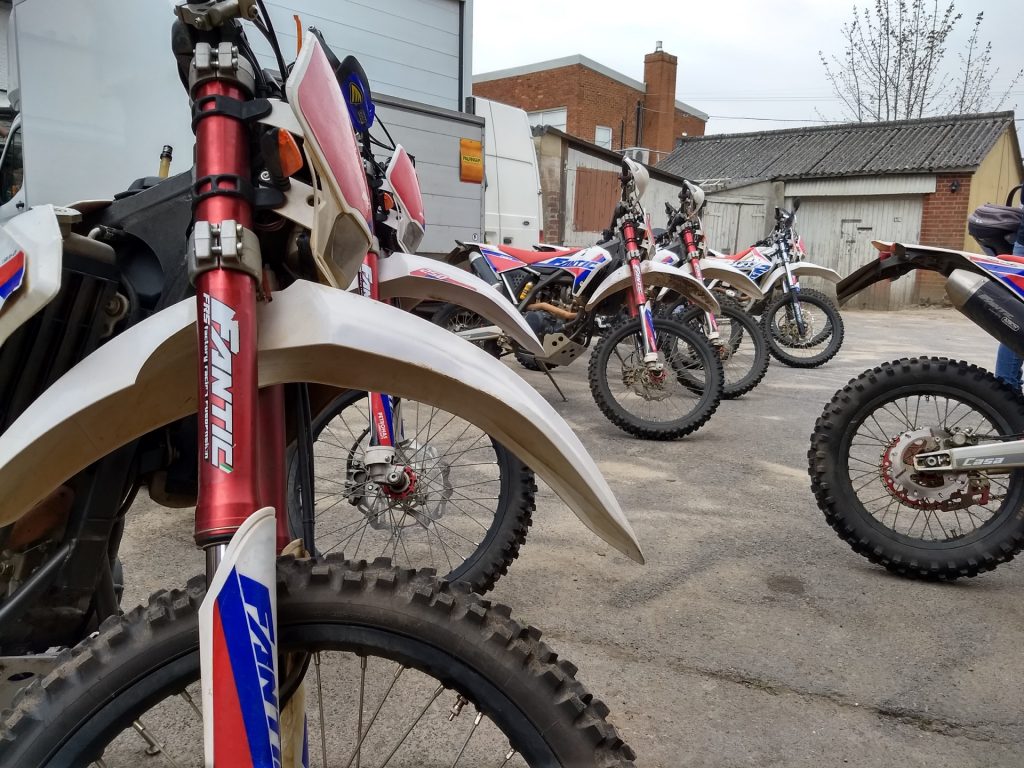 It was a quick intro, but ample enough to have some fun out on the trails.
The schedule for the day was straight forward, beginning with a brew, sorting out paperwork, getting togged up and familiarisation with the bikes. We then did a quick loop of Dorking town centre to acclimatise to the Fantic 250E's before getting stuck into some off road action on a local muddy field. Ideal to practice basic techniques on an oval and slalom course under the direction of the experienced tutors. It took me some time to get hang of standing pegs and keeping arms loose and relaxed. At first I was just too tense and getting arm pump, but later got my balance better. It was a quick intro, but ample enough to have some fun out on the trails. The Fantic's were dead easy to handle, super light weight, yet tough. They delivered plenty enough power for a newbie, with a selection setup for different rider heights to suit short or tall folk. It was only the clutch bite point and appropriate revs that took a bit to get used to, as I often stalled it earlier in the day.
View this post on Instagram
Next we were out joining up various green lanes and BOATs (Byways Open to All Traffic), tackling dirt, mud, water, gravel and sandy tracks. Throughout which the tutors paused at various sections to brief us on best approaches, reiterate techniques taught earlier and keep us out of trouble. I was pleasantly surprised how much we were able to tackle and enjoy, whilst quickly getting the hang of the bikes and happily losing traction – an anathema when on the road. A leisurely pub lunch providing a much needed break for rest and recuperation with a top notch fish'n'chips on the menu. But we were soon back out tackling more lanes in the afternoon before finishing around 3:30-4pm ish  (by which time we were all flagging) for debrief and cleanup back at Off The Kerb HQ.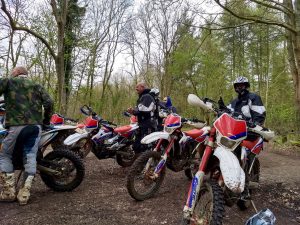 By gum, I was shattered after all that! Off road riding really does need a certain level of fitness. If you're not used to it, you will find it tiring. Far more so than normal road riding, as you're standing up on the pegs all day, shifting your body more, and because you're typically not relaxed enough as a newbie. Nonetheless, I thoroughly enjoyed the day and am keen to spend more time getting the hang of dirt bike riding.
I can't fault Off The Kerb for the day. They looked after the group well, delivered enough basic training for us to enjoy a day on the green lanes and whet our appetite to do more. It really was perfect for those wishing to dip their toe into some off road riding, at a conveniently close location to London and the South East. I believe it has taught me some lessons I can translate to road riding too. Certainly given me a feel for loss of traction, not to fear it so much and just keep things smooth and steady through it. Now I must go and check up on some eBay auctions for cheap trails bikes I'm watching…
Find out more about Off The Kerb Trail Riding on their website.