Who hasn't got any bad riding habits? Don't lie, none of us are perfect, I bet you all have the odd bad habit you've picked up. Maybe you don't realise, maybe you know full well but have never managed to shake it. Below are a number of very common bad habits and why they can be bad.
Covering The Front Brake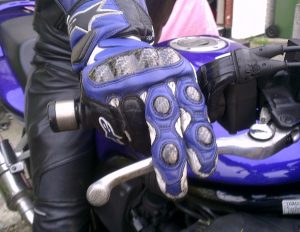 Covering the front brake can be bad as when taken by surprise you are more likely to grab a handful, panic brake and lock up the front wheel. Especially if you have no ABS, are banked over or in the wet. By not covering the brake, you are more likely to consider a swerve instead or brake progressively.
Secondly, if (like me) you tend to cover with two fingers only, you won't be applying as much leverage on the brake lever, and possibly obstructing it with your other fingers.  If you brake hard and your little finger gets squashed, at best you can't brake any harder, at worst you're gonna release the brake cause your little pinky hurts!