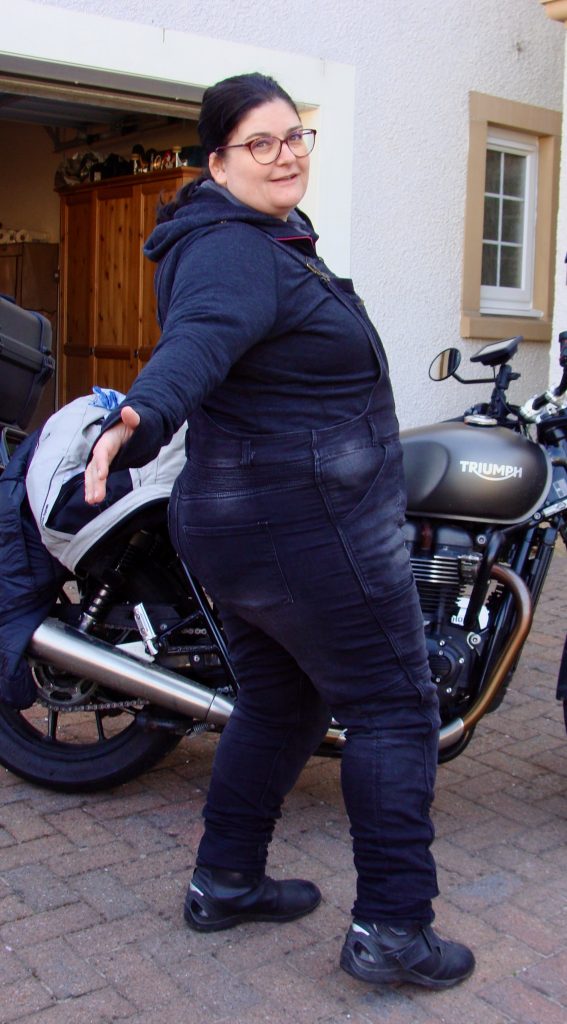 What is worse than riding your bike and feeling the telltale slide, the moment when your trousers slide down, your jacket rides up and your arse is left glinting like the moon above some clouds? The cool rush of air as you are riding along, just coming up to a lovely sweeping bend and you find yourself distracted trying to pull your trousers up and your jacket down. And now it has started raining too, great!
There are many solutions available on the market; braces that one attaches to the offending trousers, bib and brace leathers and winter textiles with a similar arrangement. Many of these lack the comfort of stretchy textiles for lighter and warmer weather. Biker braces, on the whole, tend to be made for tall men and not for short women, leading to painful chafing on the neck rubbing one raw where the metal adjustment clasp inevitably ends up. There are zip together two-piece suits, but unless you're that ideal size for women's motorcycle clothing, it can be tricky to find a matching top and bottom pair that fits well. One answer which is designed especially for women is the Motogirl Dungri's (yes, that's Dungri's and not dungarees!)
Motogirl Dungri Review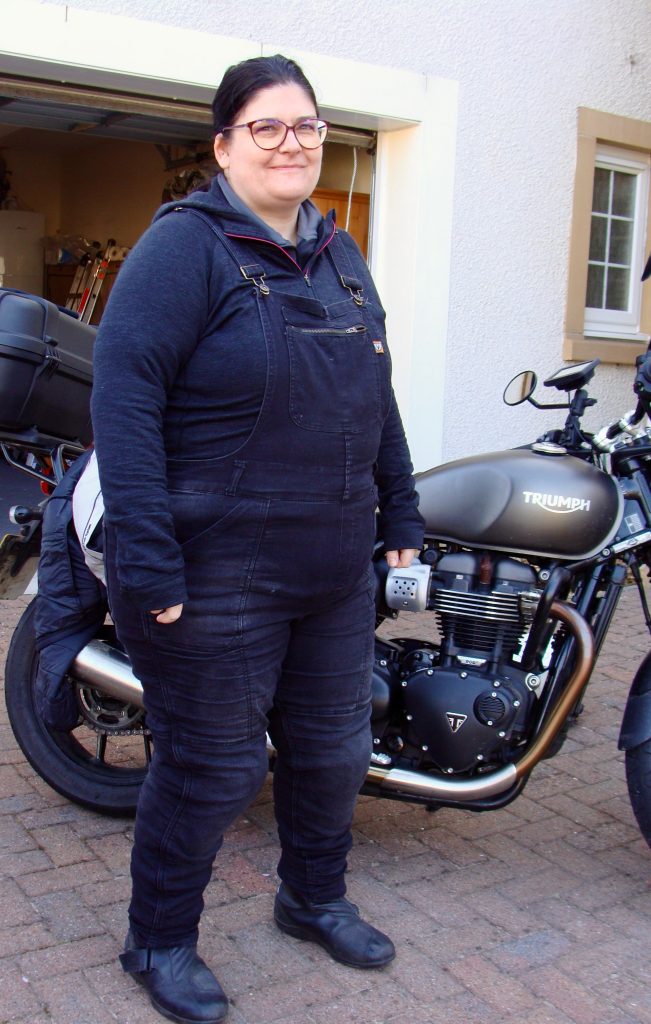 They come in sizes XXS to 3XL (roughly size 6-20) and two leg lengths, regular and tall. As I may have mentioned in the past I am very short, and I have an inside leg length of 27.5 inches. I found the regular length of the leg left a small excess at the bottom of the Dungris, but this could be turned up by folding the material or by hemming if you have a sewing machine. The denim at the very bottom of the leg isn't lined with Kevlar and is designed to be tucked into a boot or stretched over the top, so this isn't much of a hardship.
Like the MotoGirl leggings (which on one motorbike group came to be called 'unmentionables' due to the frequency that they were discussed), Dungri's are stretchy denim lined with Kevlar from the waist to just above the ankles (excluding the crotch and inner thigh). There are pockets in the knees that hold Elastofoam CE-certified level 2 protective pads. Like the pads used in the Motogirl leggings, these are flexible foam pads that are comfortable to wear but have very good shock protection when involved in a sudden impact. The Dungri's lack pockets for hip protectors, unlike the Motogirl leggings, this is a compromise I assume made to increase comfort and flexibility in wear. These Dungri's have the classic bib and braces arrangement of most dungarees and have adjustable straps to attach to the bib. This also allows for some adjustment depending on your torso length.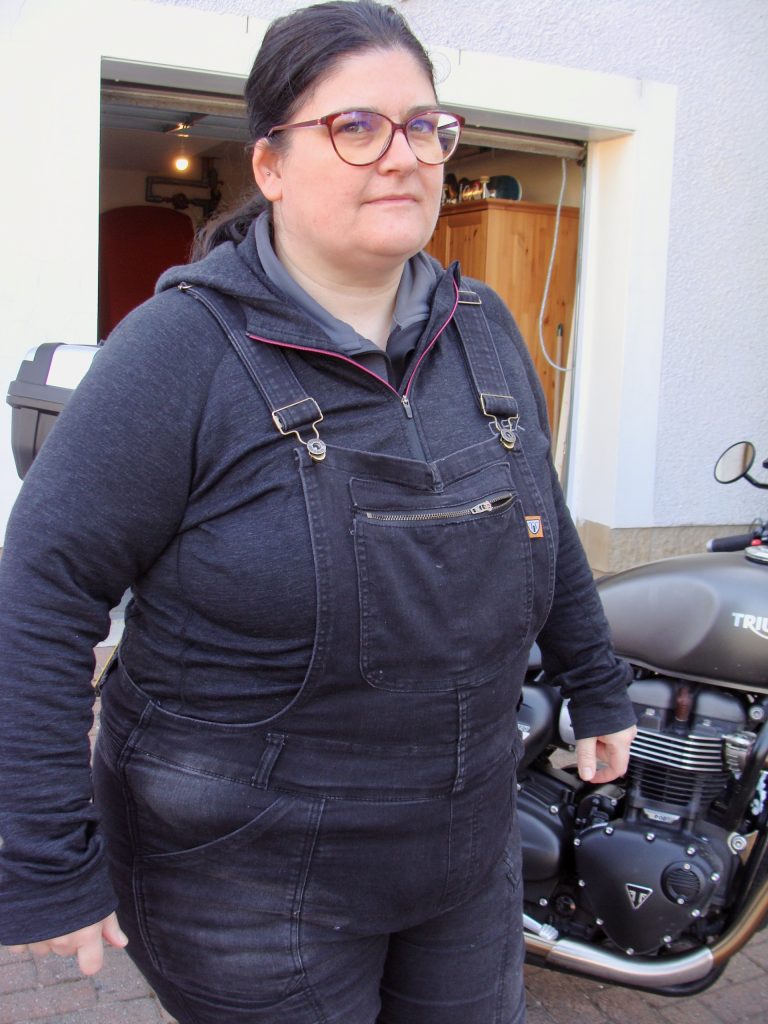 A small zipped pocket in the bib is useful for small items, but anything bulkier would be competing with your breasts for space…
There is a small zipped pocket in the bib which is useful to put small items such as a bank card or earplugs. Anything bulkier would be competing with your breasts for space. To ensure they fit close to the body and are not flapping in the breeze, they have Elastane in the outer denim layer to provide stretch and ribbing over the rear to allow for movement. One of the moans a few people have over the Motogirl Leggings is that they are difficult to get into and out of. I found these Dungris very easy to get into, there is a side zip to allow one to get into them, which then fits snugly against the waist. These are very comfortable and can be worn all day off the bike as well as when riding.
Like all dungarees, one needs to remove any outer jacket to go to the loo, but the ability to ride without any untoward ventilation is most welcome. I have been fortunate to not have tested their safety in an 'off' but they have been well tested and many other riders attest to the safety of Motogirl Leggings. I would highly recommend these and wear them whenever it is dry. I tend to layer them with Merino base layers in all weathers, in summer they wick and absorb sweat, in winter they keep you warm. In wet weather, you can layer them with waterproof trousers which works really well. I'd highly recommend these Dungri's- I live in mine!
Rating: 5/5