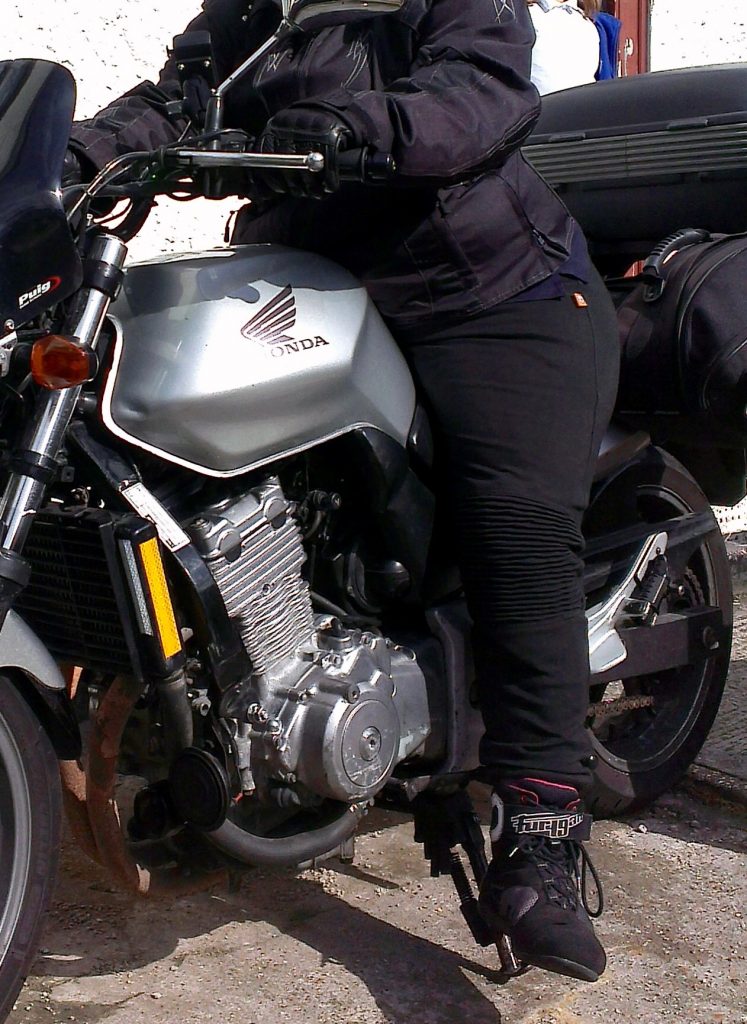 When you were a child, did you ever have a favourite pair of trousers or a top that you would wear to death and never take off? Well, my MotoGirl Leggings are mine. I bought them in February and I have worn them pretty much constantly since.
These MotoGirl Leggings are stretchy and come with knee armour and optional hip armour. They have pockets, loops for a belt and more importantly are completely lined with kevlar. This is unlike some biker jeans which only have kevlar lining on the main impact areas of the groin, hip and knees. The leggings can be washed at 30C on a delicate cycle.
I have practically lived in these leggings all summer and wouldn't be without them
The main advantage of these MotoGirl Leggings is the comfort factor. They come in three length sizes, so as a short person they fit me perfectly and the knee armour is in the correct  place. They come in a range of sizes from size 4-28, which is refreshing when considering that many manufacturers seem to think women are all a size 8 with long legs! I have practically lived in these leggings all summer and wouldn't be without them. Because they are stretchy they will accommodate small fluctuations in size- say perhaps you suffer from bloating.
There are a couple of niggles with these leggings. They are thick and this is because they are protective, so may still be quite warm in the sun and the knee armour can get quite sweaty. I dealt with this by wearing merino wool leggings which absorbed sweat and stopped the leggings feeling sticky. This also reduces the need to wash them so frequently. The other issue I have noticed is fading which is due to wearing in the sun and occasional washing. This is a cosmetic issue however and doesn't affect the effectiveness of the leggings. All in all I wouldn't be without these leggings, they are so comfortable and have the reassurance of being fully lined with kevlar and armoured.
Rating: 4.5/5.
Buy MotoGirl Leggings from eBay Shops

Buy MotoGirl Leggings from Amazon