Riding in and around London can be a bit hairy at the best of times and downright stressful at the worst. The traffic, the endless traffic cameras, inconsistent bus lanes rules, varying speed limits, which lanes should you be in, one way systems, navigation nightmares and then finally you need to find somewhere to park. There are many London motorcycle parking, most of which are free too! But knowing where they all are is another matter. Especially with so many being lost to cycle highways, wide 'Covid safe' pavements and the constant tweaking and shrinking of road space.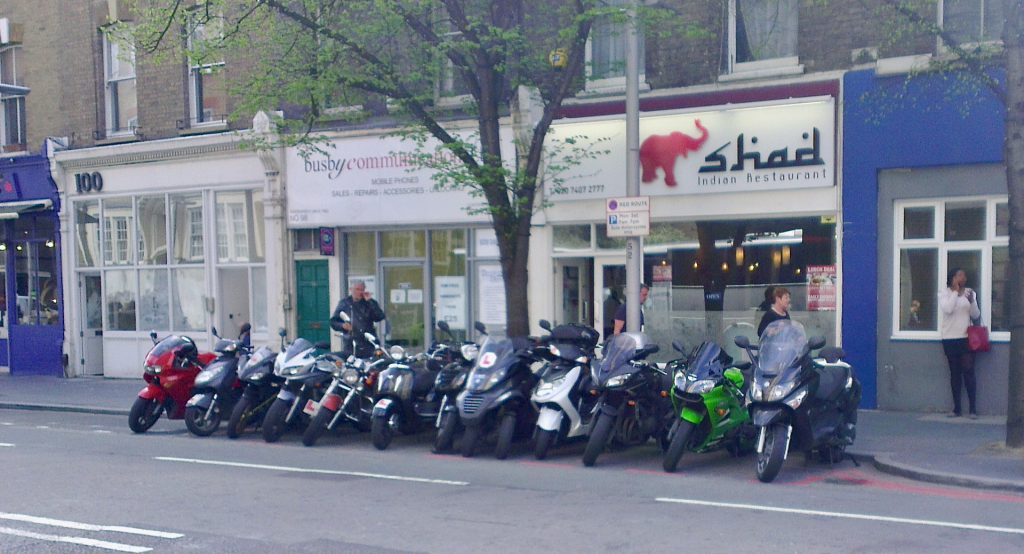 In the past, we used to rely on the old ParkingForBikes.com website, but sadly this is now defunct. Two newcomers to the scene are mobiles apps Byke Parking and London Bike Bays. I gave both a test run and below is my verdict.
Byke Parking
A relative newcomer to the scene, Byke Parking app is available on the Apple App and Google Play stores. It's a completely free app and requires no sign-up faff. Although app stores warn there are in-app ads, I have only seen discreet logos from some sponsors in the motorcycle industry (mostly biker magazines).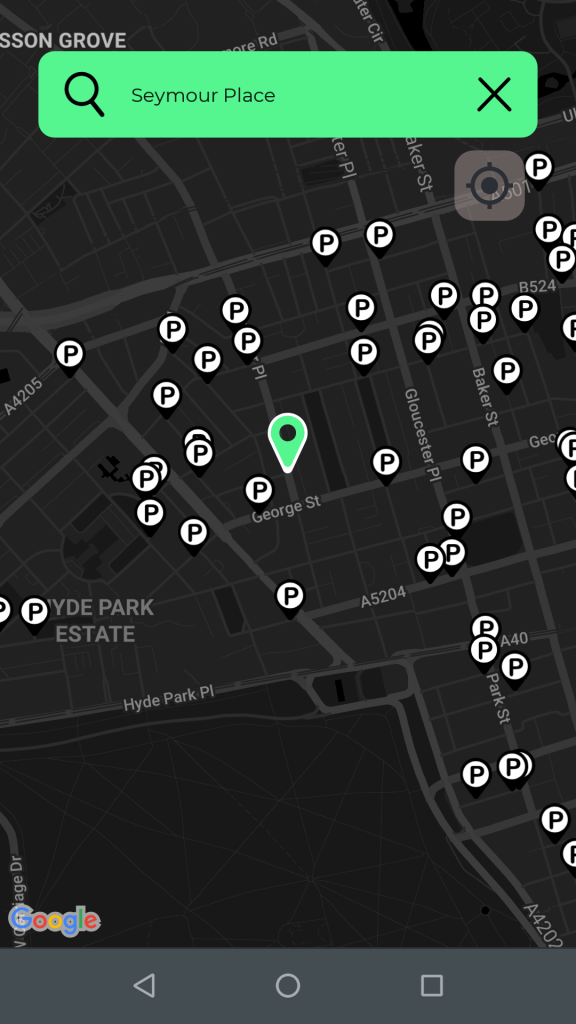 The map is driven by Google maps and is presented in a 'dark' view, which may or may not be to your liking (I couldn't find any option to change this). There's a standard search bar to type in a location to find nearby motorcycle bays, however, sometimes the auto-suggestion locations were a little slow to return and I couldn't search by postcode, only street name. A bit annoying, but OK to workaround once you realise.
Update: Bike Parking have informed me the postcode search issue only affects the Android version of the app and they expect to resolve this very soon.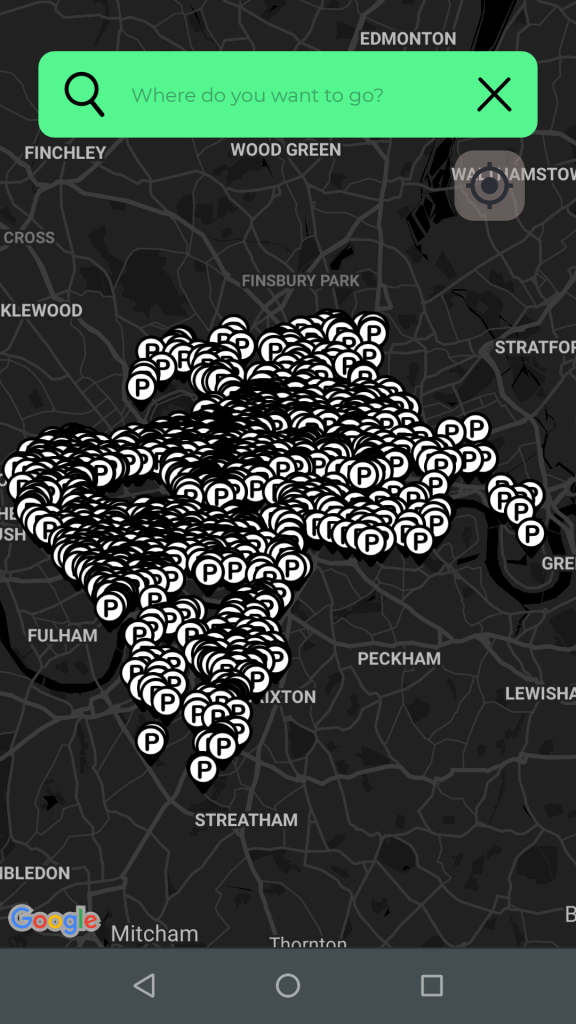 Coverage of bays appears good, but very little outside of central London. Byke Parking database of bays has been mapped out by their own team of moped riders. Longer-term they hope to additionally draw upon community feedback within the app to keep the database up to date.
Update: Byke Parking inform me they are increasing London coverage and expanding into Brighton too!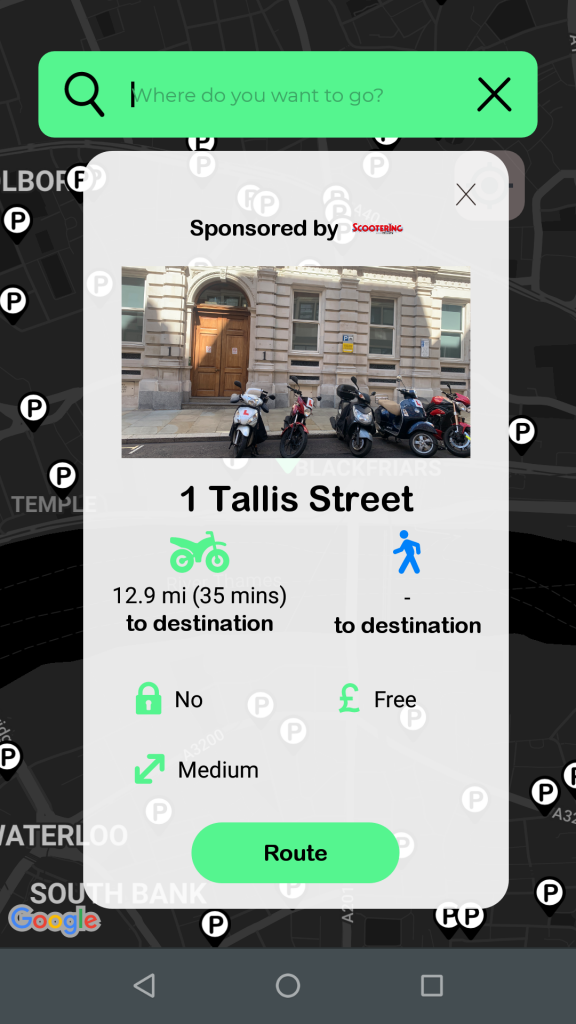 A very handy feature of Byke Parking is it will present details about each bay, whether it's free or paid (e.g. Westminster bays), whether it has security features (e.g. ground anchors), the rough size of the bay and even has photos of some bays. You can also filter your search on these fields too, e.g. to only show bays with security measures.
The app will present a rough route to the bay in-app or it can open up directions to the bay in Google Maps. I couldn't find any option to open up directions in other apps (e.g. Waze, TomTom).
Pros
Free, no sign-up, discreet ads
Details of each bay (size, security, cost)
Cons
No location search by postcode on Android (to be fixed soon)
Can only open directions in the Google Maps app
No coverage outside of inner London (but expansion is planned)
London Bike Bays
Also available on both Apple App and Google Play stores is London Bike Bays, which has been around a little longer the Byke Parking. The first thing you notice is this app requires you to register yourself (why?) which involves a bit of email verification faff. Also, you are presented with a particularly intrusive full-screen advert whenever you first load the app, grrr!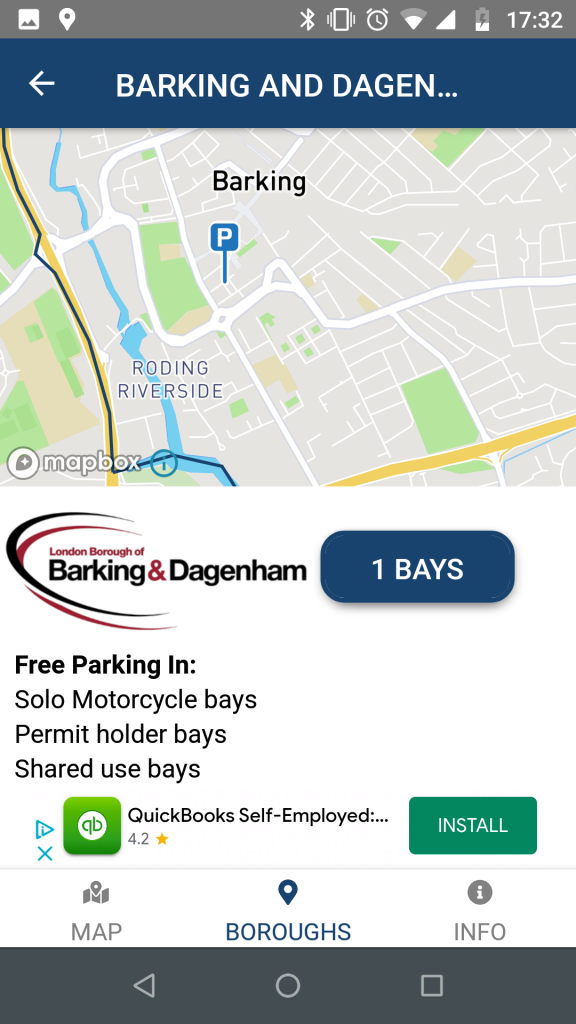 The search bar will let you type any snippet of an address – borough, town, street, postcode etc and will provide auto-suggested/completed options promptly. After which the app will zoom in on the area and show any motorcycle bays as pins on a Google map.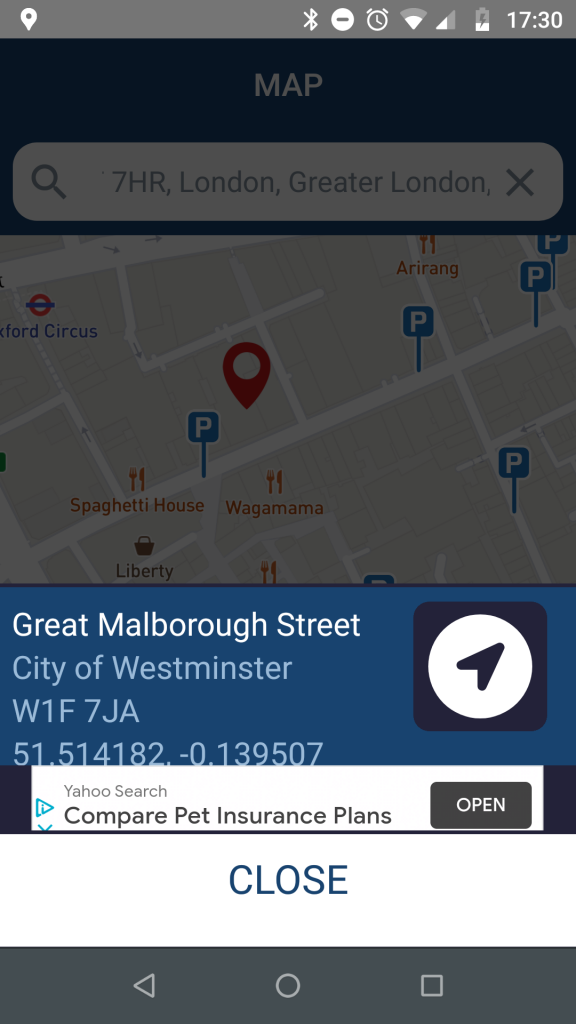 Clicking a bay doesn't provide you with much information, however, just its address and grid coordinates, though handily you can copy this info to the clipboard by clicking it. You then have the option to open navigation to the London motorcycle parking bay in any suitable app you have on your phone.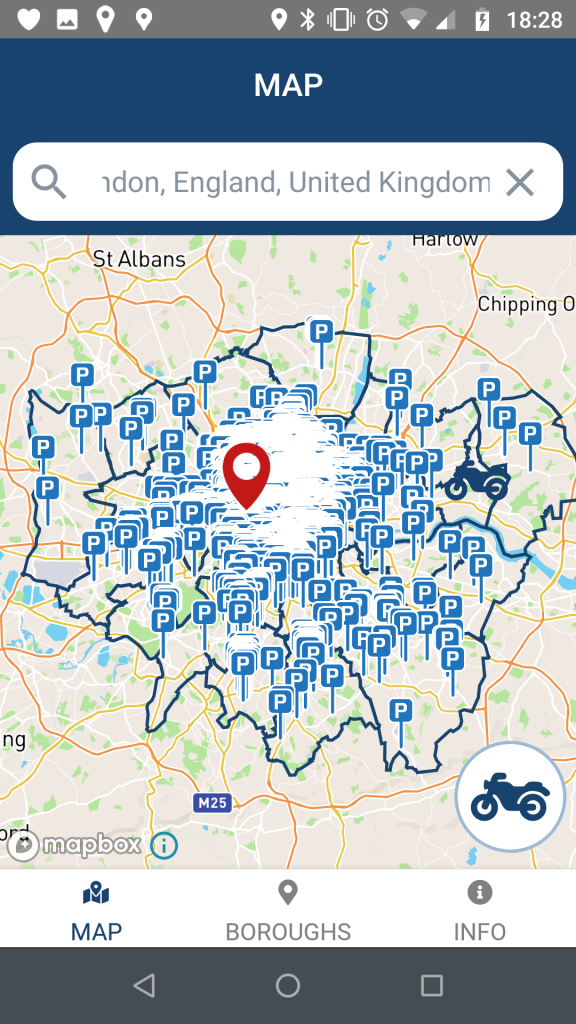 The map of London motorcycle parking bays is extensive and covers the greater London area within the M25. Definitely more bays further out in the suburbs in the database than Byke Parking and there is the option to submit updates (for review) via their website. Additionally, you can browse the London Bike Bays map on their webpage here.
The ads in London Bike Bays apps are quite annoying, especially the fullscreen ad on each startup. When viewing each parking bay, a smaller banner ad is shown. There is, however, the option to pay £2.99 / year to remove all the ads – less than a pint in a London boozer and probably worth doing if you use the app a lot.
Pros
Extensive database of parking bays covering greater London
Option to copy coordinates and open directions in any navigation app
Map of bays viewable from webpage
Cons
Sign-up faff on first use
Lots of intrusive ads in the free version
No details about each parking bay
Conclusion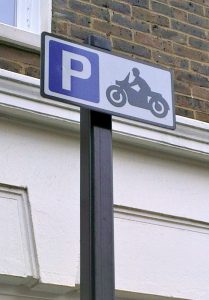 Both Byke Parking and London Bike Bays are useful apps to have each with different pros and cons. If you ride predominantly in central London, Byke Parking is a great choice with really useful info about each bay. If you ride further out in the surrounding boroughs London Bike Parking has advantages with its more extensive database, but you need to put up with ads or pay a few quid each year.
Nonetheless, it's early days for the Byke Parking app and I'm curious to see how it progresses. It's also good to see healthy competition between these apps, it can only be good for us London bikers!