Motorcycle leathers don't half get mucky, invariable covered in flies, splashed up crud, dust, split ice cream and other grime. And that's just after one ride! Yet, we infrequently clean and maintain our protective motorcycle gear. So when Tru-Tension asked if I'd like to test out some of their best motorcycle leather cleaner and conditioner products, I was like 'hell yeah, I need some of that, my motorcycle leathers are filthy!'
Leather Motorcycle Jacket Maintenance Time!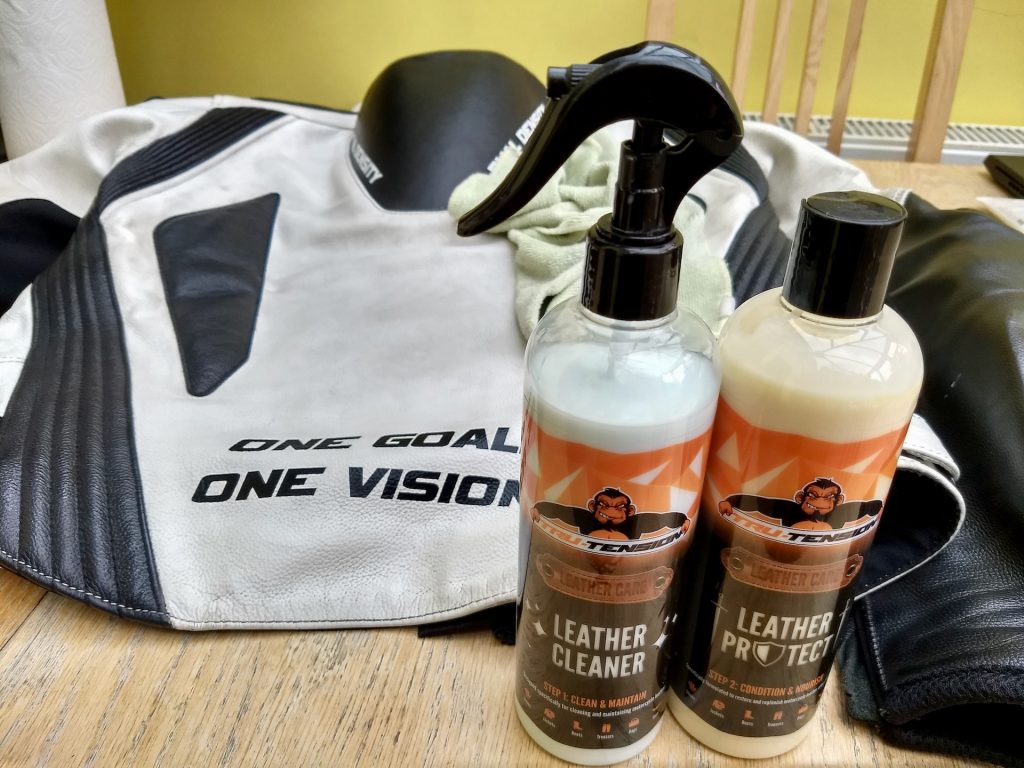 The Tru-Tension leather cleaner and conditioner products come as a two-step set; first the cleaner to remove dirt and grime, then second the protector/conditioner to keep your leather supple, strong and water-resistant. Both come in 400ml bottles and typically sell for £10 each. Not the cheapest but let's see how they perform, but then if you want your leathers to protect your skin, you should protect your leathers well.
To really test these Tru-Tension products, I dug out my black and white Alpinestars GP-Pro motorbike jacket, the white panels of which were looking pretty grimey and not that white anymore!
Have you been putting off your leather motorcycle jacket maintenance? Read on to see how the Tru-Tension products perform.
Tru-Tension Leather Cleaner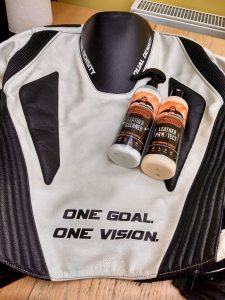 The cleaner comes in a trigger action spray bottle, which squirts a wide mist onto your leathers.  Like many of the Tru-Tension products, the smell really takes your notice at first – a lovely fruity aroma. The liquid is thin enough to run and seep into all the little creases and seams of the leathers to work its magic on those hard to get to places. Next, you rub in a circular manner with a dry cloth to work out all the gunk. I found it helped to lift the leather from beneath to open up all the deeper creases to rub the cleaner in and lift the crud out.
The cleaner liquid running off the leather was pretty brown, clearly lifting a lot of dirt. Even after just the cleaner, the leather looks a lot better, with some of its original shine restored.
Tru-Tension Leather Protect
The second step is to apply the leather protector and conditioner. This is a thick creamy liquid that comes in a squirty bottle, which you apply liberally, wipe in with a dry cloth, then buff up to achieve a nice sheen on the leather. Again, it has a pleasing fruity aroma that remains with your gear after you finish.
After application, my leather jacket had a good shine regained some suppleness. It should additionally offer a little water resistance too, useful if you happen to get caught out in the rain unexpectantly.
Conclusion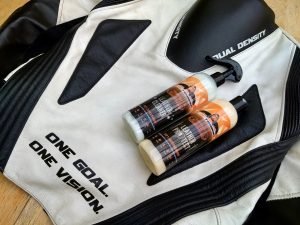 The Tru-Tension motorcycle leather cleaner and restorer are good products which I haven't been able to fault. They're perhaps not the cheapest on the market, but certainly not silly money. The 400 ml bottles should last you around 6-8 garments, depending on how liberal you are.
Rating: 4.5 / 5
Buy direct and find out more info about the Tru-Tension Leather Cleaner and Leather Protect on their website.