There's nothing quite like getting lost on a motorbike to clear your mind and find yourself. But other days you really just need to get from A to B without hassle or stress. Maybe you need to be somewhere for work, maybe you're off to a social rendezvous or maybe you're leading your crew on a ride. For this, you really need a satnav, but motorcycle satnav's aren't cheap. However, you've got a decent phone in your pocket with loads of GPS apps on hand, so why not use that? For this, you'll need something like this Shapeheart phone mount for motorbike.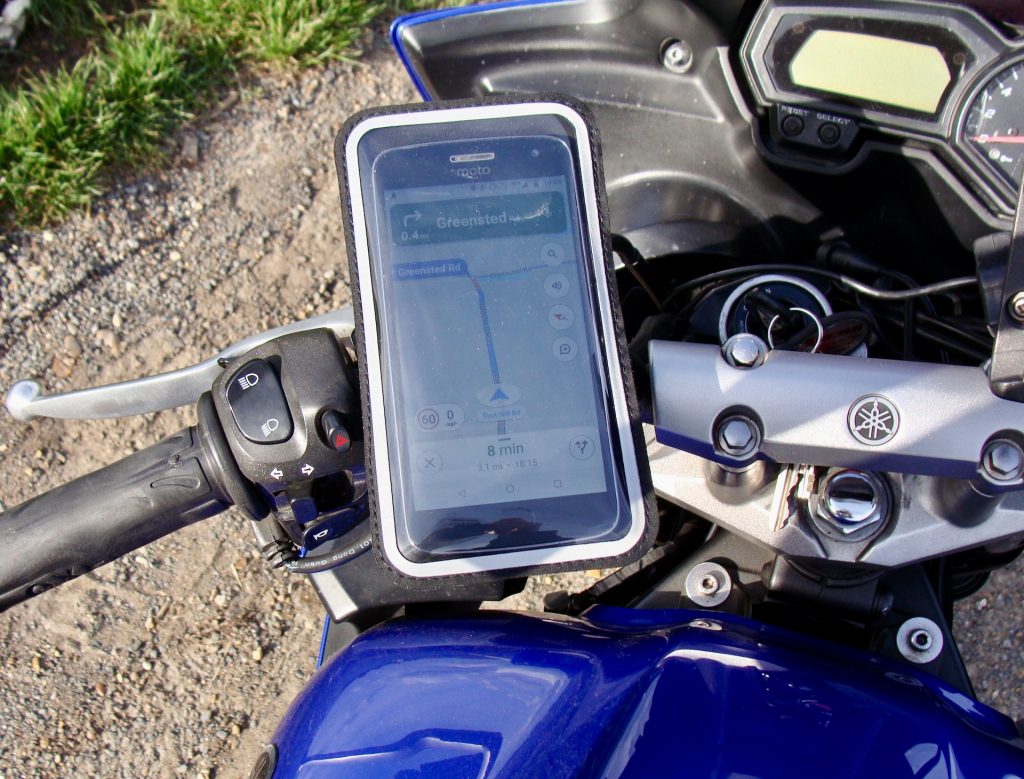 The folks behind the Shapeheart asked me to review their new motorcycle phone mount, which promises to be a good budget contender, but is it the best motorcycle phone mount for the money? Read on to find out more.
Awkwardly, there is no camera hole in the case, somewhat understandable as it is universal and waterproof
The Shapeheart is a soft case, with clear plastic for the screen and neoprene backing. On the back, there is a big magnet for attaching to the handlebar mount, a flap to slot your phone in and a small slit at the bottom to thread a USB charging cable in. Note the USB cable slot will only suit a mini-USB or USB-C cable – no big wide Apple plugs, and then only charging ports on the base of the phone. The cases are universal and come in a number of sizes to suit different phones. It also comes with a pouch to store everything in. Being a soft case, it won't protect your phone from knocks and drops, but you should be able to pop a harder case around your phone in conjunction with the Shapeheart case – especially if you go up one size of Shapeheart. Awkwardly, there is no camera hole in the case, so you will need to remove your phone when you stop and want to take some photos. Somewhat understandable as this is a universal case that also aims to be waterproof.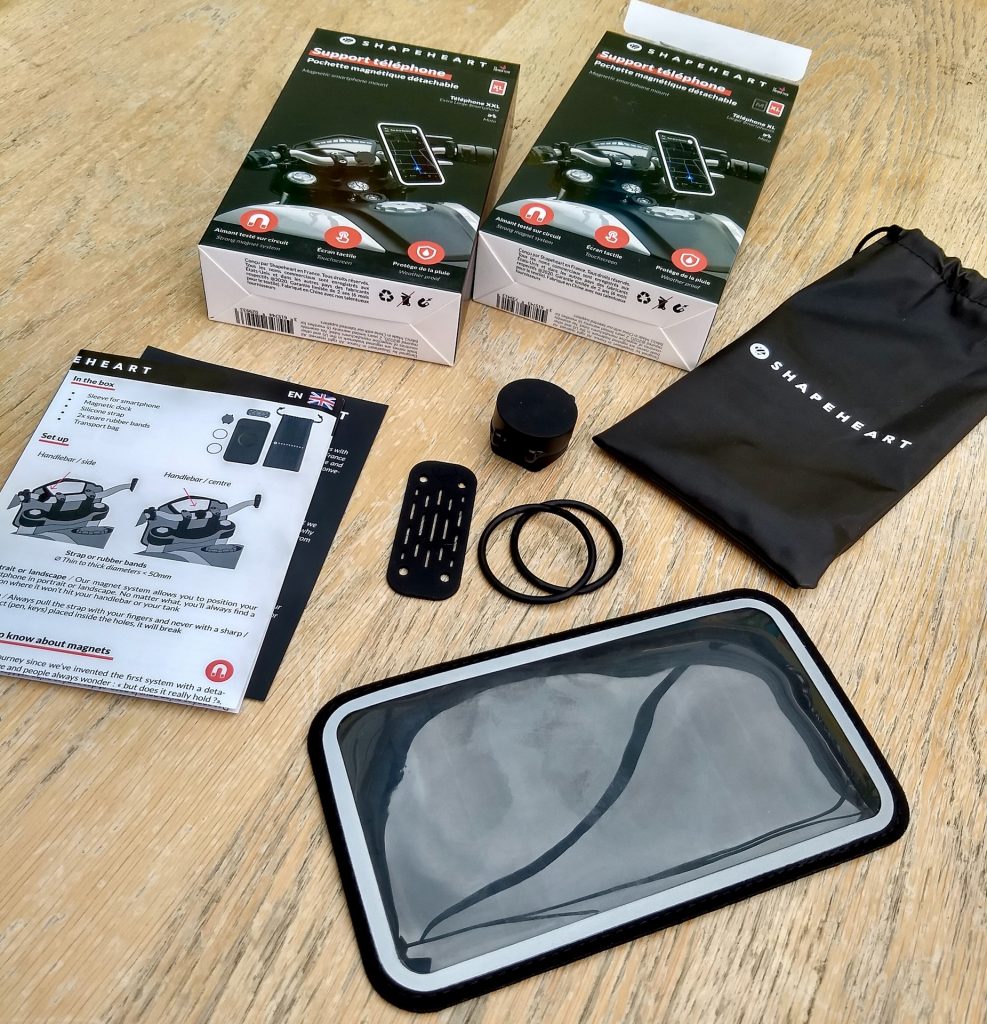 With the phone in the case, the first thing you notice is how the soft plastic screen bulges up and doesn't lie flat on the screen. This can hinder the view of your screen and exacerbate reflections. The screen also dulls the brightness and colour of your screen a bit too. Don't get me wrong, your phone screen is still visible, but not as clear, which can make reading a map at a glance trickier especially in the bright sun. Touch screen use still works through the Shapeheart cover, even with motorbike gloves with special inserts in the fingers, but don't expect fingerprint unlocking to work! However, as the plastic cover is curved above the phone screen, you do need to push it flat to the screen to register a touch, which can feel less responsive.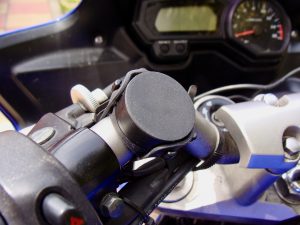 To mount the Shapeheart on your handlebars, there is a small round magnet that sits quite flush with your bars and is attached via a rubber wraparound strap. This makes for a very quick installation (or removal) without needing any tools – great to quickly swap between bikes, even bicycles too! They also sell variations for narrower mirror stalks too. However, as the Shapeheart sits flush with the bars, finding a good location with enough space on either side for a large phone can be tricky. Both my Yamaha FZ6 and Mary's Triumph Street Twin have large moulded covers on the centre of the bars and brake fluid reservoirs on the right-hand side, leaving only a small amount of space near the left-hand switchgear available. So, check out your bike's bars carefully, as you'll need a reasonable space around a flat part of the bars. Space could be very tight if you have handlebar-mounted USB charging sockets.
Shapeheart Phone Mount On The Road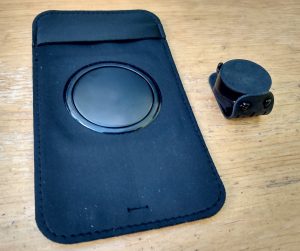 On first look, the Shapeheart doesn't look like it'll keep your phone secure at high speeds. However, the magnet is very strong and the rubber mounting strap holds things in place just fine. Shapeheart has tested the mount on track to speeds of 226km/h. I've not gone quite that fast, but it certainly held strong over many a bumpy road I rode. However, your phone does bounce around a little, both within the case and from some movement in the rubber bar mount. This and the low, flat mounting position can make glancing at directions harder and played havoc with my phone's upright sensor, making the screen rotate all over the shot – though I could disable this on my phone.
the low, flat mounting position and vibration played havoc with my phone's upright sensor, the screen rotated all over the shot
As the Shapeheart case is mounted quite flush to the bars, it sits low down in your eye line and is quite flat. This is where other brands of phone mounts win, as they can elevate the phone higher up into your eye line, away from other clutter on your bars and more vertical to stop your phone auto-rotating all over the shot. Positioned so low out of your main eye line, is not ideal when riding. It will be blocked by your helmet chin and requires you to take your eyes off the road for too long to move your head down to glance at it. That said, the alternative Shapehearts that mount to mirror stalks will likely address this issue.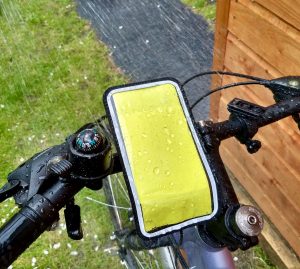 The Shapeheart promises to be waterproof phone holder and again, despite its simple design that's not fully sealed, in my testing, it held up to a simulated rain shower fine. For my test, I filled it with Post-it notes, mounted it on a bike and then blasted the hose pipes at it for several minutes. The outer become sodden, but the paper inside remained dry and the water also beaded off the plastic screen well too. The case also dried out pretty quickly too. Overall it gets a thumbs up for wet weather riding, but I wouldn't submerge it in a puddle.
Shapeheart Review Conclusion
The Shapeheart phone mount for motorbikes may not be the best motorcycle phone mount, it has some usability concerns, but these are not show-stoppers and with a price of €30 / £35, it's a cost-effective phone mount that will help you get where you need to go. Although installation is easy, it won't fit every bike's handlebars, so do double-check mounting space before you buy. Competing phone mounts (e.g. QuadLock and Ram) might provide more flexible and higher mounting positions, but are double the price and don't all provide a waterproof cover.
Pros
Low price
Universal fit for any phone
Easy, no-tools install
Waterproof
Cons
Needs ample space on handlebars as mounts phone flush
Low down, flat mounting position is below eye line
The screen cover is not flush, quite reflective and hinders screen visibility
The phone bounces around a bit when riding
Can't use phone camera with the case
Rating: 3.5/5
More details and buy direct (in EU) from the Shapeheart website here.
Purchase the Shapeheart mount from Amazon here (UK)
Addendum:

Since this review, Shapeheart has released a new 2022 version of its phone mounts that address a number of the criticisms above, including better more flexible mounting options and a window in the sleeve for camera phones. You can check our review and comparison of their new 2022 motorbike phone mount here.