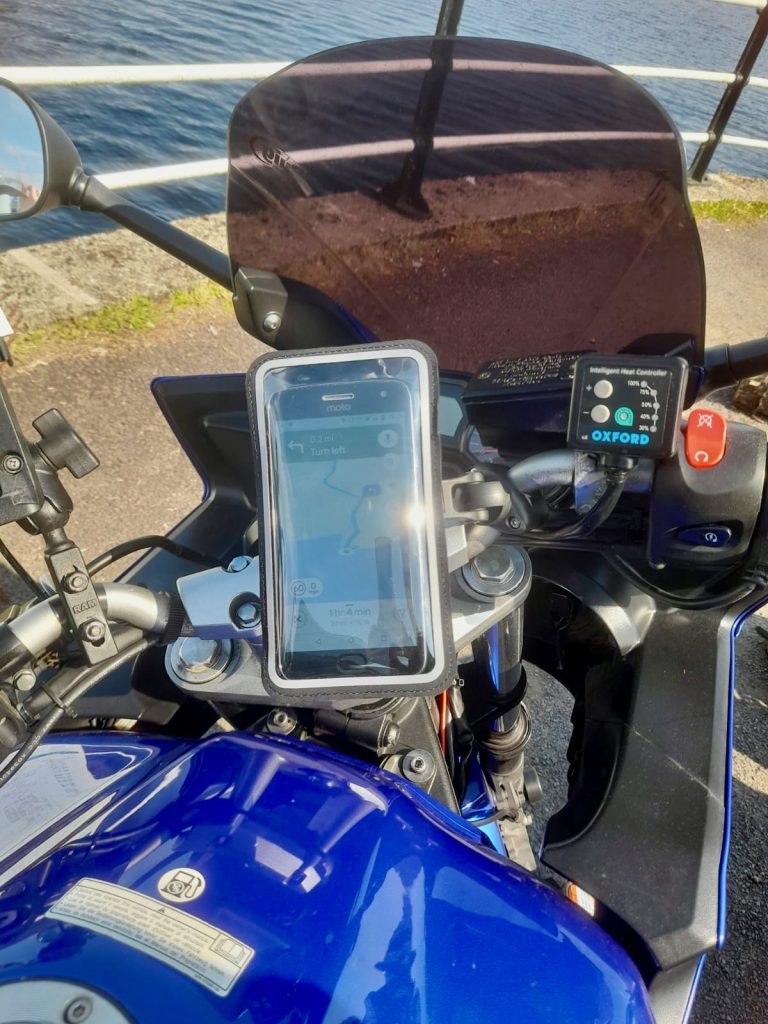 Last year I reviewed the Shapeheart mobile phone case for motorcycles, it was a good budget offering but had a few niggles I was less fond of. This year the good chaps at Shapeheart took heed of this critique and have released a new and improved version for 2022, which they were kind enough to send in for me to review. Let's take a closer look at this new model and see how it compares.
Shapeheart is a small firm from France, kicked off by two clever entrepreneurs who started out making arm mounts for runners and then later branched out into solutions for cyclists, scooters and motorcycles.
The Shapeheart Motorcycle Phone Case
The Shapeheart motorcycle phone case is of similar construction to last year's model, with a soft neoprene back, a clear plastic screen cover and a large metal plate on the back to attach to the trademark super strong magnetic mount. The cases come in varying sizes to suit all phones and there's a small hole in the base to feed in a USB charging cable. Essential given how fast a SatNav app will drain your phone's battery!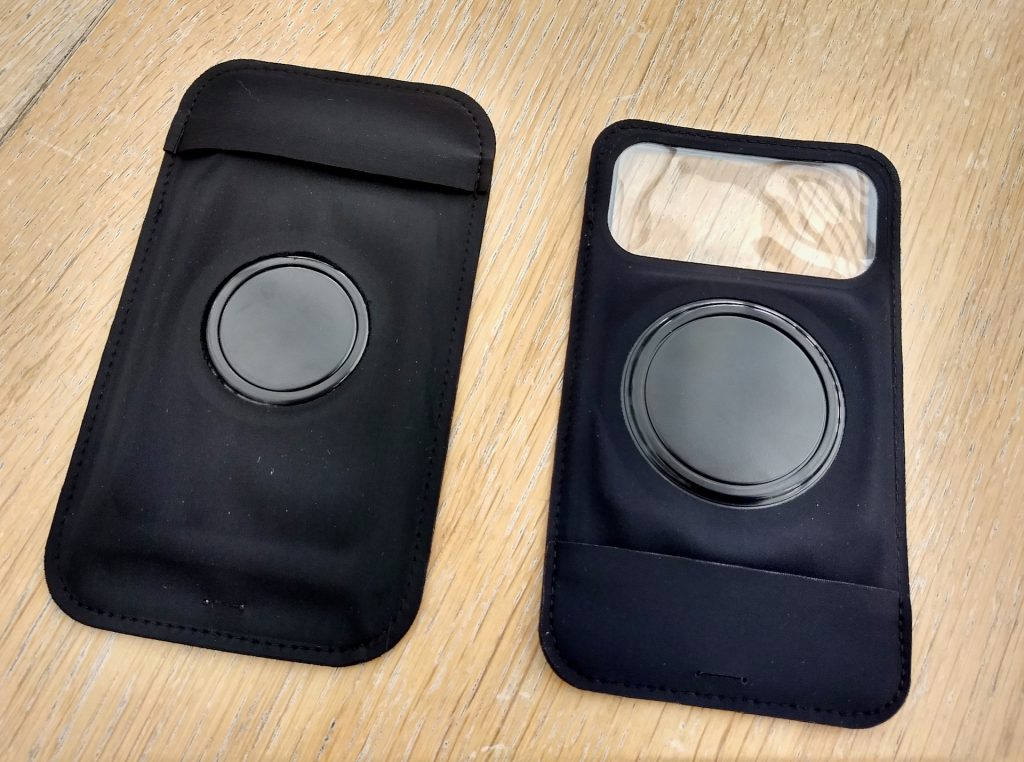 A key difference to the 2022 model and a remedy to one of my prior complaints, is the addition of a large clear window on the back of the case to facilitate taking phones without the faff of removing your phone from the case. This window is large enough to accommodate many phone camera lenses and let you quickly shoot off some snaps whilst on the road. Shooting photos through this window had negligible impact on picture quality, so no concerns there either.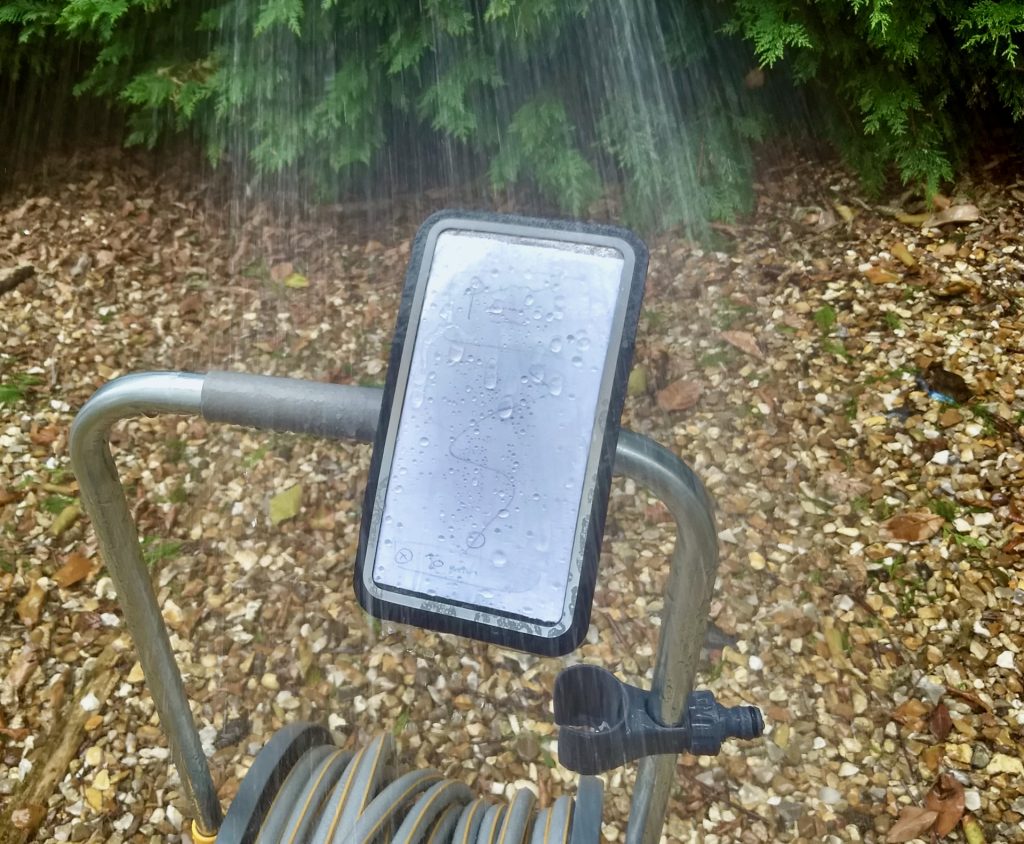 Additionally, the metal back plate has been enlarged for easier placement on the magnet mount. To accommodate the camera window, the flap to insert your phone in has been moved to the base of the case. However, it's been sewn such that rain will flow down the case and into it. Sadly this is a step backwards and could easily have been prevented by sewing the flap underneath the fabric above, akin to roof tiles slotting underneath the one above.
Of course, you could just stick your phone on upside down to prevent rain from flowing into the case. This will place the USB cable hole at the top, but should still stop the worst water ingress.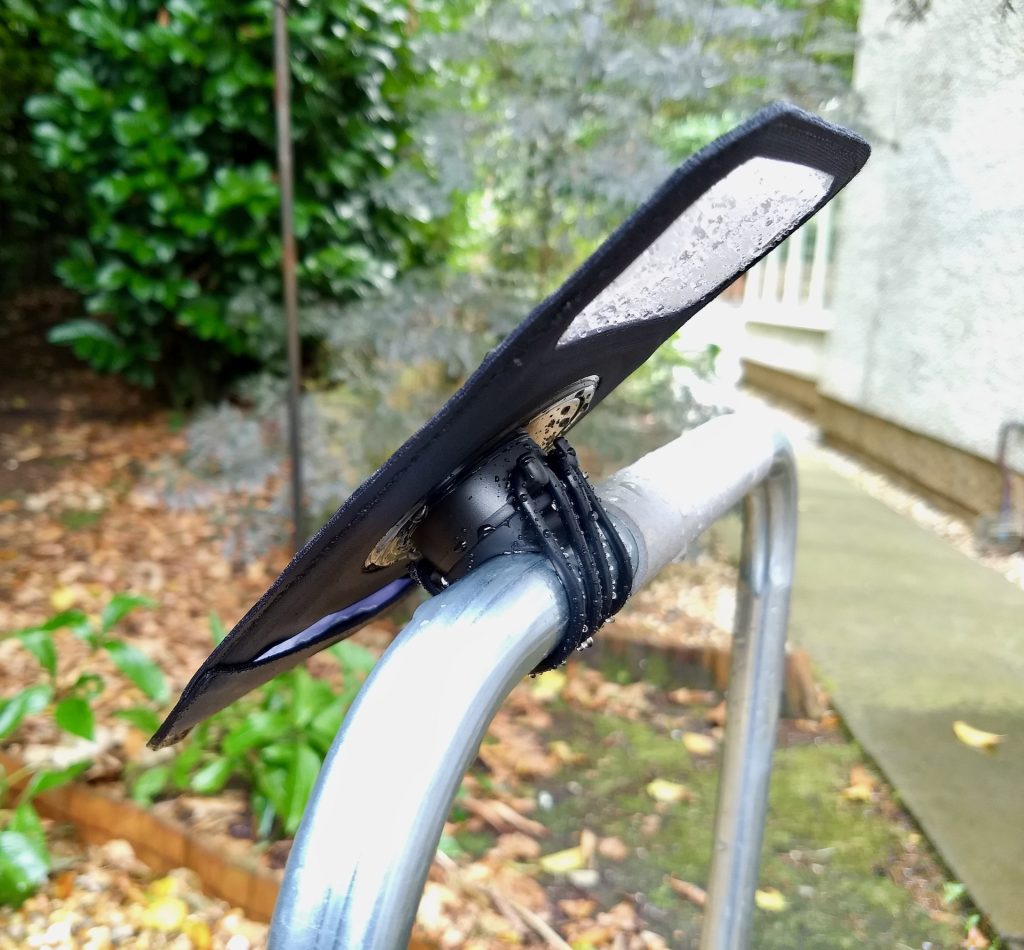 Shapeheart sell a fully airtight waterproof phone holder sleeve with a camera window for €15, suitable for heavy rain, paddling, swimming, canoeing etc. There's no USB cable entry (obviously!), but worth considering if you need to ride in all weathers.
The clear plastic front screen is the same as last year's model. Phone touchscreen controls work through it and visibility is good, but bright sunlight can cause a lot of reflection.
The Shapeheart Motorbike Phone Mount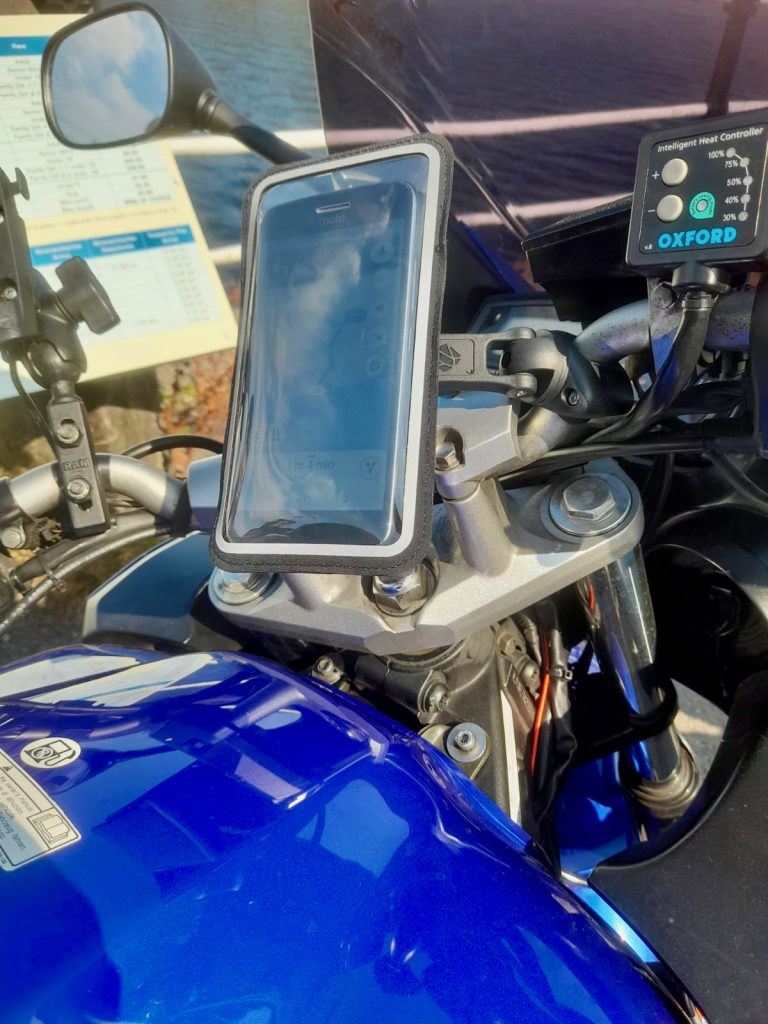 One of the biggest improvements over last year's model is the extra options for the motorbike phone mount. Previously, the only choice was a small magnet that attached flush to your handlebars with rubber bands which would only suit bikes with a flat and clear area on the bars. This year there are three new mounting options:
The Pro mount: a close-fitting magnet that clamps to bars with Alan bolts
Pro Boost motorbike phone mount: a small arm that clamps to the bars and lets you raise the magnet mount higher up and in a convenient location
A fork stem mount designed for sports bikes with clip-ons.
The Pro and Fork stem mounts retail for €40, the Pro Boost costs €50. I'll be reviewing the Pro Boost mount, which offers the greatest flexibility in mounting.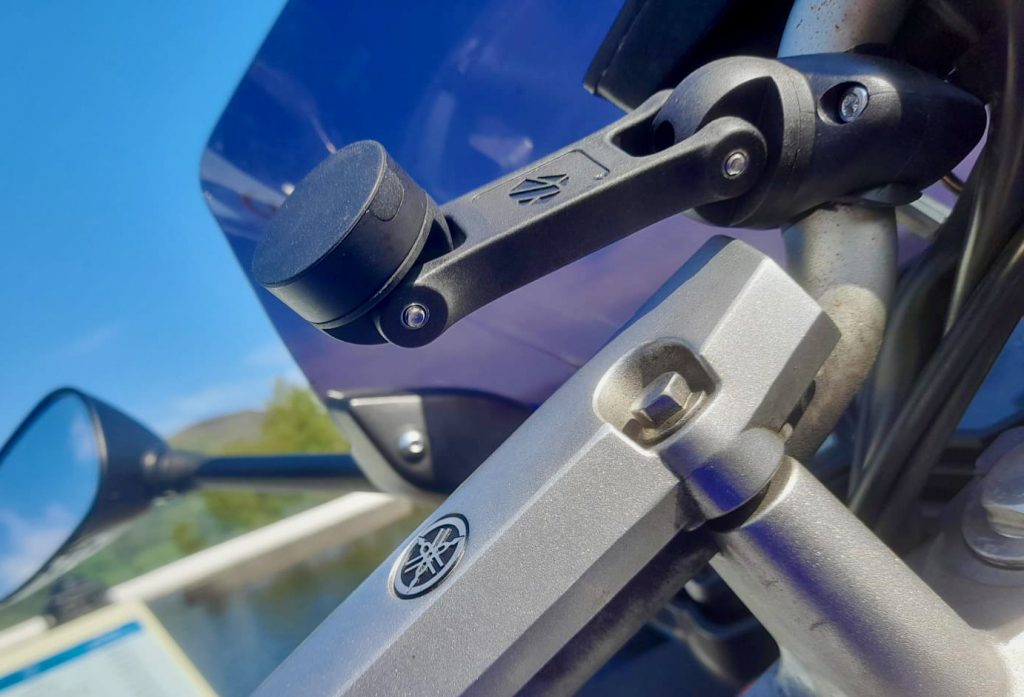 The Pro Boost consists of a clamp that fits bars 20-28mm in diameter (rubber padding provided) with a couple of Alan bolts. Attached to this is approximately a 100m arm that hinges and rotates top and bottom. It's not quite as flexible as the ball-based Ram Mounts but is certainly adequate to locate your phone away from other clutter on your bars. Raising your phone higher also helps when glancing down to see directions whilst riding too.
The arm is sturdy and doesn't vibrate excessively when riding, definitely more stable than the older magnet mount using rubber bands. I was also able to angle the phone better to prevent it from auto-rotating the screen whilst riding too. The magnet is still super strong, ensuring no movement of your phone, even when pushing on down the motorway. Shapeheart claims you'd need to be doing 285km/h (177mph) to provide the force needed to detach it. If you're going that fast, you probably don't want to be looking down at your phone for directions anyway!
Conclusion
Overall, the Shapeheart motorcycle phone case has addressed two of my biggest complaints regarding last year's model; the inflexible mounting options and the hassle of taking photos on your phone. The Pro Boost arm phone mount for motorbikes is a huge improvement, making installation far easier and allowing use on far more motorcycles with all kinds of clutter around the handlebars. It also lets you place the phone higher up and within your peripheral vision making it easier to see directions whilst on the move.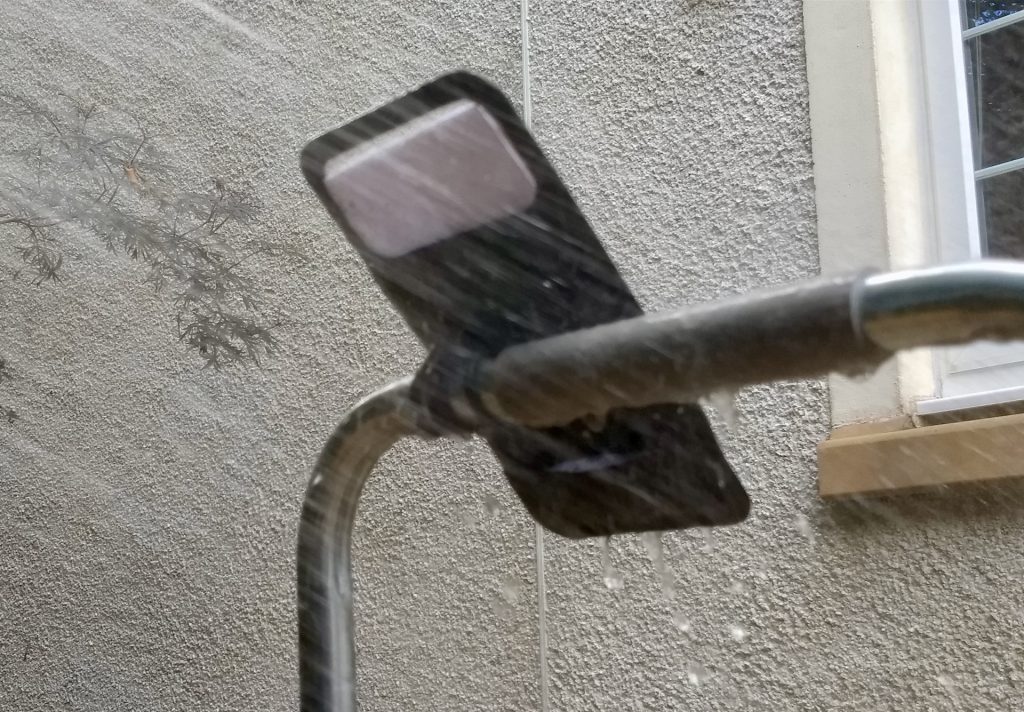 However, the backwards step on waterproofing is a disappointment, especially considering a small design change would prevent the water from ingress. A real shame, as it could have been a great universal package that undercuts many other similar products on the market, even with Pro Boost option priced at the higher price of €50.
If you're a fair weather rider, you may be able to live with the lack of waterproofness. Otherwise, I suggest you add the fully airtight sleeve option to your order.
Rating: 4/5