29th March: Stage 2 easing of lockdown restrictions – ride out time! Yeah, baby, we're back in action.
We've spent days leading up giving the bikes a thorough clean and POWDERS check. Oil, lube, grease, cleaning fluids, sprays and air all slavishly applied. After so long parked up and with so much anticipation leading up to this first post-lockdown ride out, we didn't want any niggles spoiling plans.
On the day, everything lined up with celestial gravitas; a workday clear of client meetings I could book off, an unusually warm spell of weather and Mary's birthday. This was going to be a perfect ride out.
We were quite aware of how rusty our riding was, me having not ridden since December and Mary since February, and then only short commutes in town. So, we chose a chilled out ride to Burnham on Crouch looping up to Bradwell on Sea, you can't go wrong with the Burnham Bends. Thankfully, I could still remember how to ride and after a couple of hours in the saddle, I was nicely back into the flow. Our last stop was the RAF war memorial at Bradwell on Sea, for a quiet moment to remember all those who have given up much and are no longer with us.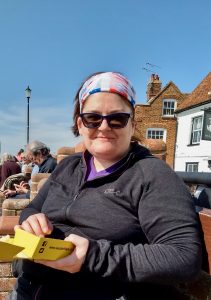 It was a great day, good to be riding again and recall the fun of blasting down the green country lanes. We had some yummy fish'n'chips in Burnham, which always tastes better sat next to the sea. Everything went swimmingly and due diligence on prep paid off and we returned home destressed and suitably tired. Longer distance riding stamina has certainly been lost whilst locked up at home.
There was a couple of niggles; one of our Bluetooth intercoms packed up, so we couldn't chat as much as we'd have liked. They are 3-4 years old and I'm sure being sat unused for months and left discharged probably didn't help.  I'm also still not 100% convinced by the GoPro 9 as a helmet cam, I'm not liking the weight, the short battery life and the trickiness to start-stop when on the move. The new GoPro remote would probably help with the latter though. Maybe I'll get more used to the GoPro with more usage, but it's still not a patch on the Drift camera for helmet use.